Istana Kampong Gelam used to be the residence of the Malay kings in Singapore and used to be off limits to all except royalty. Today, it has been converted to the Malay Heritage Centre and visitors are more than welcome to enter its compound.
What is striking upon first entering the compound is the uncommonly clear skyline behind the Malay Heritage Centre. After picking up the tickets from a smaller building on the left of this picture below (admission is free for Singapore Citizens and PRs, but you still need to get a sticker), you can make your way over to the main two-storey building.
Tracing the Roots
The Malay Heritage Centre has nine galleries and the journey starts upstairs where galleries provide an account of the history of the Malays in Singapore and the region, and also paint a picture of daily life.
Prominent figures in the Malay community are highlighted. You can learn more about Singapore's first President, Yusof bin Ishak, and even see his 'letter of appointment' from parliament and ceremonial medallions.
In another gallery, the Malay's seafaring heritage is showcased and you get to see some items Muslim pilgrims bring along for the Haj.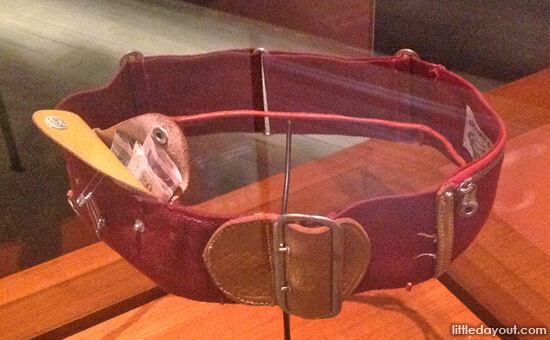 Descending the back staircase, the ground floor galleries that provide further perspectives on the role of the printing press, language and cinema.
The Man Who Wrote Majulah Singapura
What we found of particular interest was the gallery dedicated to Zubir Said. Even if his name sounds unfamiliar, any Singaporean would be familiar with his work, Majulah Singapura, our national anthem.
The gallery unveiled facts that we would otherwise not have known. For example, Majulah Singapura was written in 1959, even before Singapore became independent and that it took Zubir Said twelve months to pen down the song as he was trying to ensure that it was accessible to other races.
His other possessions, including his piano, are on display. What was most significant though was seeing his original manuscript of Majulah Singapura on display.


Gaining an Understanding of Malay Heritage
The Malay Heritage Centre provides an insight into the Malay community in Singapore. The building and its location in Kampong Glam also add to a sense of place and heritage.
For parents with young children, it would also be of interest to know that the Malay Heritage Centre regularly organises activities and events geared toward little ones. They have also screened old Malay movies at its outdoor lawn on some nights. Keep a look out for these.
To get an even better sense of the Malay heritage and culture, take a walk with the kids around the surround Bussorah, Muscat and Arab Streets.
Related Articles: