In many respects, the Irau Drive Playground is much other small neighbourhood play spots for kids. In fact, looking at it, one might even be tempted to conclude that the play equipment here is unremarkable.
---
Irau Drive Playground: Play Spot by the Sea
The Irau Drive Playground at Sembawang consists of an extremely simple play structure. There are no slides and no swings here. Instead, what can be found is just a frame with some climbing apparatus attached to it.
At one side of the structure, there is a standing "merry go round" of sorts at the soft-padded floored playground.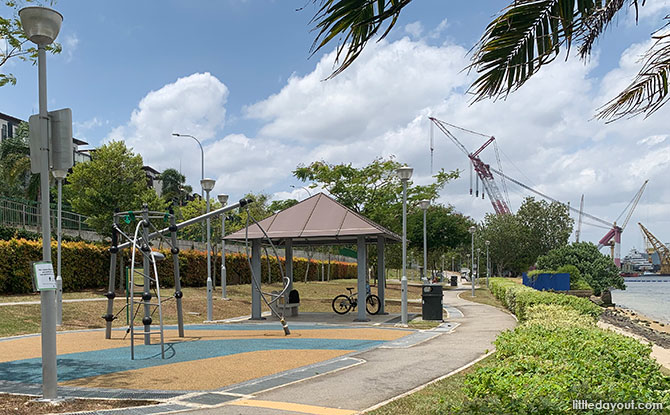 What is most interesting about the Irau Drive Playground is its location.
Amongst the many playgrounds in Singapore, it is likely to be the one which we have come across that is closest to the shoreline.
---
Play by the Water
There are a number of seaside playgrounds in Singapore. Ones that come to mind include those found at Changi Beach Park and Labrador Park. However, the small Irau Drive Playground is probably the closest playground to the water.
Just a few tens of metres (and a hedge) separates the playground from the water. It is probably just as well that there are no big slides here. What you do get is a view of Johor across the water and the breeze blowing in from the straits between Singapore and Malaysia.
Irau Drive Playground is not far from Sembawang Park where the awesome battleship playground can be found. However, this tiny Sembawang playground has its own claim to fame, being (probably) Singapore's closest playground to the water.