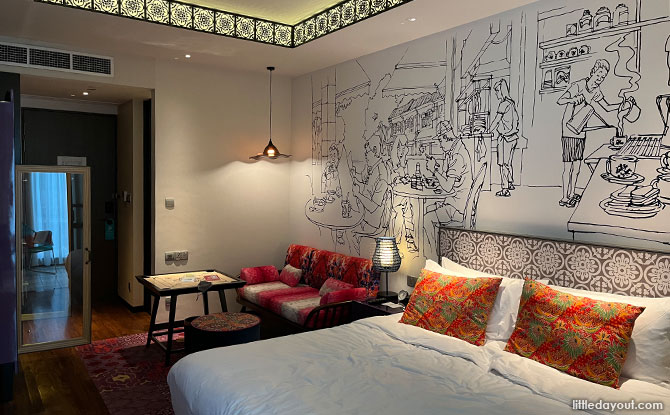 Fancy a rejuvenating stay at a Peranakan-style boutique hotel situated in the bustling little town of Katong, blending heritage vibes and contemporary comfort with warm service? We had a brief but easy and fun weekend stay as a family at Hotel Indigo Singapore Katong.
What sets this lovely hotel apart is its combination of care, charm and connecting with its guests with thoughtful touch points.
---
Warm Notes at Hotel Indigo Singapore Katong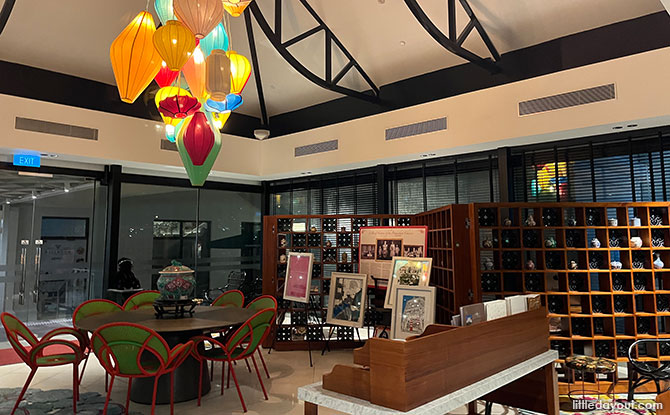 Behind the hotel's façade of leafy foliage, we entered a vibrant reception space, framed by a wall montage and standing ceramic standing lanterns of swirling ornate Peranakan prints.
---
-- Story continues below --
To the left of the reception is a natural-lit glass lobby area beautifully decorated with colourful hanging fabric lanterns, pretty Peranakan-themed tables, chairs and display cabinets with ceramics and porcelainware.
The create a simple exhibition on the heritage of the Peranakans in Singapore and even a mama (provision) shop display counter with books to browse and souvenirs for purchase.
Another entrance guarded by two acrylic lions exited to the hotel's cozy garden café space, on-site eatery Baba Chews and a large Starbucks outlet for late night hangouts.
Our wonderful stay at the hotel kicked off with welcome drinks of iced tea and latte from the friendly and helpful reception (with a special shoutout to our very warm and courteous Neighbourhood Host Denry) in addition to small, delectable ribboned boxes of chocolates with a lovely personalised note.
My two growing primary schoolers loved the lush, huge rooms and fantastic breakfast.
---
Splendid Spacious Guest Rooms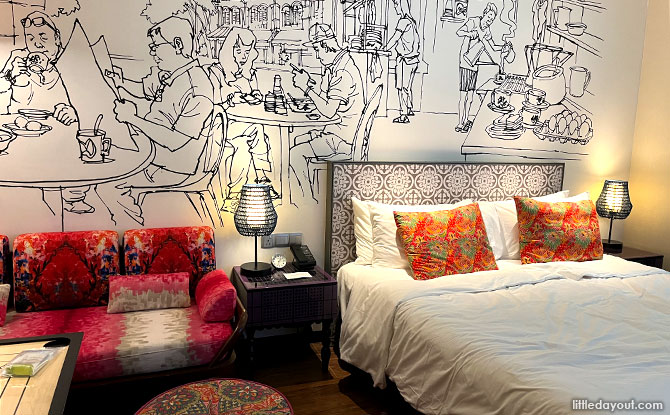 The beautiful connecting rooms are well-designed and large enough for a few rounds of hide and seek with the kids! With wooden flooring, Peranakan tile designs bordering the ceiling, vivid urban sketches of Katong scenes graced the wall.
Our two rooms with different wall murals of the coffee shop patrons and owners preparing drinks and shophouse backdrop, and the other, a durian stall with sellers and customers in conversation, gifted us with artistic impressions of a slice of life, activity and the neighbourhood.
The hotel's 131 rooms and suites offer a full range of amenities such as complimentary tea and coffee, jars of traditional sweets and Wi-Fi, flat-screen TV with selected cable channels, mini fridge.
Separate Peranakan tiled toilet (with a bidet, which is a plus) and shower areas came equipped with pH-balanced hydrating Australian-brand Biology body, hair care, foot-pampering products with fresh scents.
Lush floral fabric patterning on plump cushions and stools with comfortable twin and king-size beds for a good night's rest.
There was also a good-sized wooden square carrom table and a vintage wash area with an inspired-sewing machine base and rattan patio chair, with a city or backyard view.
---
Savoury Fare at On-site Restaurant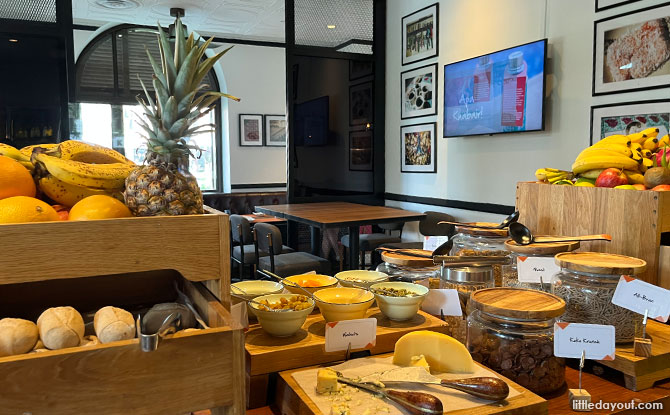 One high note was the excellent breakfast during our stay!
Besides a main from a daily-curated Western or Asian menu such as Eggs Benedict/waffles/pancakes or laksa/you tiao sets etc.
There was an impressive accompanying semi-buffet counter serving an array of breads, cheeses, spreads, cereals, fresh fruits, salads, pastries, Asian fare and even full dairy options from soy, oat, semi-skimmed to low fat or full cream milk.
At a corner counter, there was even a selection of local old school childhood sweets and snacks in line with the heritage theme.
We were spoilt for choice!
Served at the hotel's on-site Baba Chews Bar and Eatery, with its arched walls and casement windows, alternate parquet and striking tile-patterned flooring, the diner was named after the 'King of Katong'.
Chew Joo Chiat (1857 to 1926), a wealthy local Chinese landowner-philanthropist.
Open all day until 10.30 pm, Baba Chews' menu offers a selection of Singaporean and Western dishes along with quality brews from Common Man Coffee Roasters & TWG tea, beers and alcoholic beverages.
We also had lunch and dinner there – the Ayam Buah Keluak and Nyonya Yaki Tori Satay are delicious chicken specialties with their respective sweet buttery and rich charred flavours.
The kids' meals with a choice of bacon spaghetti (cream or tomato) or fried rice at a decently-priced 10 bucks are a lovely bonus.
---
Rooftop Rest & Recreation
The hotel rooftop overlooking Katong town, its skyline and parts of Singapore afford a great view for guests to unwind, with a clear 1.2 metre deep infinity pool and an alfresco seating space with trees creating a dappled sunlight effect.
It was restful space to chill, relax and enjoy the pool and city views, breeze and sunset as our first day upon check-in was slightly rainy and cloudy for a swim.
On the same level, hotel guests also have access to a 24-hour fitness centre with its well-equipped gym for leisure.
---
Family-friendly Activities in the Neighbourhood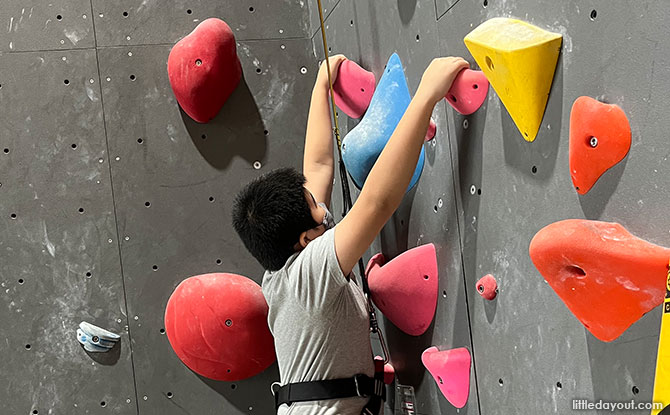 We were there on the hotel's family getaway promo. This includes a choice between two activity options for families to experience at i12 Katong mall just round the corner: a $32 Climb Central voucher or two Golden Village movie tickets.
Game to try out rock climbing for the first time, the kids braved the wall climb after a quick safety briefing and trial course scaling under the supervision of trainers.
i12 Katong also has child-friendly activities such as Wan To Play Forest indoor playground, baking or art classes at TOTT or Tree Art respectively, and Junior Page bookstore.
Surrounded by heritage shop houses in the heart of Katong neighbourhood with numerous local hawker and cafe food options in the area, the hotel and its eatery set in a conservation building facing the road are housed on the site of the former Joo Chiat Police Station.
The hotel is located as part of the Katong Square lifestyle and F&B enclave, with an open space hosting a bustling Weekend Flea Market, adding to dynamic vibes in its already-rich cultural district.
During our stay, the flea market with stalls offering quaint wares, fashion, vintage assortments and greenery, was in full swing for a spot of shopping. I picked up a great buy – a sky blue Batik swirls-and-butterfly-print wrap!
A huge plus in the vicinity is the variety of ice-cream places, be it Birds of Paradise Gelato Boutique or Awfully Chocolate Hei Ice Cream across the road, or a choice of three options inside i12 Katong: Huggs Collective or Gelatissimo and even Kind Kones vegan ice cream!
---
The Family's Verdict
Four out of five stars for a high quality positive experience and we wished for a longer stay!
Along with activities for families to do in the surrounding Katong district, the weekend stay was memorable while refreshing.
We had a thoroughly delightful staycation at Hotel Indigo Katong with its charming décor and interior, thoughtful hosts and satisfying meals with its fabulous ambience, within a great location.
Till the next time!
---
Hotel Indigo Singapore Katong
86 East Coast Road, Singapore 428788
Media invite
This story contains affiliate links. This means we earn a small fee if you purchase something through a link from our website. There is no additional cost to you and goes towards supporting Little Day Out's efforts to deliver the best news and reporting for families.