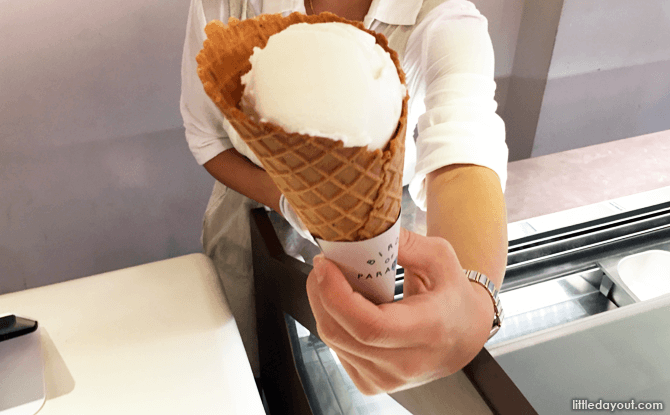 Birds of Paradise Gelato Boutique may sound like a strange name for a shop serving gelato, but it came about because its icy treats feature botanically-inspired flavours. In other words, the Birds of Paradise in its name most likely to refers to plants and not the long-feathered birds.
In fact, the quaint gelato shop is filled with hints of nature.
Stepping through the door, you are immediately greeted by the smell of aromatic botanicals in the air. A colourful designer feature wall, decorated with plants and leaves of different shapes and sizes, also greet visitors.
Look closely at the wall and you may be able to spot a few birds hidden among the foliage. These include a toucan and another that looks like it could be a bird of paradise (the bird, not the plant – but then again, we couldn't find the plant either).
Thankfully, mastery of ornithology and botany is not a prerequisite to enjoy the gelato at Birds of Paradise Gelato Boutique. You only need an appreciation of interesting flavours.
Botanical-inspired Gelato Flavours
At Birds of Paradise Gelato Boutique, flavours available at the gelato counter include Lemongrass Ginger, Lychee Raspberry, Pandan and Masala Spice.
The shop's top-selling flavours are White Chrysanthemum – infused with chrysanthemum and sprinkled with bits of cacao, Spiced Pear – a combination of Williams pear with cinnamon, cloves and star anise, and Basil – yes, the herb.
An up-and-coming flavour is Earl Grey & Lemongrass.
The gelato gets served in either a cup or a crisp thyme cone.
A standard single scoop of gelato costs $4.70 in a cup and $5.70 in a thyme cone. A double will set you back $7.70 for a cup and $8.70 in a cone.
You can also bring back home a pint of a standard flavour for $16.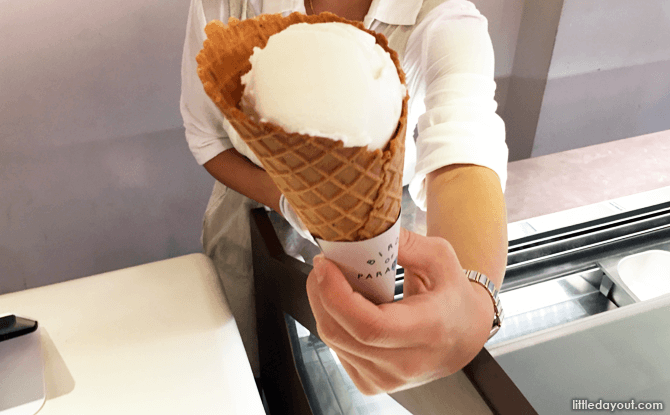 We had the Basil gelato in a thyme cone.
The creamy frozen treat had pleasant hints of the herb. This paired really well with the thyme waffle cone.
You may wish to note that Birds of Paradise Gelato Boutique is standing room only. Pick up your cup or cone at the cashier and find a spot in the shop to savour it, or have it to go.
Birds of Paradise Gelato Boutique is located along East Coast Road. It is next door to the Red House Bakery building and not far from I12 Katong shopping mall.
There is also a Birds of Paradise outlet at Jewel Changi Airport.
Birds of Paradise Gelato Boutique
Address: 63 East Coast Road #01-05
Opening Hours: 12 pm to 10 pm. Friday and Saturday till 10.30 pm. Closed on Mondays.