Shopping Centre playgrounds in Singapore come in many different forms and varieties. The range from full-fledged themed playgrounds with play structures for kids to run around and with some even featuring wet play elements such as spray fountains and water slides.
These shopping centre playgrounds in Singapore are often free and serve as amenities for shoppers. In fact, for parents with young children, the shopping centre playgrounds can even be enough of a draw to make a trip especially to a particular mall.
So, where can you find the best shopping centre playgrounds in Singapore? We share with you our picks of 15 of the best shopping centre playgrounds across the island.
15 Awesome Shopping Centre Playgrounds in Singapore
---
Westgate Wonderland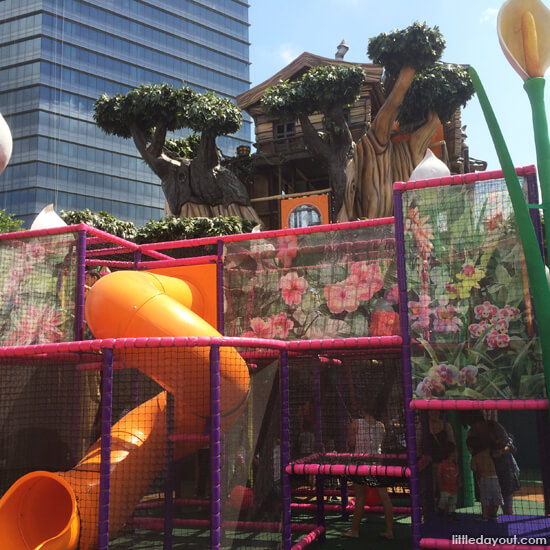 Located at level four of the Westgate mall in Jurong East, Westgate Wonderland is truly a wonderland for kids. Intricately themed with flowers and plants, it is like stepping into a supersized garden. It is the largest rooftop shopping centre playground in Singapore and you won't be able to miss its 10-metre tall tree house. Westgate Wonderland has both wet and dry play areas and easily makes it into our list of 15 of the best shopping mall playgrounds in Singapore.
---
-- Story continues below --
---
Compass One Playground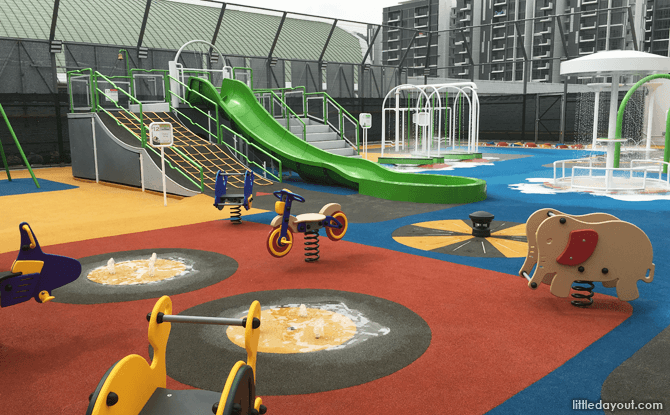 Compass One in Sengkang has a rooftop playground with both wet and dry play areas. Its wet play area sets this shopping mall playground apart. There are cool "ninja" obstacles such as a Stepper Bridge and Swing Walk and a cool water slide too.
---
Waterway Point Playground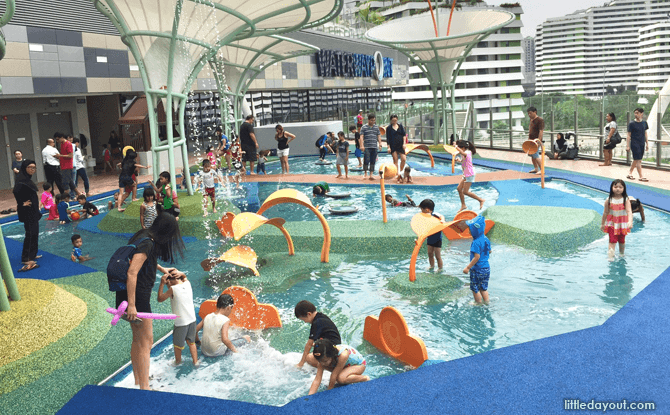 With wading pools that reflect the terraced riverside theme of the Waterway Point playground, a fun playground for little ones to splash about at. In addition to the different wet play elements, kids can also enjoy the various tunnel slides that are a feature of the dry playground.
---
The 3 House, Changi City Point
Splashing water fountains, merry-go-rounds and jets of spray, an obstacle course for kids to climb about and teeter-totters. These are some of the play equipment at Changi City Point's children's playground that makes it one of the best shopping malls playgrounds in Singapore.
---
Paragon Playground
Surrounded by children's stores, the children's playground at Paragon shopping mall along Orchard Road is not the biggest around, but it is one of the most well-located for parents who are out shopping with their kids. It consists of only one play structure but you will always find it filled with kids. Why? Location, location, location!
---
Marina Square Playground
Kids can "go to town" at the Marina Square playground. Found on the third floor of the shopping mall, this playground has a fire engine-themed and various teeter totters for children to burn off some energy by. There is also a smaller play area for toddlers nearby.
---
Tiong Bahru Plaza Sparrow Playground
The Tiong Bahru Plaza playground consists of a unique-looking play structure. Different from other run-of-the-mill play equipment, this outdoor shopping centre playground was inspired by the old mosaic playgrounds of yesteryear. It sports a sparrow design which incorporates features such as climbing nets and a slide into a new take on the mosaic designs. This makes it one of our picks for the top shopping centre playgrounds in Singapore.
---
IMM Playground
One of the stalwarts among shopping centres in the Jurong area is IMM. Visit its outdoor playground for some fun around a treehouse play structure in the dry section of the playground or bring along the swimmers for kids to enjoy its wet play areas.
---
NEX Shopping Mall Playground
Found on the rooftop of the NEX shopping mall in Serangoon, this shopping mall playground consists of both wet and dry play areas. Kids can duck past buckets of falling water and enjoy jets of water. Or if they do not wish to get wet, there is always the dry playground for them to enjoy a bit of fun too.
---
VivoCity Play Court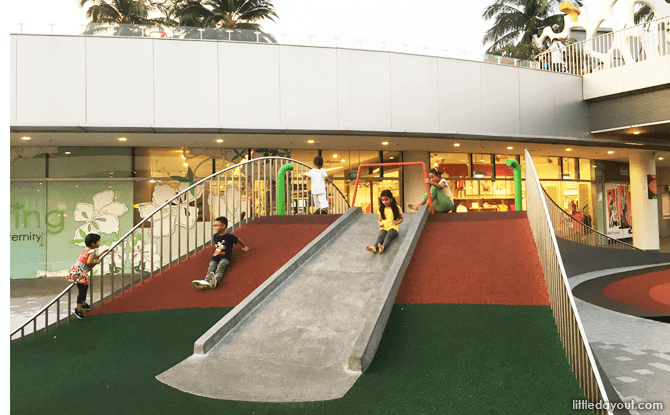 The play court located on the second floor of VivoCity provides a wonderful play spot for kids. With an unusual hill-structure that kids can climb up and slide down, as well as a trampoline built into the playground, it is no wonder that the VivoCity playground easily makes it into our list of 15 of the best shopping centre playgrounds in Singapore.
---
Forum The Shopping Mall
The shopping centre playground at Forum The Shopping Mall is open to members of the mall's Hip Kids Club. To join the club costs $25 for a one-year membership, but among the privileges that come along with member is access to the play area. This playground is a rarity as it has a ball pond for kids. There are also some play structures and teeter-totters at this indoor, air-conditioned playground.
---
Star Vista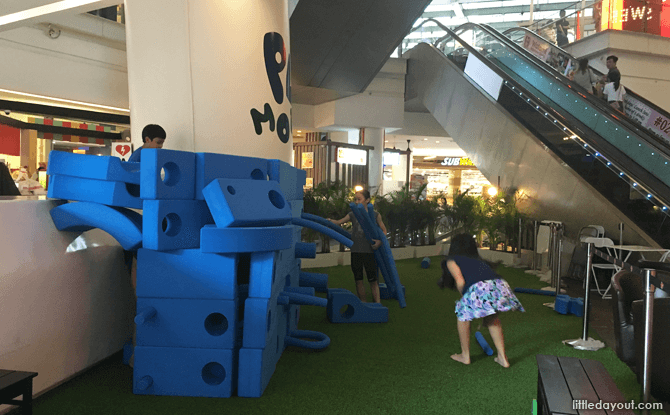 Located in at the basement, the playground at Star Vista consists of various blue-coloured play blocks and pieces. Kids can fit these together to create their own structures or anything else which their imagination can come up with.
---
IKEA Småland
Both IKEA Tampines and Alexandra have indoor play areas. Dubbed Småland, these playgrounds, opened exclusively to kids, are themed after a magical forest. There are areas for climbing, running and jumping, or just to settle down and watch TV. Now, if only there were more such places around Singapore.
---
Lot One Shopper's Mall Playground
The rooftop playground at Lot One provides a fun spot for kids to get in some play. The outdoor, dry playground has a tarp for shade and offers kids plenty of opportunities to climb about. It also has a wet play area where kids can splash around fountains at this Singapore shopping centre.
---
Our Tampines Hub
This new integrated centre in Tampines makes our list of shopping centres in Singapore with great playgrounds because its sheer number of play spots. This includes a playground in the basement, an inclusive playground on the Level 2 Sky Terrace and another play area, Kids Playzone on Level 4! Those above are all dry playgrounds. If the kids feel like taking a dip, there is also a water playground on Level 6 at the Tampines swimming complex's pools.