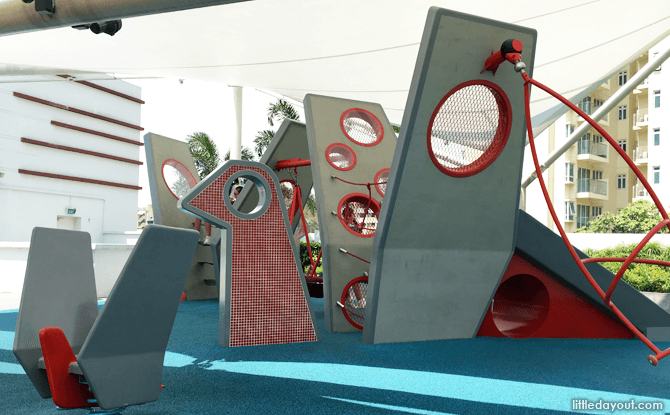 The Tiong Bahru Plaza Playground located on level three of the shopping centre pays tribute to the area's heritage with a design inspired by mosaic playgrounds from days of yore.
The Tiong Bahru Plaza Playground opened in the first quarter of 2017. It located outdoors but under a tarp for shade.
Mosaic-Inspired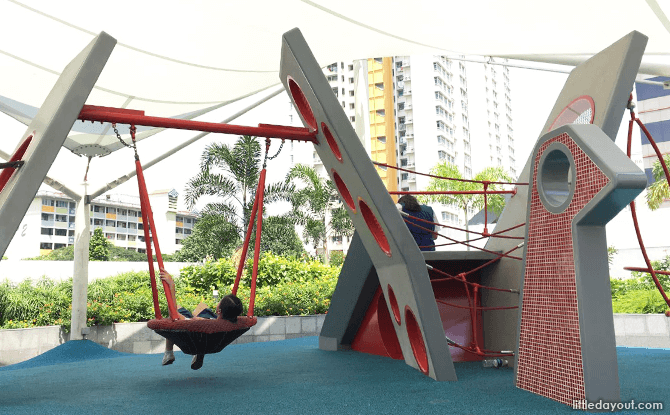 The main play structure at the outdoor playground is a Sparrow Play Sculpture. The head of the Sparrow is covered in red tiles reminiscent of the beloved Dragon Playground at Toa Payoh Lorong 6. It also bears similarities to the old Dove / Seal Playground at Dakota Crescent.
Behind the Sparrow's head are its pair of grey wings. Angled upwards, they look ready to help the bird take to the sky.
---
-- Story continues below --
Strung in between the wings of the Sparrow are a set of climbing ropes. Conquer the ropes and kids will be rewarded with a slide that forms the bird's body.
On the exterior of one of the Sparrow play sculpture's wing is a twirling, standing swing. On the exterior of the opposite wing is a round swing that kids can lie down on and swing about on.
Play and Bounce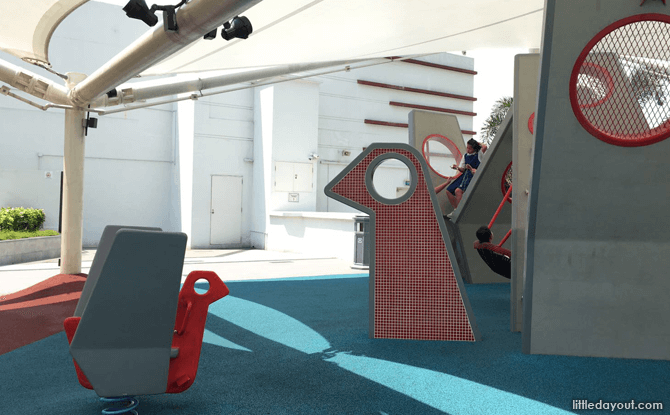 Nearby, there is a teeter-totter, dubbed the Sparrow Rider, that mirrors the winged design as the Sparrow. Together, the teeter-totter and the main play sculpture look like a baby bird with its mama.
Also at the Tiong Bahru Plaza Playground is a three-way see-saw that kids can sit on and bounce up and down.
Bouncing about seems to a recurrent them as there is also a small trampoline at the playground. Set into the ground, this little trampoline lets kids bounce up and down.
There is also an inclusive merry-go-round at the playground.
A musical panel completes the set of play equipment at the Tiong Bahru Plaza playground.
Tiong Bahru Plaza Playground
Tiong Bahru Plaza Level 3
Operating Hours: 10 am to 9.30 pm