The Compass One playground on the 4th floor of the re-opened Sengkang shopping mall is a new rooftop escape for the kids to enjoy.
Designed for children between the ages of two to 12, the shopping centre playground consists of both dry and wet play elements.
What will immediately catch the eye is the bright green waterslide at the centre of the playground. This allows kids to slip and slide their way down from the platform above to the mini-splash down pool below.
But, there is more to the playground that just the water slide. In fact, there are a total of 17 play elements at the playground. These are organised as a "Ninja Trail" that leads kids on a mini-water obstacle course around the playground.
---
-- Story continues below --
Play Features at Compass One Playground
Some of the wet play features at the Compass One playground allow younger kids to interact with water without getting entirely soaking wet. These include the Invigtrail, Jelly Jumping Pads and Sprinkling Turnabout where they can just dabble with water.
When they are ready to get soaked, there are play features such as the Misty Tunnel and November Rain. At the Dip-and-Duck, they can chase after, and duck under, little fountains of water that playfully squirt up.
The "ninja" element comes in with features such as the Swing Walk and Stepper Bridge. At these play features, kids can challenge themselves to conquer these obstacles.Kids can take on the Swing Walk and hop across its angled stepping stones, while the Stepper Bridge has a set of moving ledges for kids to get across.
Ultimately, these "ninja" obstacles lead to the Water Slide.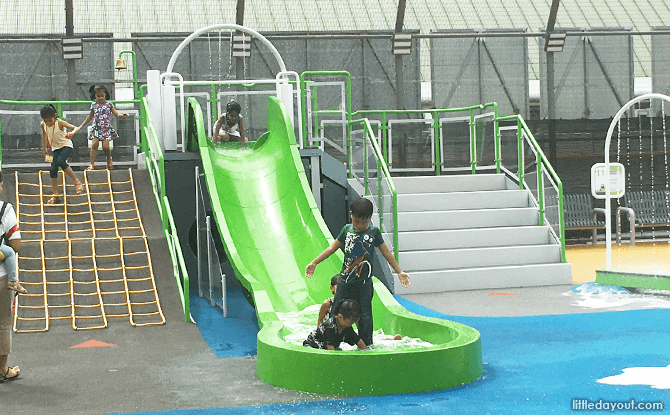 Dry features at the Compass One playground include a Net Traverse. Kids can use to climb up to the top of the Bell Fort platform.
There are also bouncy see-saw elements in the forms of a turtle, whale, motorbike and an elephant, and a pair of swings. Even these encircle little bursts of water at the centre.
Amenities at the playground include a shower area.
The Compass One playground can be found at level four of the suburban shopping centre located at 1 Sengkang Square.