Tucked away behind the shopping mall's customer service counter is The Star Vista Children's Playground. Known as the PLAYMOBILO Playground, it does not have any permanent play structures, slides or teeter-totters that you would normally find in a shopping mall's children's playground. In fact, it does not have any traditional children's play equipment at all.
[Editor's note: This playground has closed.]
Blue Bits and Pieces
Instead, all that can be found at The Star Vista Children's Playground are blue-coloured soft, foam blocks and noodles.
The big blue blocks come in a variety of forms. These include bricks, cogs, curves and cylinders.
While the individual pieces are loose, they do have holes and shapes that allow them to be fitted together.
They can be placed side-by-side, joined and linked up to create whatever comes to a child's mind.
Creations of a Child's Mind
Put together a cog on a cylinder and, ta-da, you have Thor's mighty hammer.
Place bricks side-by-side, build up layer after layer and, ta-da, you have an awesome fortress to hide behind.
Position two blocks with a gap in between, bookend the space with another two blocks – one to the front and another to the rear, grab a cog and, ta-da, kids have made their toy car they can sit in and pretend to be driving around in.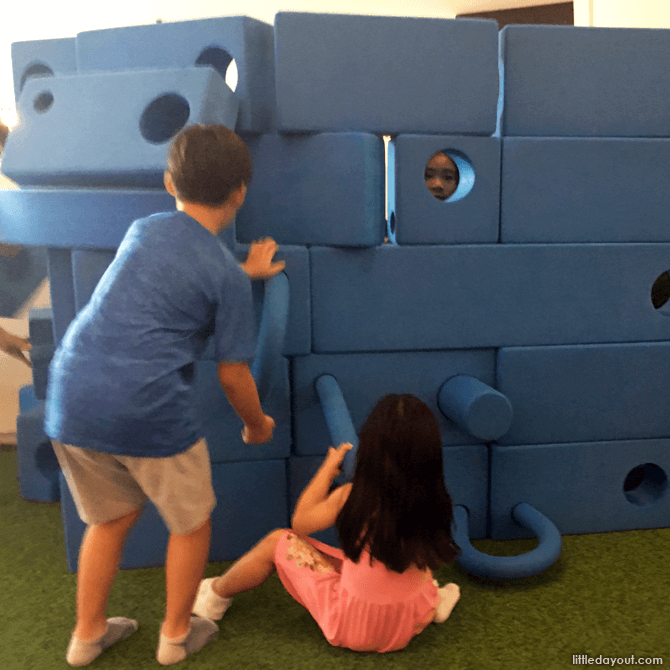 Designed for open-ended, unstructured play, the oversized blue blocks encourage creativity in kids.
While The Star Vista children's playground is better suited to younger kids, older ones will adapt it to their level. That's the beauty of the blue building blocks. They can be anything kids make them out to be.
This kids' play space is located at the same level as the fountains at The Star Vista shopping mall. Just like the majority of the common spaces in the mall, it is open-air but sheltered.
The Star Vista Children's Playground: PLAYMOBILO Playground
Location: The Star Vista shopping mall
Opening Hours: 10 am to 10 pm
[Editor's note: This playground has closed.]