As we begin March, the one week school holiday looms ahead. Children can't wait for the school holidays while some parents wonder how best to fill the one week meaningfully. You might be thinking of reducing screen time or perhaps heading outdoors, catching up on schoolwork or learning a life skill.
We have some suggestions for you – whether you prefer to stay indoors, outdoors or away from the screen!
---
12 Enriching Activities for the March School Holidays & Easter Break 2022
March On at Esplanade
Spend your school holidays at March On 2022, the Esplanade's children's festival from 9 to 13 March. The festival just for children features entertaining theatre shows, music performances and interactive workshops for kids of all ages.
---
-- Story continues below --
Check out I Have Something to Say, a theatre performance that uses music, movement and multimedia to explore the issue of bullying. And experience a Singapore legend at The Legend of Bukit Merah: Hang Nadim & the Garfish. There is much more at March On!
Read more details here.
---
Marshall Cavendish Education's Mid Year Exam Holiday Workshop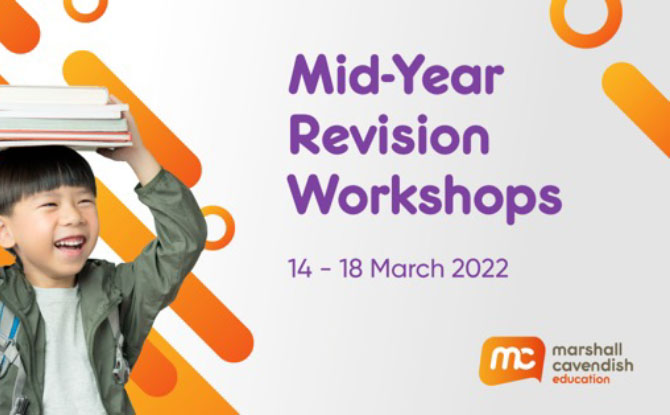 Some children may have been absent from school due to sicknesses or opting to be home recently due to the Covid numbers. Stay in and join in the revision workshops in Math, Chinese, Science to conquer the upcoming exams with smart strategies. Apart from revision workshops, there are also coding lessons to help stimulate the child's logical thinking and analysis to develop higher thinking skills.
Find out more here.
---
Nature Walks by Little Day Out
We have added more walks and more dates due to popular demand!
Choose day or night walks, intertidal walks at our shores and parks this March and April.
We also have a Magical Mangrove Marina March during the school holidays which includes a highly coveted coral walk at Keppel Marina, apart from night walks and day walks!
Explore different habitats to see our tiny neighbours in all colours and shapes at the intertidal zone, or trek into Bukit Batok to see colugos, Mandai forest to find a deer. Find the estuarine crocodiles at Sungei Buloh and see if you can spot the snakes, Raffles banded langur at Thomson Nature Park.
Sign up here.
---
Artefact Hunt at National Museum Singapore
As part of the March holiday programme at National Museum Singapore, check out the Artefact Hunt!
Join Dennis, Mama Binturong and Papa Sunbear on two fun Artefact Hunts as you explore the galleries and solve riddles. Complete the hunt to redeem a prize. Sign up here.
---
Explore New Playgrounds and Spaces
Why not take time out to explore new spaces and playgrounds in Singapore?
We spotted a sports space with a comprehensive sports corner, courts as well as a cool playground that has plenty of features at Commonwealth. Another community sports are is at Tanjong Pagar. Yan Kit Playfield occupies the former Yan Kit public swimming pool. Like its counterpart at Commonwealth, it has a elevated net tunnel.
Besides playing at the playground, children can choose to run around the tracks, exercise using the equipment and expend all their energy!
For a piece of tranquility, head to Kim Seng Park which is located right next to the banks of Singapore River. The nature playgarden would be perfect for some sensory play!
Easties will be glad to find a Therapeutic Garden at Bedok Reservoir Park. Stack and balance rocks and smell the herbs at Herb Garden.
---
Brain Defense Workshop
Wondering how to introduce the concept of digital literacy to your children?
With undesirable content so pervasive and accessible these days, it is wise to teach our children to learn "brain defence". Digital literacy educator Carol Loi holds regular Brain Defense workshops for children and parents to keep our vulnerable ones safe from issues such as cyber bullying, pornography and internet addiction. The workshops equip them with safe technology habits to protect their minds.
Sign up for the March run here.
---
Science Centre's Brickman Wonders of the World Exhibition
Love LEGO? How about entering a world full of LEGO?
Head to Science Centre's Brickman Wonders of The World exhibition from 12 March to 3 July. It's a wonderful world of more than 50 creations of iconic landmarks including the Great Pyramid of Giza, the Leaning Tower of Pisa, the Taj Mahal and even our very own merlion!
---
Children's Biennale at National Gallery
If you haven't seen Children's Biennale at National Gallery, pop by the multi-sensory installations till the end of 2022. The installations aim to inspire young minds with artistic experiences that can transform a child's understanding of the world around them.
Our favourite's the larger than life cardboard city by Alfredo and Isabel Aquilizan.
Read on about why art matters here.
---
Book Bugs Collection: Rescuers of Stories Lost
Book Bugs fever has begun again. But all isn't well in Bugtopia, Book Bugs are slowly disappearing. In the latest edition of National Library Board's card collection exercise, kids can join bug journalist Attie as he investigates the strange occurrences in Bugtopia from 1 March till December 2022.
Find the Book Bugs here.
---
Introduction to Arduino and Walking Robots
Parents eager to get their children into more advanced coding programmes can sign their children up for Arduino classes and walking robots. Whyte Labs' mission is to teach young minds to build robots for the real world. Classes are available during the March holidays as well as Easter break.
Find out more here.
---
Learning Outdoor Skills such as Orienteering
65 Adventure has organised daily outdoor sessions at Sembawang for the children to pick up outdoor skills such as hiking, survival skills, navigation and outdoor cooking! Choose individual sessions or all four sessions at a discounted rate.
Register here.
---
Musical Jam at Natventure Books
Love Disney music? Then bring your child along for a parent-child Musical Jam – Disney edition! This is for children between ages 4 to 9. Sing along, play percussion instruments and bond with your child over Disney music.
Soak in the Disney magic here.
---
12 Activities, 7 days of March Holidays
Twelve activities just for you and your child during the March holidays. Of course, you can check out our mega list of outdoor activities in Singapore too.
Wishing you a fruitful week with plenty of bonding time together!