Those were my first thoughts when I heard the term. We have all heard of self-defense and equipping our kids with Taekwondo or Brazilian Jiujitsu skills. In the same vein, brain defense helps our children guard against threats, harmful behaviour on the web and learn to be digitally discerning.
I never saw how important digital literacy truly is until an episode of curiosity and inappropriate Google search involving our ten year old surfaced. Access to devices is prevalent and possibly even unhindered, unmonitored by unsuspecting parents due to Home-based Learning, virtual classes as well as online games.
---
More on Brain Defense by Defend Young Minds
This curriculum was developed by Defending Young Minds and can be purchased by families and educators to use in home and school settings. It offers students who are between ages 8 to 12 lessons using engaging videos to keep them safe from issues such as cyber-bullying, pornography and internet addiction. It equips them with safe technology habits to protect their minds.
There are five main lessons and 11 videos. There is an instruction manual, "Brain Book" workbook, Home Connection letter for parents and more.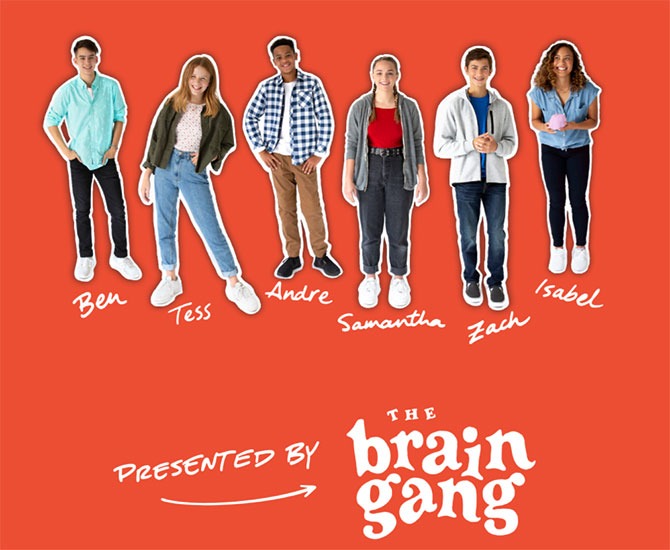 To help impart the important lessons, it is done in a less top down manner as it has 6 teens in the videos talking about their scenarios and modelling good digital citizenship. These cool role models also known as "the Brain gang" also help the tweens be more engaged.
While this curriculum was developed in the US, Carol Loi from Village Consultancy has used the curriculum and facilitated the sessions virtually due to overwhelming demand from local parents. It is free to join and functions on a pay-it-forward basis.
Parents are also invited to sit in the Zoom sessions. This worked well as I could see my son's responses and also know whatever he was being taught.
---
5 Things My Son Learnt from Brain Defense Class
1. Thinking Brain vs Feeling Brain
Since it was about brain defense, the discussion focuses a lot on our digital consumption and behaviour's impact on the brain. I like it that it was backed up with neuroscience, social science, education and child psychology. Hence my 10 year old definitely didn't think that it was a "Because I said so" lesson but it was what Science says.
He learnt the roles of the "Thinking Brain" versus the "Feeling Brain". Certain things we do result in an addiction because of the dopamine effect, which makes the "Feeling" part of our brain feel good. This perspective was very simply put to aid the young ones in their behaviours online. While some may make you feel good, we need to put on our "Thinking Brain" to check if it's truly positive.
In other words, children are taught to use their neocortex to make good choices, develop and exercise self-control and problem solve.
---
2. The P word
P for pornography. Have you talked about this with your child?
The subject is probably difficult to talk about in many homes. But it is the elephant in the room that needs to be talked about in a rational way. I was glad Carol brought it out in a non-awkward and non-judgemental way. It might have made some kids squirm but what was surprising (to me) was that a majority have seen porn on their devices whether unwittingly or intentionally.
The definition of porn was explained and its relation to the brain was emphasised. It was also raised as a kind of addiction that can be harmful. Children could identify how pornography can be consumed, and then respond accordingly.
As a parent, I know that pornography appears with a click, an unknowing search and even within games and GIFs. The Brain Defense class was a good platform to start the conversation between parent and child since there was a debrief after each session by the parents.
---
3. CAN DO plan : What to Do When
After educating the tweens about the harmful effects of certain digital content, it is important to empower the children with the hows of responding.
The CAN DO plan teaches your child how to respond when they see pornography or other undesirable content. The steps: close eyes, tell a trusted adult, distract self and centering the Thinking brain.
---
4. Balancing Screentime and other activities
Children were also taught the importance of balancing screentime and other activities. Rather than parents having issues limiting screentime, I thought it was great that a neutral expert could tell the kids the importance of limiting screentime and balancing it with other activities.
The children also had to write in their brain workbooks what they can do to balance their screentime. The useful bit about the brain workbooks was they got to write down their thoughts, learning points and recap what was learnt. Goals were also set to help them be better digital citizens.
---
5. The Right Behaviours Online
The final lesson of the series was on being screen responsible. Hence to help the children not to become keyboard warriors and unethical digital citizens, they were taught about cyberbullying, respecting the work of others and the most important rule of typing things we wouldn't mind being said about us.
It was a thought-provoking series that prompted my child to ask me more questions. He learnt that pornography can be illegal, and that there were some online behaviours that can also be taken into task. With the rise of digital activity, it was important to be well grounded in such issues.
---
Help Your Child Build Up Some Brain Defense skills!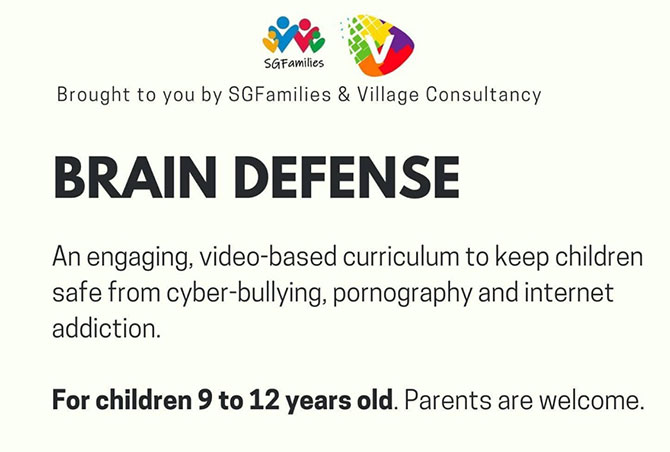 The conversations about digital content and digital citizenship did not just end there. Parents were encouraged to keep communicating to their children, monitor and limit device usage and role-model it as well. There were also workshops to empower parents to learn how dangerous the digital world can be and how certain unfortunate encounters can be avoided.
Get more details on Brain Defense sessions.