Student care centres can support busy families but it is important to choose the right centre to ensure that a child's caregiving and enrichment needs are met.
If you are a parent with school-going children and considering a student care centre, you may be asking yourself:
"Does the student care centre offer a safe and conducive environment?"
"Are the children getting appropriate support in their schoolwork?"
---
-- Story continues below --
"Are the children actively learning, are they engaging in meaningful activities?"
Before you decide on your child's after-school arrangements, here are some important things to look out for in a reliable student care centre.
---
What To Look For In An After-School Student Care Centre
1. Safety & Security
Student care centres should offer a safe physical environment, as well as solid Standard Operating Procedures. A well-designed space is not only intentionally arranged to minimize risks and hazards, but also for children to learn and play without undue danger. They should feature monitoring systems to ensure a secure learning environment, deter misconduct, and allow for review of incidents.
Children should have exclusive access to toilet facilities, and procedures to ensure that they are safe.
Student care centres should have strict access control to the premises, verify the identities of persons authorised to pick up children, and keep a record of arrivals and departures.
2. Conducive Learning Space
Student care centres should offer a conducive and stimulating learning environment for learning, playing, interacting, routine care and rest.
Check for the amount of space children have access to. Be sure to enquire about the accommodation capacity of the centre as well as if it has sufficient resources to ensure your child's wellbeing and development.
3. Catering to Academic Needs
Parents want their children to make good use of their time after school each day.
A quality student care centre will ensure that school homework is completed, and that additional academic support is on hand if needed.
4. Enrichment Needs
A student care centre should offer enrichment activities and classes for the children to be meaningfully engaged, and allow them to balance their time between academic work, leisure and enrichment activities.
A great student care centre helps nurture children's abilities, knowledge, and values to help them grow as capable, and responsible individuals.
5. Responsible & Reliable Student Care Team
Critically, a student care centre should have a responsible and reliable team.
Caregivers, teachers and administrators hold important roles in ensuring the needs of each child are met. Experience as well as knowledge is critical to support a child's development.
6. Convenient Location & Access to Public Transport
Accessibility is an important factor in choosing a student care centre. Finding one with easy access, and convenient pick-ups and drop-offs makes the daily routine easier for parents.
---
After-School Care at Agora Student Care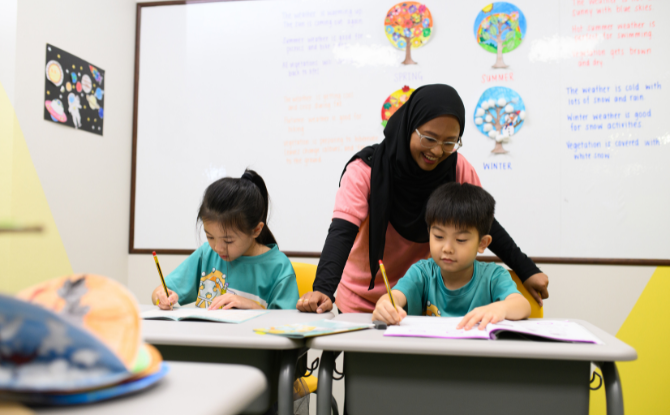 Agora Student Care meets these criteria, and more. It is a great place for kids to learn, grow and play.
Safety & Security
Agora Student Care has robust safety and security infrastructure and practices. Agora Student Care staff are subjected to background checks. The physical space is designed with safety as a priority. CCTV cameras help monitor the entire area. Soft areas enable children to play freely and toilets are inside the centre perimeter to prevent any mingling with the general public.
Systems and protocols ensure children are accounted for at all times. Students are registered as soon as they enter the premises, and parents are automatically notified. They may leave the centre only with a parent's or guardian's permission.
Conducive Learning Space
Agora Student Care has a generous 20,000 sq ft space with top-notch facilities, including an amazing library with a netted mezzanine floor, classrooms with state-of-the-art smartboards and adjustable height desks, and multi-function studios. It also features a large terrace overlooking Sentosa for outdoor activities and play.
This abundance of space is unparalleled by other centres and makes it possible for a large variety of enrichment and tuition courses to be held within Agora Student Care.
Academic Needs
The Agora Student Care programme emphasises a child's holistic academic development such as self-discipline, autonomy, a desire to learn and grow.
To ensure each child is up to speed academically, Agora Student Care teachers ensure that students complete their homework daily. Students practise English, Maths and Chinese with digital interactive worksheets to consolidate their learning. They also practise for weekly school tingxie with a Chinese teacher twice a week.
Children's academic performance is tracked and reported regularly to parents, verbally and in writing.
Enrichment Needs
As a part of Agora Colearning, the family-centric education hub, Agora Student Care offers children a wide variety of optional tuition and enrichment classes under one roof. The numerous courses available allow parents to fully tailor their child's experience, and support them academically as needed.
Enrichment brands available include Aikido Shinju-kai, Create Lab, Edugrove Mandarin, Elevate Dance Academie, Instic Academy, LCentral English, Math Mavens, Smart Science Lab, Vivo Kinetics, Whizz Kidz and others.
In addition, children have access to a library containing 6,000 children's books, a makerspace for STEM activities, and sports equipment in the outdoor space.
At the end of a very busy day, each child has a choice of free indoor or outdoor play, a game of soccer with friends, some creative work, or some quiet time reading, playing a board game or chatting with friends.
Responsible and Reliable Student Care Team
The Agora Student Care team is composed of experienced student care educators and regularly undergo professional development and training. Child First Aid qualified staff are always present on premise.
Convenient Location
Agora Student Care is located at HarbourFront Centre, a short distance from the HarbourFront MRT and bus interchange. A direct entrance from the HarbourFront Centre car park allows car-driving parents for quick and easy pick-ups as well.
---
Registration at Agora Student Care Now Open for 2024
Agora Student Care is the right place if you are looking for an after-school environment to support and nurture your children cognitively, socially, emotionally and physically. It has the infrastructure, innovative programmes and customisable enrichment options to help grow happy, confident learners.
Agora Student Care is now open for 2024 registrations. The first 50 to sign up with the code <LDO50> will enjoy an early bird promo!
To learn more, visit the Agora Student Care website.
This feature is brought to you by Agora Colearning.