Designed using an evidence-based approach and research in environmental psychology, the Bedok Reservoir Park Therapeutic Garden is a public space for residents around the area and members of the public to unwind.
It is designed with the aim to bring about restorative effects to one's mental well-being and relieve stress. There are various sections and features within the therapeutic garden.
---
Interactive Rock Garden at the Bedok Reservoir Park Therapeutic Garden
The therapeutic garden at Bedok Reservoir Park overlooks the reservoir and is the first therapeutic garden to be built over a former sand quarry.
The heritage of this space is what inspired the unique feature in this Therapeutic Garden as members of the public can experience an interactive rock feature with stones and boulders.
The activity of rock balancing is a meditative, relaxing and immersive activity. Being able to do this activity in a controlled environment is a much better way to try rock stacking, as doing so in public spaces has been reported to contribute to environmental issues such as erosion.
---
Biodiversity Garden at Bedok Reservoir Park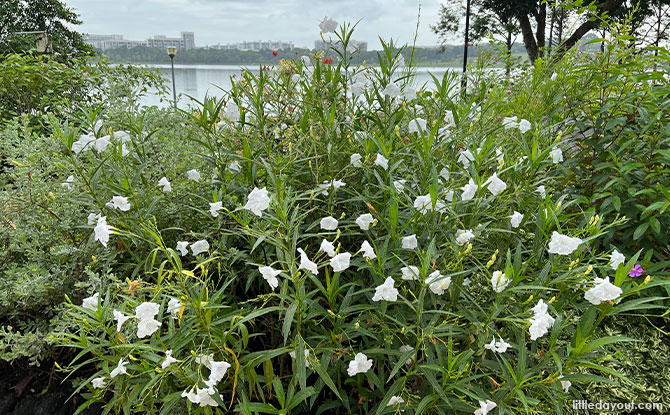 The Therapeutic Garden incorporates features that facilitate therapeutic horticulture, which is a practice that uses nature-related activities to improve physical and mental well-being. One such nature-related activity is taking a walk in the Biodiversity Garden. The biodiversity-attracting plants featured in the Therapeutic Garden allow visitors to observe and appreciate various fauna.
The garden also features distinctive fragrant plants to engage visitors' sense of smell. These plants include the Mock Orange, Cape Jasmine, Ylang-ylang and Bread Flower.
---
Herb Garden at Bedok Reservoir Park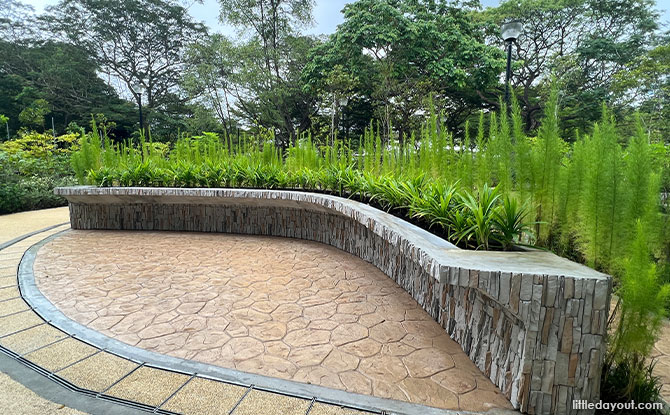 There is also a herb garden that visitors can walk through and enjoy the fragrance of the variety of herbs planted in the garden. The herb garden is located next to the activity lawn, which is an open green space ideal for group activities. It can also be used for relaxing horticultural activities such as gardening.
---
Fitness and Physiotherapy Corner at Bedok Reservoir Park
Spanning 1,650 square meters, visitors will notice upon entering, the outdoor space with a fitness area as well as a Physiotherapy Mound, which consists of a series of steps and a ramp. There are also exercise machines that users of various ages and fitness levels can use.
---
Where to get an unobstructed view of Bedok Reservoir
To enjoy an unobstructed view of the Bedok Reservoir, visitors can take a seat at the shelter, near to the water feature.
---
Bedok Reservoir Park Therapeutic Garden
The Therapeutic Garden At Bedok Reservoir Park is located next to Bedok Reservoir Park, Carpark B. For more information, click the link here. You can also read about other therapeutic gardens in our article here and here.