Hot Cross buns are a great festive Easter treat to enjoy. However, for those with dietary restrictions and those looking for a gluten-free option, here are some of the places in Singapore to buy some gluten-free hot cross buns.
---
Gluten-Free Hot Cross Buns
Bud of Joy
These artisanally-made buns are egg-free and dairy-free. They are also vegan! Other than Hot Cross Buns, Buds of Joy also makes other gluten-free cakes such as muffins and cookies. They require at least 3 days of advance notice for their orders so be sure to place your orders as soon as you can!
---
The Whole Kitchen
Enjoy the healthy version of this classic festive treat. Made from a gluten-free country bread base, these hot cross buns from The Whole Kitchen are filled with a delicious mix of raisins, spice and fresh orange zest. It also comes in a Chocolate Cherry version which is filled with cherries, cacao cinnamon and fresh orange zest. Both are best served warm with a cup of tea!
These can be bought directly from their site and they are also sold at Ryan's Grocery.
---
Vegan Hot Cross Buns
Baker & Cook
Baker and Cook's annual hot cross buns are back! Their vegan versions are made with soybean oil, enzymes, and filled with the same delicious currants and sultanas. For every 6 piece pack purchased, $1 will be donated to Breast Cancer Foundation.
---
Marks & Spencer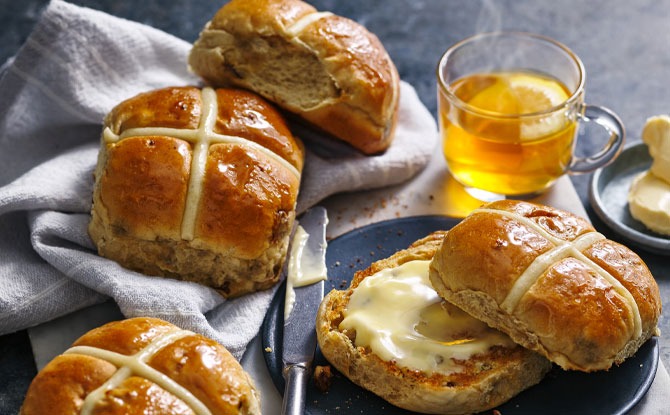 This Easter, on top of their usual hot cross buns and some interesting flavours, Marks & Spencer is also launching a Plant Kitchen vegan hot cross bun made without eggs or dairy. These hot cross buns are100% dairy-free and packed full of juicy raisins and currants, with a unique spice blend and a unique fruity texture.