Many will be familiar with Din Tai Fung, an Internationally acclaimed Taiwanese restaurant with many outlets around Singapore. This Lunar New Year, Usher in the Year of the Tiger with Din Tai Fung's classic Prosperity Smoked Salmon Yu Sheng and an exciting AR gamified filter with weekly prizes to be won.
---
Prosperity Smoked Salmon Yu Sheng from Din Tai Fung
Din Tai Fung is bringing their festive special Prosperity Smoked Salmon Yu Sheng (发财鱼生) which is available in a classic or vegetarian version. It is available islandwide from 18 January to 15 February 2022. Din Tai Fung's classic Prosperity Smoked Salmon Yu Sheng comprises of carefully selected ingredients such as Norwegian smoked salmon is served alongside colourful ribbons of carrots, green, and white radish.
There are also classic ingredients of sesame seeds, roasted Din Tai Fung's in-house signature auspicious plum dressing and the dish is topped with a serving of Crispy Yam Strips for an added crunch.
Diners can also add 'top-ups' like the all-time favourite Fried Salmon Skin, additional Sliced Smoked Salmon and additional Crispy Yam Strips.
Alternatively, Din Tai Fung's Prosperity Vegetarian Yu Sheng offers all the fortune served without pickled scallions and smoked salmon. Top up the abundance with an additional serving of Crispy Yam Strips.
All OCC Cardmembers enjoy 10% off any purchase of Prosperity Smoked Salmon Yu Sheng, excluding top-up options.
---
Catch the Bao Filter: Stand a chance to win $30 Din Tai Fung Vouchers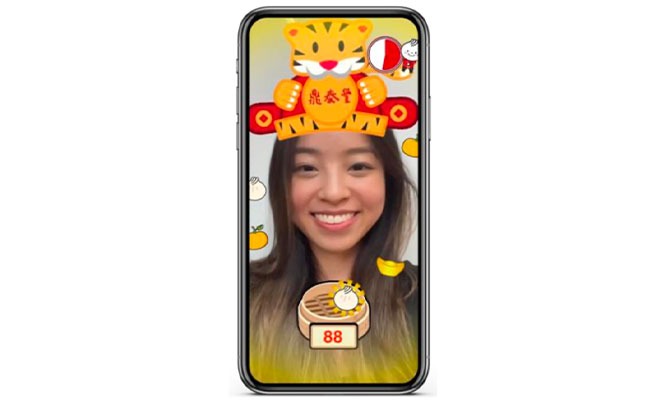 To add on to the festive fun, try your virtual paws and claws this Tiger year and play Din Tai Fung's latest AR gamified filter Catch the Bao which will be available from 14 January to 13 February. Players can choose from two different festive hat designs and aim to catch as many dumplings and gold ingots as they can with a bamboo steam basket within 30 seconds. Each week, the top 3 scorers will win $30 Din Tai Fung dining vouchers.
To participate, simply follow the 5 simple steps below:
1. Follow @dintaifungsg on Instagram
2. Play the "Catch the Bao" Instagram Story (IGS) AR gamified filter
3. Post it on your IGS and mention @dintaifungsg
4. Save your best score on Instagram Stories as a video
5. Direct message (DM) @dintaifungsg with the saved video
3 weekly winners will be announced on 21 January, 28 January, 6 February, and 14 February respectively. The game can be accessed at the link here from 14 January onwards.