Proving that it is never too young to be interested in aviation, students as young as seven took part in the Singapore Amazing Flying Machine Competition 2017.
This annual competition is open to participants from Primary to University level and this year saw the largest number of participating teams yet. In total, 424 teams, including 52 international teams, took part in the competition across five categories.
Winners of the Singapore Amazing Flying Machine Competition 2017 received their prizes from Dr. Mohamad Maliki Bin Osman, Senior Minister of State, Ministry of Defence & Ministry of Foreign Affairs & Mayor, South East District, at a prize presentation ceremony at NUS High School of Mathematics and Science on 18 March 2017.
At the Primary School level, students took part in the Paper Planes Category. This challenged them to design and fold paper planes to achieve the longest, farthest or most accurate flight. Top honours in this category among primary schools went to Team Mighty Star from Yu Neng Primary School.
Other categories included the Unpowered Glider, Radio Control Flight, Semi-Autonomous/Autonomous and Open categories. Winners in these other categories were:
Category A (Paper Planes, Open Class) – Sharp Shooters, St. Gabriel's Secondary School
Category B (Unpowered Glider) – Bullseye, Edgefield Secondary School
Category C (Radio Control Flight) – 4 Awesome People, Dunman High School
Category D (Semi-Autonomous) – Skyhawk, Nanyang Polytechnic
Category D (Autonomous) – Ulion, National University of Singapore
Category E (Unconventional) – Le Casier, Singapore University of Technology and Design
Singapore Amazing Flying Machine Competition 2017: Learning Beyond the Classroom
The Singapore Amazing Flying Machine Competition is jointly organised by DSO National Laboratories and Science Centre Singapore, and supported by the Ministry of Defence. It provides a non-conventional platform beyond the classroom for students to learn about flight and aerodynamics.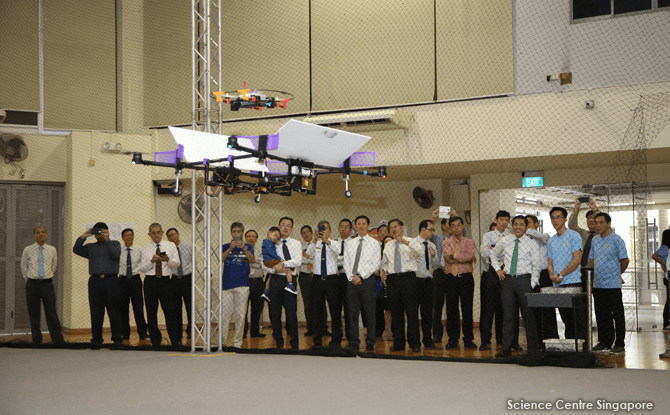 Noting this, in his address, Dr Maliki said, "The amazing machines that I have seen today, that are developed and designed by many of you, reinforce my confidence that there are many innovative young minds in Singapore who will guide such nascent and experimental technologies to reality."
To find out more about the Singapore Amazing Flying Machine Competition 2017 visit the competition's website here.