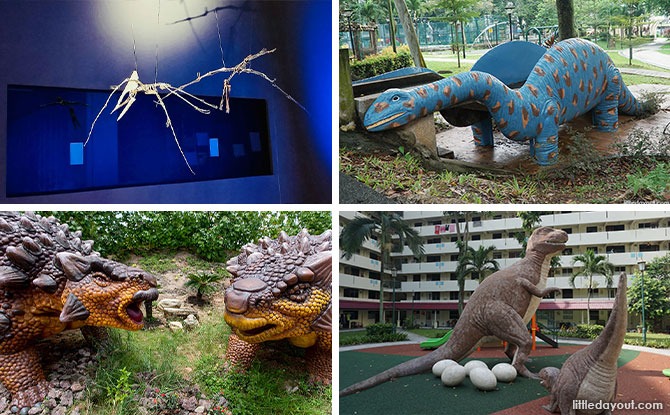 We've all heard of the period "when Dinosaurs roamed the earth', but we don't have to go back in time to see them here in Singapore. Not just Milo Dinosaurs at our coffee shops, here are the different places that one will be able to see some dinosaurs in Singapore.
---
Where to Find Dinosaurs in Singapore
1. Lee Kong Chian Natural History Museum
Standing at the D.S. Lee Foundation Dinosaur Zone in Lee Kong Chian Natural History Museum, meet Prince, Apollonia and Twinky – three diplodocid sauropod skeletons that were found between 2007 and 2010 at a quarry in Wyoming in the United States of America. These three dinosaurs are believed to be part of the same herd or even family. Visitors can also enjoy a free mini light show that plays in intervals. Read more here.
---
2. Kim Keat Dinosaurs
Play amongst the dinosaurs in Singapore at Kim Keat Ville. There are two detailed dinosaur sculptures located at this playground. The bigger dinosaur sculpture stands tall with its textured skin and a fearsome set of teeth to match. There is a smaller dinosaur sculpture is positioned lower to the ground and seems to be eyeing the five white eggs that are next to the large dinosaur. Click here to see where you can see these two sculptures for yourself.
---
3. Fu Shan Garden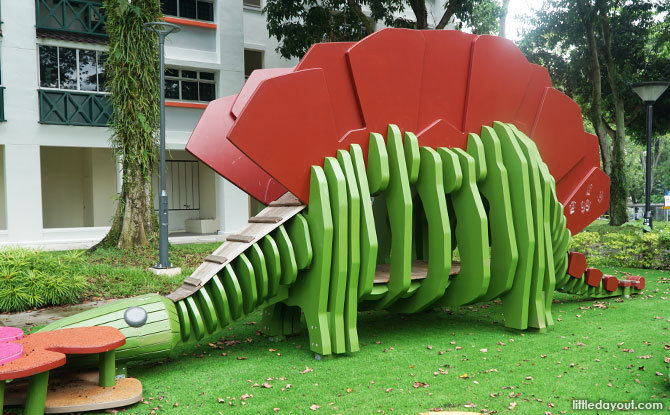 Similar to the playground at Kim Keat Ville, this time, you don't just play amongst the dinosaurs, but with and around them at the Fu Shan Garden! Originally designed by Hong Hai Arts and with new additions from Playpoint, there are dinosaurs both old and new in this playground at Woodlands. For the more ancient dinosaurs, you'll find the dinosaurs in brightly coloured in hues of blue and orange. Some slides are integrated along their backs. The is also a yellow triceratops and green stegosaurus which recently joined the herd. Kids who play there can get the experience of crawling "into the belly" of a dinosaur! Check out more here.
---
4. The Lost World, Universal Studios Singapore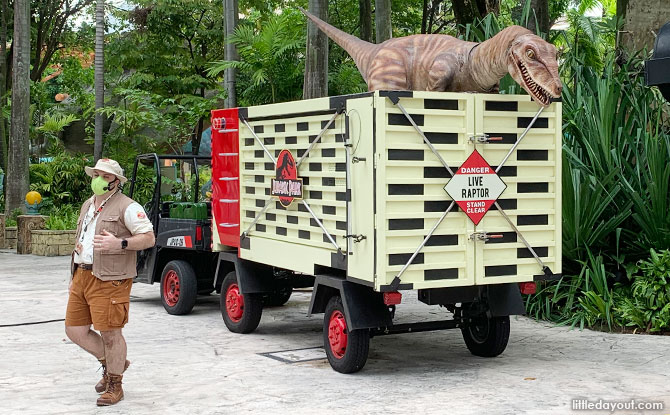 We're all familiar with the movie Jurassic Park, and in Universal Studios Singapore, you experience it at The Lost World. There is a ride that is centred around this classic movie, flying dinosaurs you can ride on and a chance for an encounter with a "live raptor". See our article on other tips and tricks when visiting Universal Studio here.
---
5. Changi Jurassic Mile
The newest herd of dinosaurs in Singapore are located at the Changi Airport Connector. Also known as Jurassic Mile, there are many different dinosaurs that you can see while walking or taking a cycle down the 1-kilometre cycling and jogging path. Changi Jurassic Mile is home to Singapore's largest permanent outdoor display of life-sized dinosaurs. From giant T-Rexes to giant dinosaur eggs, other than taking pictures, you can also try Little Day Out's free downloadable activity sheet. Read more about the Jurassic Mile here.