If you have visited Changi Jurassic Mile recently, you may feel a bit "caged up" with the safety netting stretching all over the walkway. For those who like their prehistoric creatures uncaged, we recently spotted several dinosaurs, including a large yellow T-rex that you can get close-up with, along the Changi Airport Connector.
The 3.5 km long Changi Airport Connector links Changi Airport to East Coast Park. At one end is HUB & SPOKE at Terminal 2 and at the other end is Jurassic Mile.
---
Dinosaurs near HUB & SPOKE, along the Changi Airport Connector
While we were familiar with the life-sized dinosaurs at Jurassic Mile, we were less acquainted with the dinosaurs at the other end of the Changi Airport Connector, close to HUB & SPOKE where there is a café and bike rental shop.
The dinosaurs at the HUB & SPOKE end of the Changi Airport Connector can be found along the 600+ metre stretch of the pathway closer to Terminal 2.
In fact, one of them is a gnarly-looking raptor holding up a signboard that sets out the distance both HUB & SPOKE and Changi Jurassic Mile.
Another dinosaur at the café is part of the signboard that shares how HUB & SPOKE was conceived as a launching point for outdoor activities.
There are a total of seven dinosaur statues along the HUB & SPOKE end of the Changi Airport Connector.
Most of them are rather small and even cartoonish and comical-looking!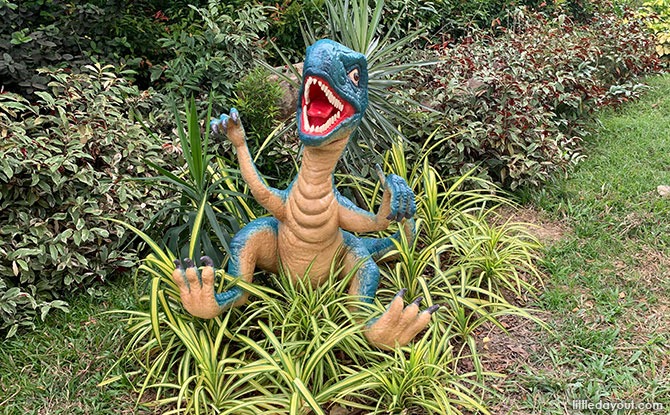 There is a baby T-Rex that looks like it is trying to jump out of a bush to surprise passers-by. These are great as photo spots which little kids can pose beside.
Another looks like it is doing a dance.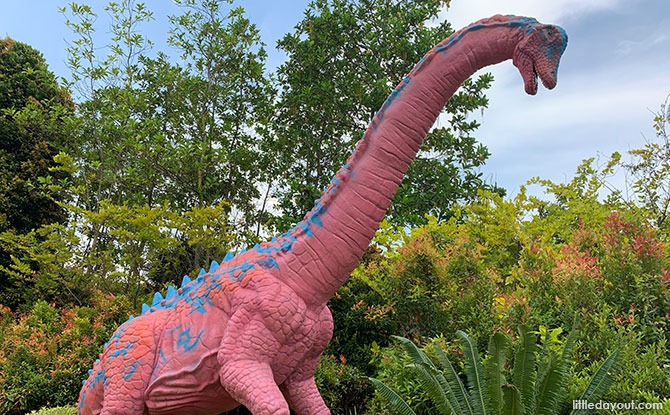 Not all the dinosaurs are small. There is a large, blue-and-red sauropod which towers by the pathway too.
What's nice about this set of dinosaurs is that there is no netting surrounding them, providing a chance to take some nice pictures with them.
---
T-Rex on the Prowl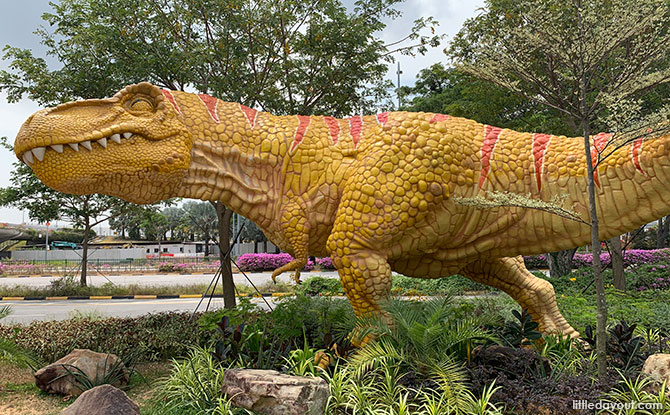 However, the most impressive is the large life-sized yellow T-Rex which looks as if it is prowling about beside the road.
You can take some pretty awesome pictures right beside it.
Its yellow hide also allows it to camouflage amongst the yellow sunflowers nearby.
If you are looking for somewhere to stretch your legs and see some dinos at the same time, perhaps HUB & SPOKE can be your next stop to get both done.