Changi Jurassic Mile has been attracting a lot of attention recently. First, it is was its opening which drew crowds of people. Last week, it was in the news again a stray golf ball hit a visitor on 22 October 2020. Now, it looks like Changi Jurassic Mile is getting nets to protect visitors from stray golf balls.
Changi Jurassic Mile occupies a strip of land between the airport and Tanah Merah Country Club. It opened on 11 October 2020 and is part of the Changi Airport Connector which links the airport to East Coast Park.
The dinosaur statues are located along the fence line of Tanah Merah Country Club.
In the unfortunate 22 October 2020 incident which took place at around 6 pm, the group of visitors were around the area where two parasaurolophus statues are on display. The metal fence next to the statues is around shoulder height and a golf ball came flying in from the golf course and hit the visitor on her head. She received treatment onsite from the Changi Airport team.
Following the incident, Changi Airport Group said it is looking for ways to minimise the risk of stray golf balls finding their way to Jurassic Mile.
---
Safety Nets to Protect from Stray Golf Balls at Jurassic Mile
From the looks of it, they have now taken steps to install nettings along the fence line bordering the golf course around several of the dinosaur statues. These nets are as high as the fence next to the airfield.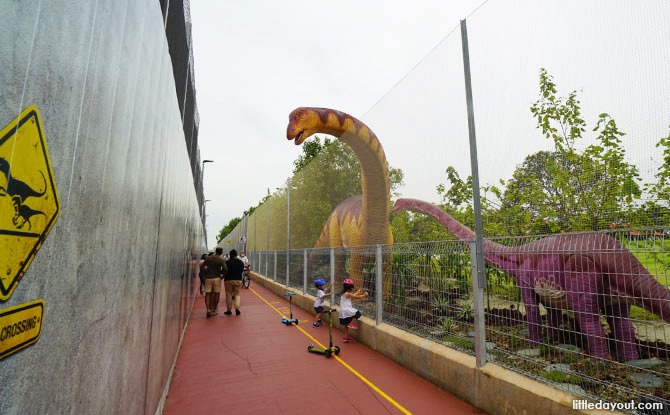 The nets have been installed at the two Apatosaurus (but with the head of the larger one sticking out over the net),
the two Parasaurolophus
and at the Stegosaurus exhibit.
The other sections still had low fencing when we visited.
---
Baby T-Rex Dinosaur Back from the Dentist
Another fix to Jurassic Mile is to the baby T-rex photo point. The statue previously had some of its lower front teeth missing.
The baby T-rex now has a full set of teeth again. Hopefully, visitors take care of the baby dinosaur so that everyone can enjoy it.
With these improvements to Jurassic Mile, hopefully we can all enjoy visiting the dinosaurs safely once again.