A short distance from the famous Lorong 6 Toa Payoh Dragon Playground is another unique landmark, the Dinosaur Statue Playground at Kim Keat Ville. This playground features two dinosaur sculptures posed in front of a block of HDB flats.
---
Dinosaur Statue Playground at Kim Keat
The pair of dinosaurs was installed by sculpture specialists Hong Hai Environmental Arts in 2000. Hong Hai Environmental Arts is also behind the Dinosaur Playground at Woodlands Street 81 which were built in 1997, three years before the Kim Keat Ville Dinosaur Sculpture Playground. At the Woodlands Dinosaur Playground, elements such as slides and tunnels are incorporated into the dinosaurs' design.
The Dinosaur Statue Playground at Kim Keat Ville adopts a different tack. The dinosaurs at Kim Keat do not incorporate any playground elements but serve to mainly provide visual interest.
---
-- Story continues below --
The larger of the two brown dinosaur statues stands upright. This is in contrast to current conventional wisdom as to how large predators are normally portrayed nowadays – with their upper torso leaning forward, counterbalanced with their tails. The statue's upright stance reflects the older view that these creatures once roamed the earth walking around standing up like Godzilla – and provide a bit of quaintness to the sculpture.
Inside the mouth of the towering dinosaur are a fearsome set of teeth. Its tiny T-rex arms are set in front of its body.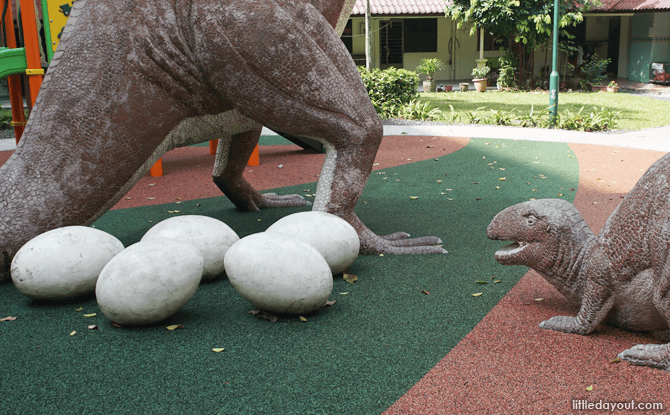 A second, smaller dinosaur can be found next to the larger one. It is sculpted leaning forward with its arms touching the ground.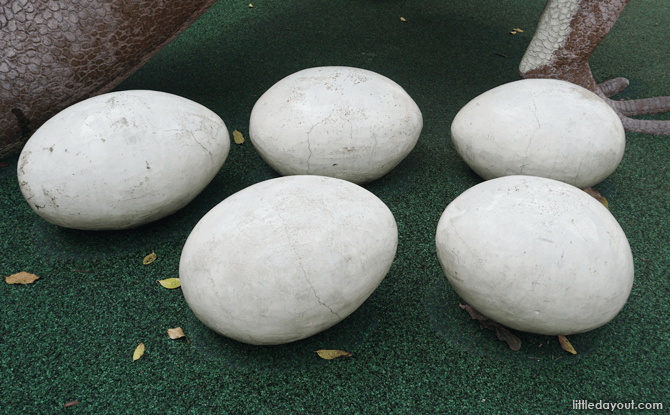 It appears to be looking with anticipation at a set of five dinosaur eggs beside the hindquarters of the bigger dinosaur.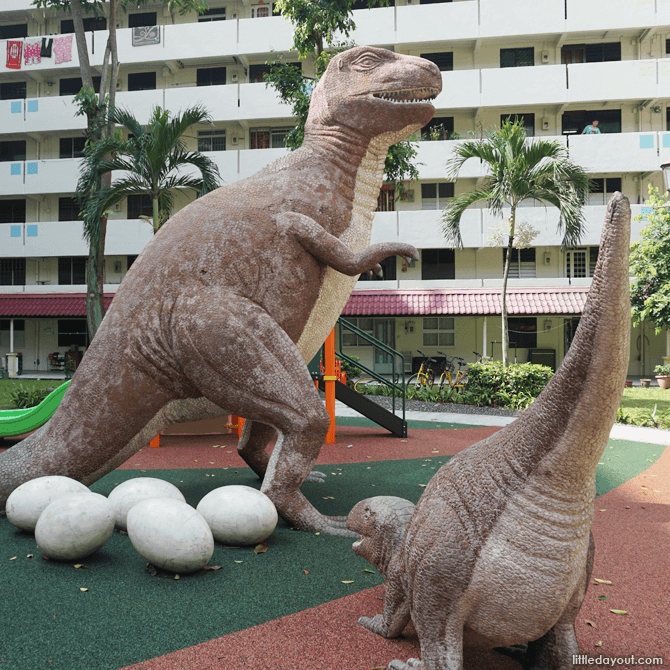 They are an odd pair to be encounter amongst the old flats at Kim Keat Avenue.
---
Play at the Playground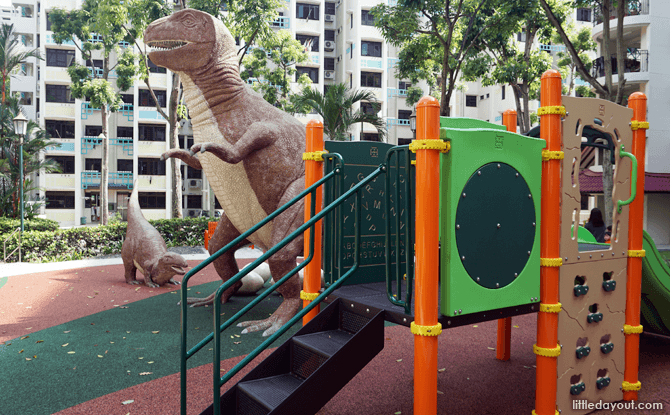 Previously, the Dinosaur Statue Playground used to have a small, green stegosaurs playground next to the dinosaur sculptures. This play equipment has now been updated to relatively larger one with slide, activity panel and climbing handholds.
The Dinosaur Statue Playground is an interesting addition to the collection of interesting playgrounds, such as the Old School Animal Playground, at Toa Payoh–Kim Keat.