Obstacle courses in Singapore are fantastic and fun ways to develop confidence and perseverance. They allow adventurers, young and old, to safely venture out of one's comfort zone and expand their realm of experience.
Whether you are planning to bring your child on an obstacle course in Singapore, or are just young at heart or are an adrenaline junkie, there are plenty of different activities to choose from!
We've compiled six different obstacle-based activities in Singapore that provide a dose of adrenaline-fueled fun. Read on to find out more about these obstacle courses in Singapore!
---
-- Story continues below --
---
Rock Climbing Centres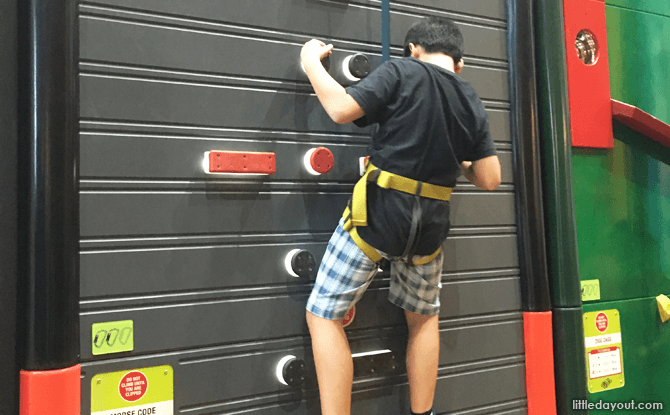 Rock Climbing is a popular activity that trains strength, endurance, and even strategy! If you didn't know, skilled rock climbers challenge themselves to find the shortest route to the top using limited number of rocks and train not just their upper body strength but the strength of their grip.
Sounds daunting?
Don't fret as there are a large variety of rock climbing centres for you to start off at. One unique one is Clip n' Climb at Our Tampines Hub. The facility has 19 walls of exciting,  colourful climbing challenges with varying levels of difficulty. We went there on a super fun day out and we highly recommend it for a time of bonding with family and friends.
---
Forest Adventure, Obstacle Course in Singapore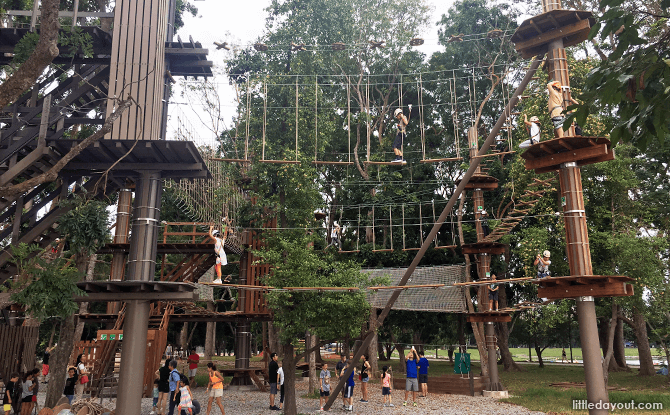 Located at Bedok Reservoir, Forest Adventure is a well-known high obstacle course in Singapore. Packed with more than just high beams, you will find ropes, bars and flying foxes with amazing views. Forest Adventure caters to various groups of people from children to corporate team building events! You can find out more about our previous visit here.
---
Mega-Adventure @ Sentosa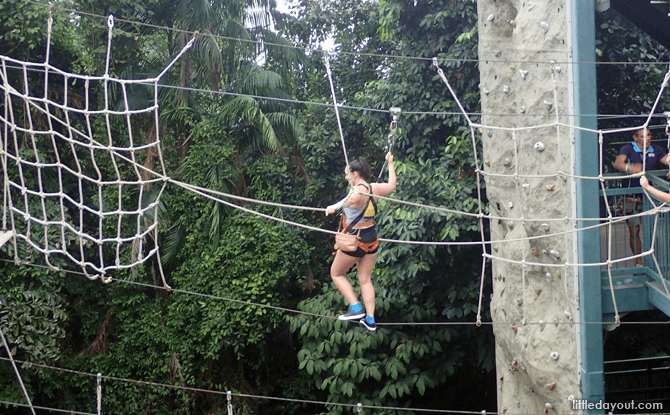 Mega Adventure at Sentosa offers five different activities: Mega Climb, MegaWall, MegaJump, MegaBounce and MegaZip. You can customise your own Mega Adventure and have a Mega Good Time.
The Mega Climb and Mega Wall are obstacle courses and well worth checking out.
The Mega Wall claims to be one of the highest rock climbing walls in Singapore and the Mega Climb is a three level obstacle course that steadily increases in height. There are 36 different types of obstacles for participants to conquer solo or as a team!
The other three activities may not pose much of a physical obstacle, but they do pose mental obstacles to be conquered!
All the high elements at Mega Adventure are sure to leave your heart racing.
---
Let 'em Play
We all know kids who are fascinated by technology and robots and also has an every growing amount of energy. Now you can take them to "Let 'em Play" to "let off" that pented-up energy in an indoor playground that will challenge them both physically and mentally.
Let 'em Play is a family-centric edutainment hub located in the West. It offers a wide range of activities and programmes suitable for both adults and children.
There are quite a few things that makes this place different from the rest of the obstacle course in Singapore. There is a high element obstacle course, an augmented reality bouldering wall, a fun climbing wall and a robotics lab.
Its unique "climbing wall offers an indoor two-storey high elements experience with over 15 different obstacles – all housed in a comfortable air-conditioned environment. The indoor obstacle course is suitable for children as young as 3 or 4 years old (accompanied by parents) and over 6 years old if they would like to go on the course on their own. Sounds like fun to us!
---
X-Park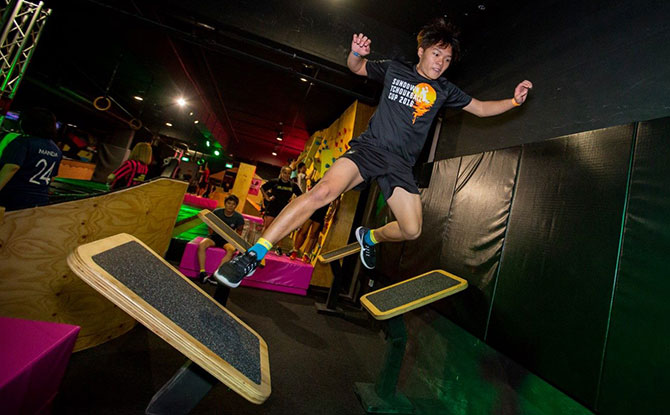 A fan of the show "Ninja Warrior?" You'll be thrilled to find Bounce Singapore's X-Park Course which is designed to resemble the obstacle course from Ninja Warrior. With familiar obstacles such as quintuple step and the famous warped wall, you'll be able to test your athletic abilities in the most gruelling way possible.
There are countless ways to complete the course and the methods can be adjusted based on the capabilities of the participants. There is no age limit. You can try it as long as you meet the 125cm height requirement. Some of the obstacles require a good deal of strength and agility though.
The regular entry ticket to Bounce allows access to the X-Park.
---
Aerial Classes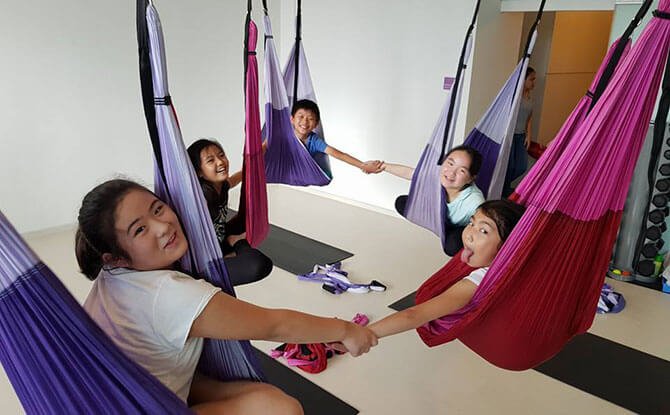 We've saved one of the best for last, with aerial classes! If the idea of soaring with grace and strengthCirque du Soleil style, aerial fitness is definitely something to try.
While not an obstacle course to be tackled, this activity is slowly increasing in popularity, and for good reason.
Known to develop more than just flexibility, those who practise it will be able to increase their upper body and core strength, stamina and coordination, whilst releasing tension in joints and muscles. Participants will need to learn how to interact with the different instruments such as the silk ribbons and hoops with precision and control.
Studios and Gyms that offer aerial classes which accept a larger age range of students include place such as Trium Fitness, Gymkraft and Aerial Fitness.
While the minimal age requirement is usually 13 years of age, we recommend that you check with individual organisations for their own requirements. Some studios such as MotionWerkz also offer parent-child classes for those with children aged 8 years old and above!