Want an adventure in the dark? Little Day Out brings you Little Night Outings – Nature Night Walks where we explore three parks around Singapore and a wild forest to spot nocturnal wildlife! Suitable for curious beings of ages four and above, it'll be an exciting little night out! We will be venturing to four natural habitats – Bukit Batok Nature Park, Pasir Ris Mangroves, Rail Corridor and Mandai Forest. All four spots are very different ecologically and you will be able to see different kinds of wildlife!
Bukit Batok Nature Park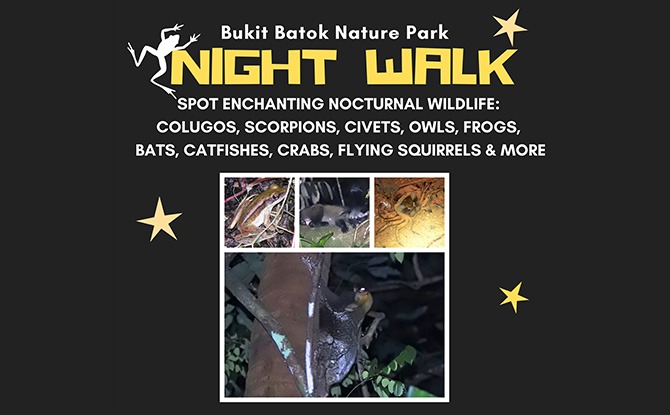 Bukit Batok Nature Park is a great place to spot nocturnal wildlife. Keep your eyes peeled to catch Colugos and Flying Squirrels actively feeding, gliding from tree to tree. Bukit Batok Nature Park also has a natural stream full of life. See if you can spot the Common Walking Catfish, freshwater crabs, swamp eels and other species of amphibians and fish. Spiders will also be busy at night spinning their intricate webs. You might even spot the Singapore Tarantula waiting for its prey!
Under UV light, you get to see the various species of scorpions glowing, a cool blue while plant, plus fungi, lichen and insects fluoresce gorgeous shades of red, purple, yellow and blue!
---
-- Story continues below --
Pasir Ris Mangroves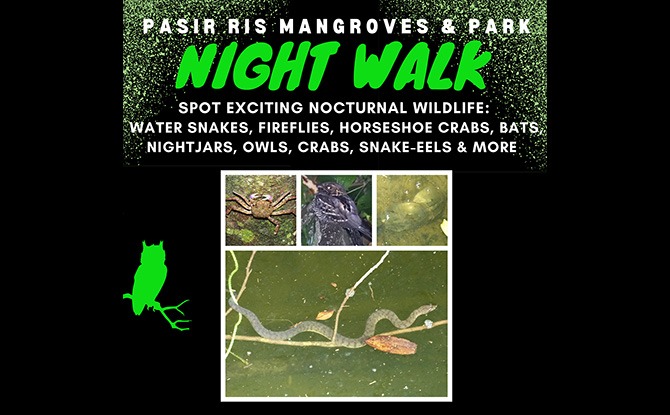 While many creatures are asleep, many others are awake and ready to hunt. Explore the Eastern Mangroves at Pasir Ris and spot Dog-faced Water Snakes hunting for fish. During high tide, Longfin Snake-eels and Horseshoe Crabs may enter the heart of the mangrove forest, where Tree-Climbing Crabs, Giant Mudskippers and huge Telescopium Snails call it home.
See some lights in the distance? That may be the Mangrove Fireflies with their bioluminescent twinkle that brings that magical touch. Perhaps if visitors are lucky, they might encounter other snake species like the Mangrove Pit Viper, Oriental Whip Snake, Cantor's Water Snake and Gerard's Water Snake from a safe distance!
Other possible sightings include Large-tailed Nightjars hawking for insects, Buffy Fish Owl, Spotted Wood Owl and various species for bats and frogs.
Rail Corridor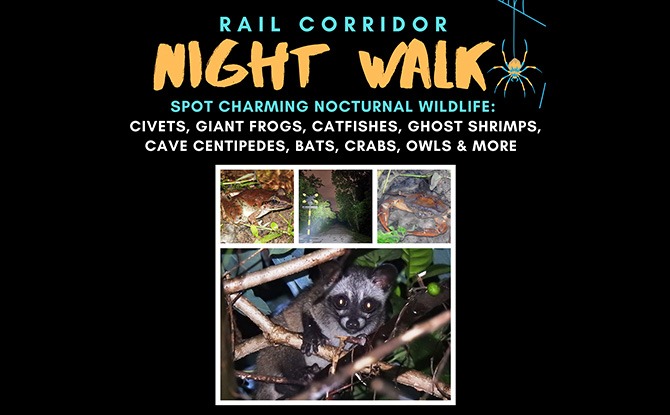 Many of you may have visited Rail Corridor in the day, how about at night? See Rail Corridor in a new light as it comes alive with nocturnal wildlife. The Common Palm Civet may be near, especially with many Yellow Stem Fig trees providing a source of food.
The natural stream hosts the Malayan Giant Frog, Common Walking Catfish, Malayan Box Terrapin, Ghost Shrimp, Freshwater Crabs and various fish and frog species. Colugos also frequent the Rail Corridor. Watch them glide spectacularly across!
See plant and fungi pigments fluorescing various shades of colour. Marvel at Cave Centipedes, snakes, owls, nightjars, freshly-woven spider webs and different bat species.
Mandai Forest
Ever wondered about the actual wilderness surrounding the Zoo? Mandai Forest will surprise man with its own nocturnal wonders. See Sambar Deer feeding, Lesser Mousedeer trotting gingerly in search of fallen fruits, find Colugos and bats feasting. Their presence is revealed only with glowing eye shine. Use your sharp eyes to spot other creatures like Drogs, Rats, Rachers and Rat Snakes.
If there is plenty of rain during that time, there will be bioluminescent mushrooms sprouting in small clusters and we may even spot Long-tailed and Dwarf Wood Scorpions as they fluoresce alongside gorgeous hues of reds, yellows and purples by plants, lichens, fungi and insects. Join in for a good dose of forest magic!
Can't decide which little night outing to go on? Sign up for all four in August 2022 here!
When Are The Little Night Outings: Nature Night Walks?
Time: 7.20 pm to 9.30 pm for ALL WALKS
Bukit Batok Nature Park: 13 August, Saturday
Pasir Ris Mangroves: 20 August, Saturday
Rail Corridor: 26 August, Friday
Mandai Forest: 27 August, Saturday
Sign up here now!
---
Stay in Touch for Future Little Day Out Camps & Outings
Love what we are offering but can't make it this time round? Want to be the first to know? Do fill up the form below so we can get in touch with you! Find out more here too!