At 24 kilometres long, the Rail Corridor is made up of various sections. One of these is the Rail Corridor South which we recently trekked, making our way from Holland Road to Alexandra Village at Bukit Merah along the green corridor.
Our journey commenced at the Greenleaf Estate, on the fringe of the Clementi Forest. From there, the Rail Corridor South led southwards towards the Mount Sinai and Ghim Moh estates.
---
Holland Road to Buona Vista
We passed under a bridge which carried the busy traffic of Holland Road above us. This was the first of many to come.
The walk along the Rail Corridor South from Holland Road to Ghim Moh gave us a chance to view some familiar landmarks from a different perspective.
There was Jelita Shopping Centre and the Holland Road petrol kiosk, where a walkway led upwards towards Holland Road, exiting beside the petrol station.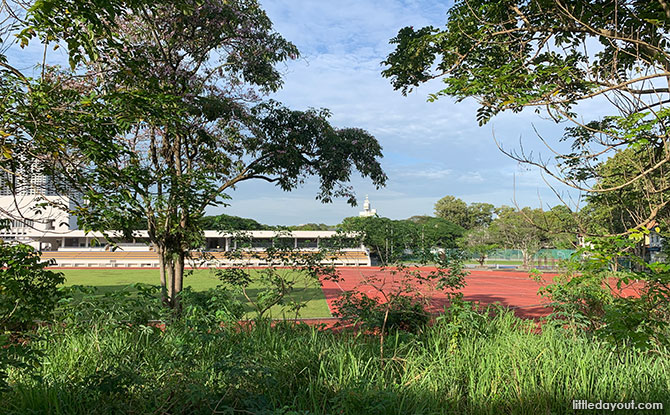 Other landmarks along the way included the former Raffles/Eunoia Junior College campus and flats at Ghim Moh.
It wasn't long before we arrived at the busy junction of North Buona Vista Road and Commonwealth Avenue. However, from the Rail Corridor South, we felt tucked away in verdant greenery even though we could hear the bustle of cars rumbling by on the road above.
---
Biopolis, Tanglin Halt and Queensway
The next stretch of the Rail Corridor South took us past Biopolis and towards Tanglin Halt.
We were surprised to encounter some artistic-looking graffiti under one of the bridges.
At Tanglin Halt, an interesting side trip was a visit to the Wessex Estate, its black-and-white apartments, disused Water Tower and an unfortunately closed ColBar.
Back on the trail, we passed the rear of the Sri Muneeswaran Temple and Blessed Sacrament Church.
Next, it felt as if we had entered into a subterranean world as we walked under the massive, multi-lane flyover at the junction of Portsdown Avenue and Queensway.
The greenway chugged on along tall grassland, passing by Masjid Hang Jebat and the rear of Alexandra Hospital before meeting up with the Ayer Rajah Expressway.
---
Towards Alexandra & Bukit Merah
Passing under one more bridge at the Gillman Flyover, with The Interlace in the background, we arrived beside Alexandra Village and its many light industrial workshops.
Unfortunately, we could not progress beyond Jalan Kilang Barat as the way forward was barricaded, thus ending our trek along the Rail Corridor South.
All that was left was to make a pitstop at Alexandra Village hawker centre to refuel.
---
Trekking the Rail Corridor South
The trek from Holland Road to Bukit Merah was about six kilometres long and took around an hour to complete. The terrain is flat, making it and easy walk.
Do take note that the Rail Corridor South is a shared path and it is advisable for those on foot to keep a look out for cyclists and vice versa.