Benjamin Franklin once said, "Tell me and I forget, teach me and I may remember, involve me and I learn."
At KidZania, kids get to have fun and gain a world of learning in a kid-sized city through active, hands-on participation. With KidZania Singapore due to open in the second half of 2015, Little Day Out flew over to KidZania Bangkok to give you a kid's-eye preview of this fast-growing phenomena that has been sprouting up all over the world.
KidZania, which was founded in Mexico City in 1999, is now at 18 sites in 15 countries, such as Japan, South Korea, Indonesia, Malaysia, United Arab Emirates (Dubai), Mexico, Portugal, Kuwait, India and Egypt. Including KidZania Singapore, a total of 8 locations are under development in places like London, Moscow, Manila and the United States.
KidZania Singapore will be a 7,700 square metres indoor facility developed by Themed Attractions and Resorts Sdn. Bhd. (the same team behind KidZania Kuala Lumpur, and LEGOLAND Malaysia Resort, Sanrio Hello Kitty Town and The Little Big Club in Nusajaya, Johor) at the new Family Entertainment Centre development at Palawan Beach in Sentosa and can hold 1,500 visitors at any one time. In land scarce Singapore, this compares respectably with the two-year-old KidZania Bangkok at Siam Paragon, which can accommodate nearly 2,000 kids a day, stands at 10,000 square metres and is billed as the largest indoor KidZania in the world.
But just what is KidZania and why has it attracted over 38 million kids and parents?
KidZanian Concept
As the brainchild of a young entrepreneur, Xavier Lopez Ancona, the first KidZania opened in Mexico for kids aged four to 14. He had dreamed of creating a unique entertainment experience for kids to have fun and enjoy real-life experiences.
Kids have the unique opportunity to learn, play and explore safely within their life-like kids city. It's an entire replica of an actual city, complete with buildings, streets and vehicles, with its own functioning economy and recognisable establishments and stores sponsored and branded by multi-nationals and local businesses.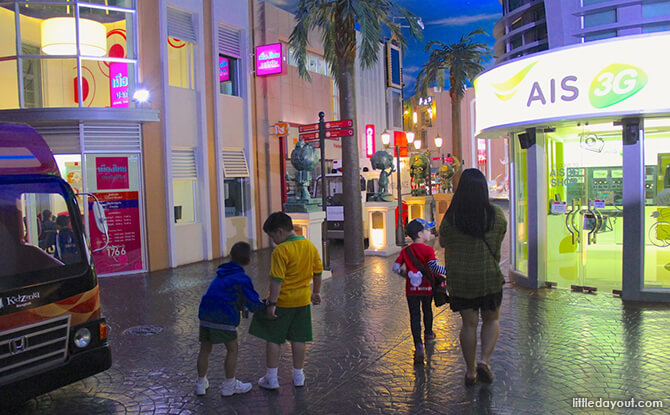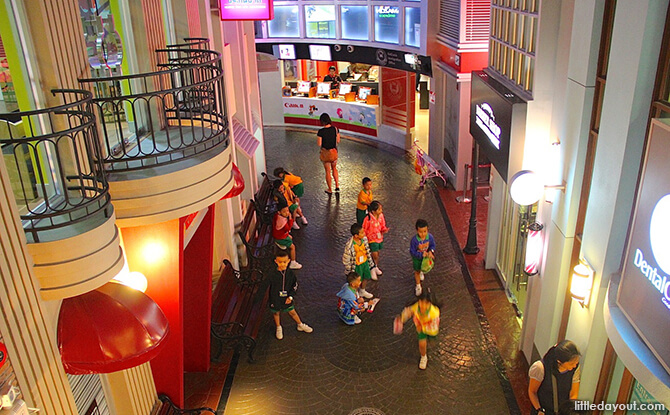 They pursue their own path and take on adult jobs through role-play to earn their keep. Over at KidZania Bangkok, kids can role-play over 80 different professions at 65 establishments, and can choose to be a doctor, police, fireman, reporter, air crew and more. This is a dream come true for kids who get to feel and believe they are "adults" and have their go at real-life work.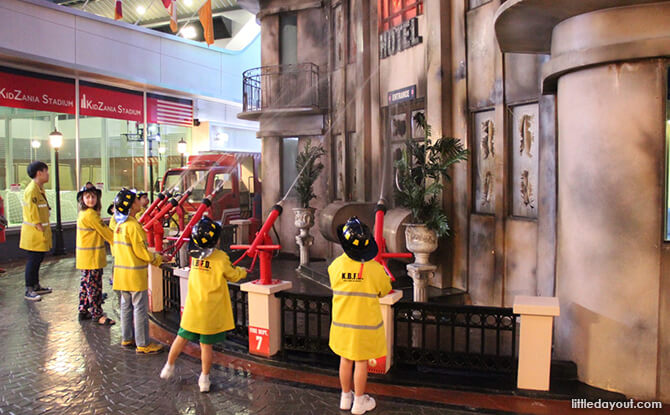 Along the way, they pick up essential life skills such as money management with KidZos (the currency used in KidZania), independent decision-making like whether to spend or use it pursue a higher degree at the Junior University, and teamwork as they take part in the various activities with other kids.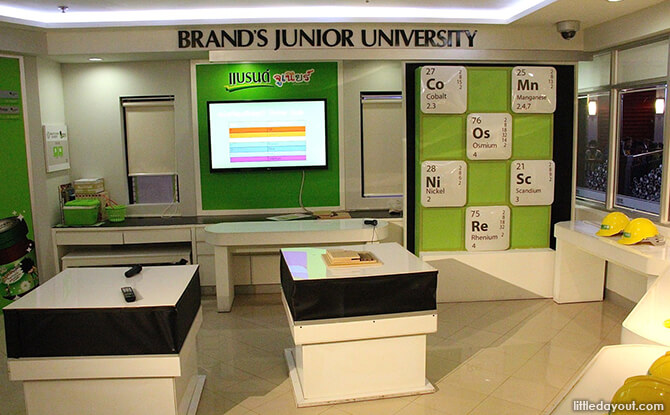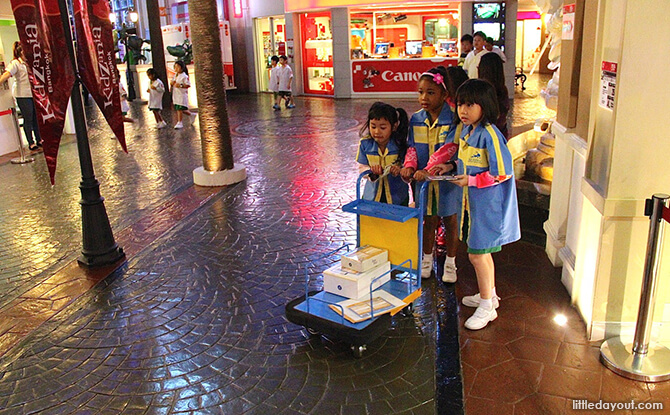 Entering KidZania Bangkok
KidZania Bangkok is open 7 days a week. To enter this city, you arrive at the ticketing counter (aka KidZania Bangkok International Airport), get your tickets (boarding passes), a city map and a cheque to help you get started in life.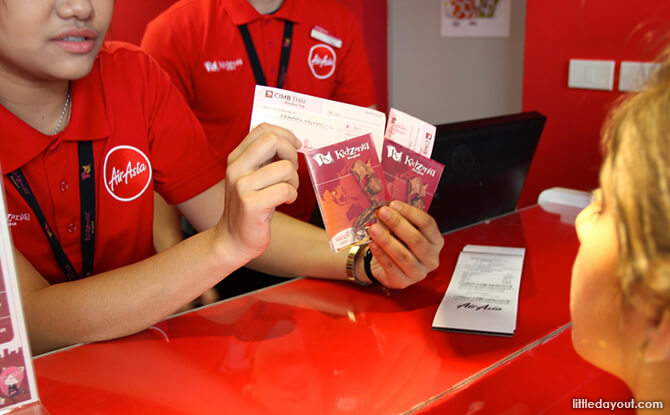 Each child is given a unique security bracelet so that KidZania staff can track and locate him or her throughout the city.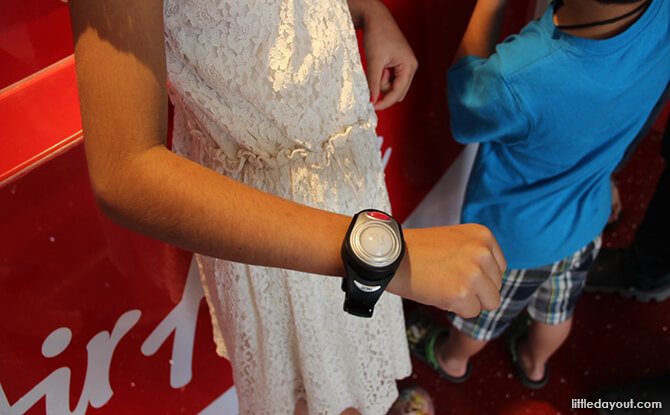 Key Zones in KidZania Bangkok City
Once you get past the immigration and enter the city proper, you probably wish that you had such a fantastical place to play in as a kid! For a start, the first Airport zone has a 21-metre section of a real Boeing 737 from Air Asia (yes, you can finally have a look at the inside of a real cockpit) and kids get to role-play as pilots and flight attendants. It was big news indeed when this section of the aircraft got transported into Bangkok City and into KidZania Bangkok City!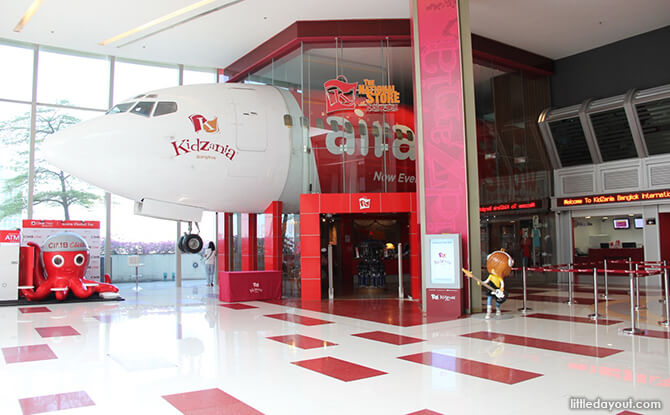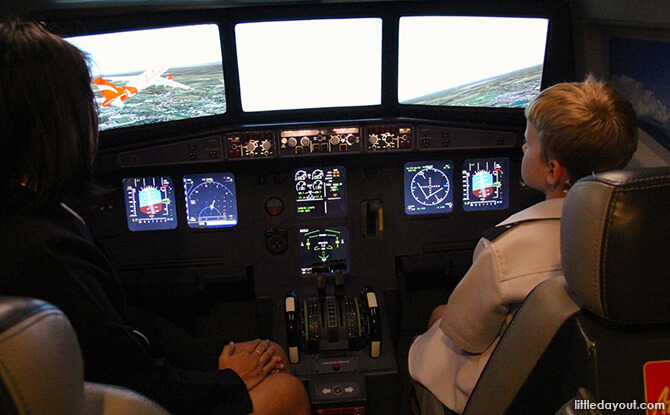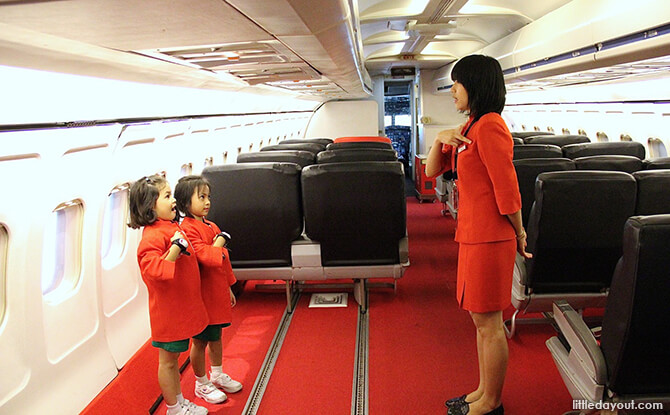 The second key area is the City Square, which is the centre of every KidZania City. There is a town hall, a university and a bank where the kids can encash the cheque they first received and open an account to save what they earn from work. There is also a theatre, a retail store, a hospital and activity areas for the performing arts.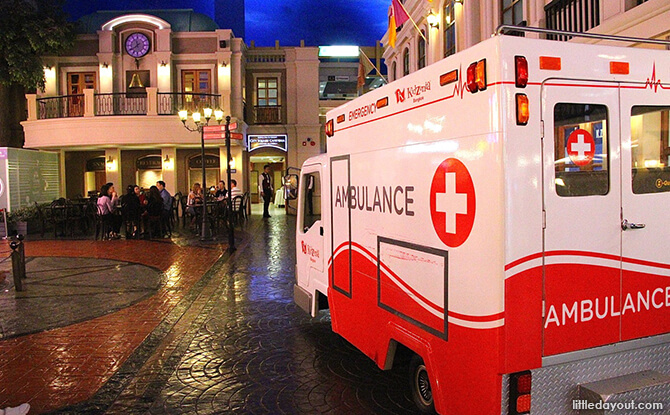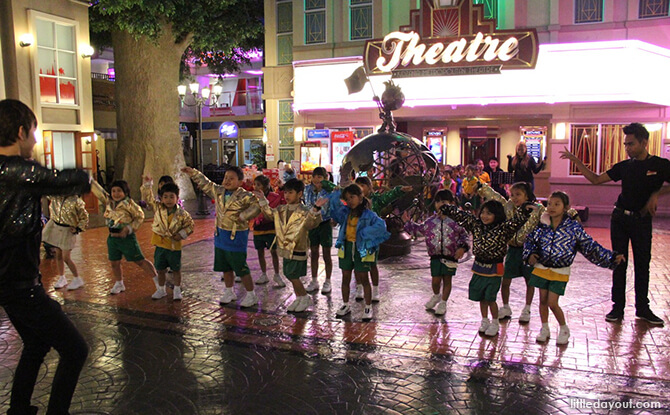 In the third suburban zone, you will find factories, such as a milk factory, a green tea factory, a biscuit factory and a water research facility.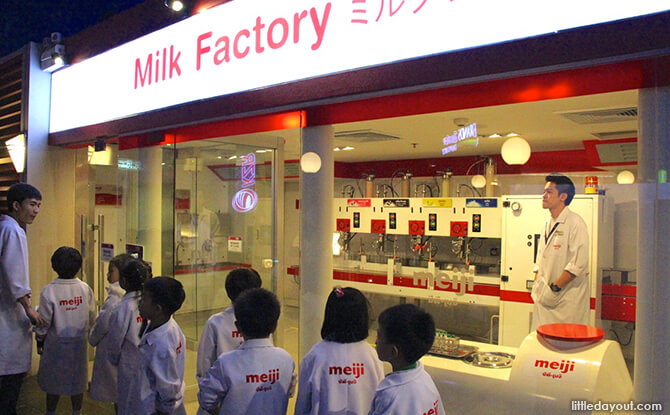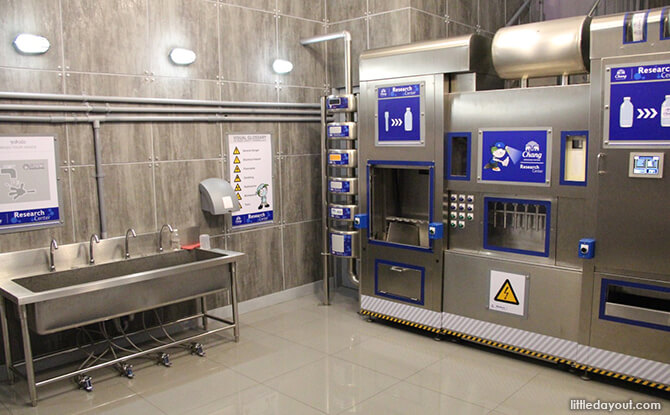 Toddlers are not left out at all at KidZania Bangkok. They have a special toddlers-only zone at Urbano House, where they can build a sandcastle and jump into a bathtub of balls.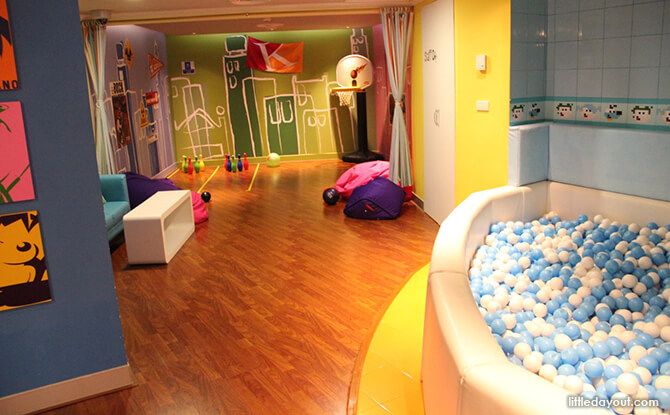 While the kids are hard "at work", operating independently in this safe city built just for them, parents can be the ones relaxing at the Parent's Lounge for a change.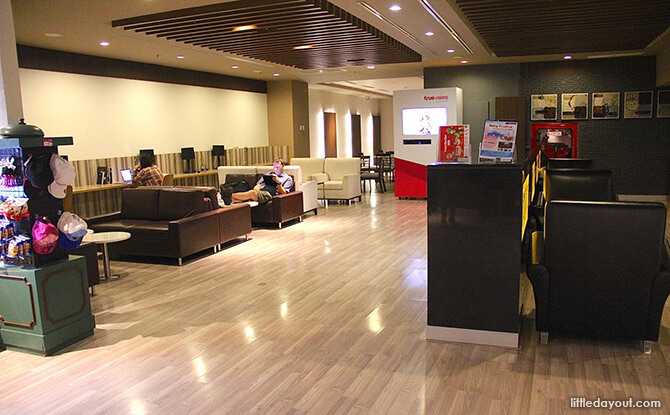 What Do Kids Learn at KidZania?
A whole lot. Firstly, educators, psychologists and play experts all agree that role-playing is a universal form of play enjoyed by every child. Throw in activities that promote creativity, critical thinking, communication, confidence and collaboration and you have a winning concoction of real-life experiences that prepare kids for the real world in an entertaining manner. Based on concept alone, KidZania stands on solid ground, with a mission to ignite the hearts and minds of kids to make the world a better place.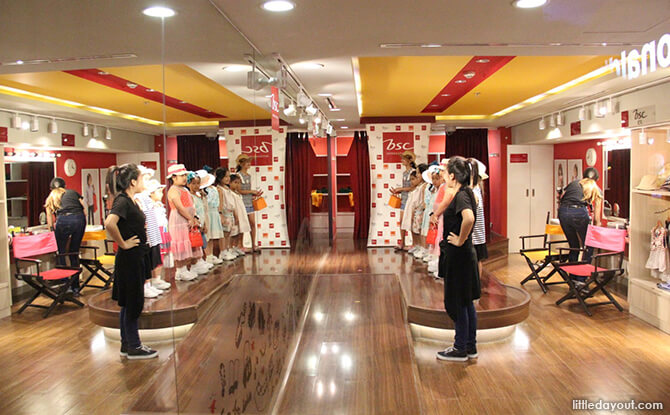 Beyond just being a brave firefighter who saves the day by putting out fires, a surgeon who saves lives and more, each child stands to gain essential life skills as they work their way through KidZania. They learn about respect for the facilities and for each other, the need to care and share, and work together. After all, it does take a team to put out a fire and coordination before a bag of cement can be lifted at a construction site. Kids work with other kids that they meet for the first time, some even from different countries and it was beautiful watching them cooperating wonderfully.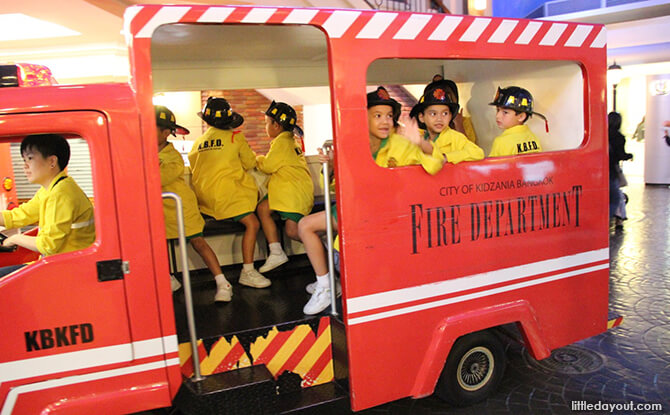 Subliminally, they pick up actual skills and learn how the real world operates as they need to take an eye test before learning to drive, go for a drama class before becoming actors, know about the human anatomy before they perform a surgery, learn about fire safety, fire-fighting equipment and first aid before they become a fireman. And if your child is afraid of the dentist, this is the place where they can see for themselves how things are done, learn about oral care and be less afraid.
Over at the factories, they get to understand more about production processes such as milk tests for bacteria, and learn about basic hygiene from having to go through a blower before they enter the clean room and safety demonstrations.
Best of all, they become conscious of the price of items and the value of money as they need to work to earn and function in this city. The smarter ones would realise that they can earn more if they invest first in their own education. They learn about basic money management and how to make independent choices.
Don't be surprised if your child becomes more appreciative of how hard you work to bring home the bacon and more savvy about the world after a trip to KidZania. Just remind them to save the KidZos they have earned at other KidZanias around the world so that they can use them when KidZania Singapore opens!
Siam Paragon, 5th Floor
991 Rama 1 Road, Pathumwan
Bangkok 10330, Thailand
Tel: 02-683-1888
Admission: Free for under 2 years old, 350 Baht for 2 to 3 years old, 850 Baht for 4 to 14 years old, 480 Baht for 15 years old and above, 400 Baht for Seniors aged 60 and above
Opening Hours: Monday to Fridays: 10.00 am to 5.00 pm, Weekends and Public Holidays: 10.30 am – 8.30 pm