Kai! is the KidZanian way for saying 'Hi'. This word will soon be heard more often around Singapore as the world's fastest growing family edutainment phenomenon, KidZania, gets ready to open its doors to visitors in early 2015 at Palawan Beach, Sentosa Island.
With its mission to provide realistic role-playing experiences for children, KidZania Singapore will partner over thirty different industry players to set up real establishments in the kid-centric city, offering aspirational learning and action-packed activities.
Amongst its partners are leading homegrown and international brands such as The Soup Spoon, Maybank, Discovery Networks Asia-Pacific, Yakult, Canon and Killiney Kopitiam. These partners will establish stations within Kidzania Singapore and Killiney Kopitiam has been identified as a food and beverage retailer in KidZania Singapore.
At the signing ceremony with its first six partners on 5 September 2013, Tunku Dato' Ahmad Burhanuddin, Managing Director and Chief Executive for Themed Attractions, the management company and operator of KidZania Singapore shared that, "Being an adult is a big deal in the eyes of the children. It is through such partnerships with the various industry players that will enrich each child's experience by creating an authentic and immersive environment for them."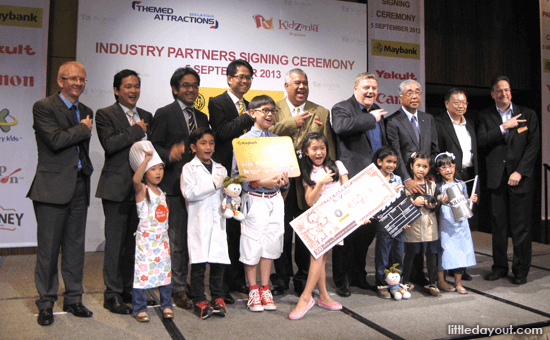 The activities at KidZania Singapore will be crafted by content teams from Mexico, Singapore and industry players. Its aim remains the same as with all KidZanias around the world – to empower children and develop real life skills in them.
Children will be able to choose from a large number of role-playing activities to earn KidZos (the official currency of KidZania), be responsible for managing their ATM cards, and pay for goods and services in the facility spanning 81,806 square feet.
For toddlers, there will be a zone crafted out for them to enjoy puppet shows, bounce on an inflatable bed or play in a tub filled with soft ball bubbles.
KidZania Singapore is part of the new Family Entertainment Centre development at Palawan Beach, Sentosa Island and is expected to attract half a million visitors annually when it opens.