August beckons! This means National Day is almost here. Since it's the month to be officially patriotic and be dressed in red, let's discover activities and National Day things to do over the month of August!
Are you ready to paint the town red?
---
Things to Do in Singapore to Celebrate National Day 2023
National Day Parade 2023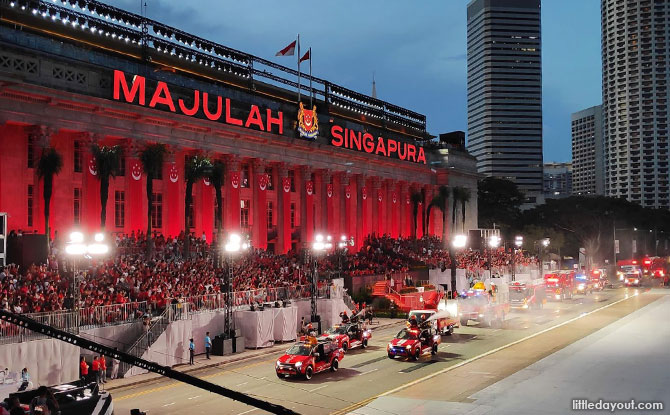 The highlight of National Day is, of course, the National Day Parade.
The National Day Parade 2023 will be held at the Padang. It will be hosted by Joakim Gomez, Hazelle Teo, Eswari Gunasagar and Fauzie Laily and feature four segments. In commemoration of the RSAF's 55th anniversary, there will be four parts to the aerial display at the Padang.
---
-- Story continues below --
A highlight are the fireworks that will go off the Padang and five heartland sites around the island on 9 August.
These heartland sites are:
• ActiveSG Bedok Sport Centre
• ActiveSG Jurong West Sport Centre
• ActiveSG Toa Payoh Sport Centre
• ActiveSG Woodlands Sport Centre
• Our Tampines Hub
Another highlight on National Day itself is the Fly Our Flag display where the state flag will be flown by helicopter on two routes around the island.
Read all the details in our National Day guide.
---
GameOn Nila! NDP Edition
Need to clock steps and taking advantage of the public holiday to do just that? The NDP 2023 Adventure Trail uses landmarks from National Heritage Board's Jubilee Walk and Singapore River Walk.
Stand to win NDP Actual Day Show tickets by scanning all 23 GameOn Nila! QR codes till 31 July. Do note that parts of the NDP 2023 Adventure Trail might not be accessible due to the NDP show on 29 July and 9 August.
Find out more about GameOn Nila!
---
Gardens by the Bay and Mediacorp National Day Concert 2023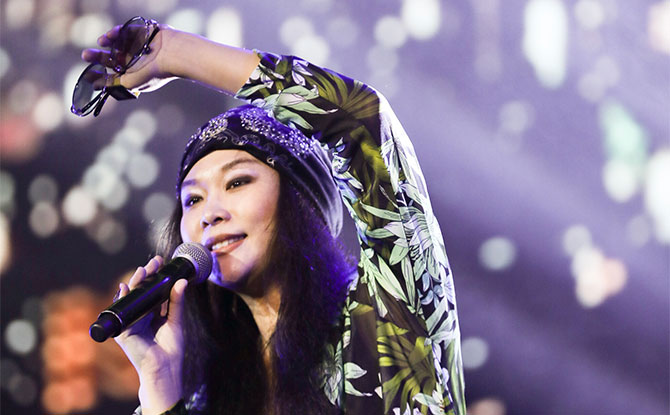 Celebrate Singapore's 58th at The Meadow at Gardens by the Bay with home-grown stars like Mavis Hee and Kit Chan on 5 August, Saturday. This concert will feature an inaugural fireworks display that will illuminate the night sky at Gardens by the Bay in a myriad of colours.
In addition, there will be pre-concert activities. These include a carnival with free family-friendly activities and photo-worthy spots, featuring inflatables of well-known Singapore landmarks such as the iconic dragon playground, giveaways of plants grown in Gardens by the Bay, a pet's walk programme, and distribution of old-school snacks such as kacang putih to bring communities together in celebration of the nation's birthday.
Get more details about the Gardens by the Bay and Mediacorp National Day Concert 2023.
---
SingNation!
SingNation! 2023 is set to make its highly anticipated return this year as Singapore's grandest outdoor choir for National Day. The sing-along session from 6 pm to 7 pm on 5 August 2023 will showcase a list of familiar tunes and beloved Singaporean songs, including past and present National Day Parade (NDP) theme songs and local folk songs.
Participants will have the opportunity to sing unique parts to these songs, creating a harmony of voices that represent the vibrant tapestry of Singapore. Lyrics and limited complimentary mini flags will be provided on-site. Head to Capitol Singapore, Outdoor Plaza for the event!
---
SSO National Day Concert
Listen to Singapore Symphony Orchestra's perform during its National Day Concert on 13 August, Sunday 4 pm at Esplanade Concert Hall.
Witness the world premieres of new music by Singaporean composers, commissioned by the SSO, as well as musical treasures from the repertory of Singapore's pioneer composers.
The concert will be streamed live on Singapore Symphony Youtube. Buy tickets here.
---
My Community Festival 2023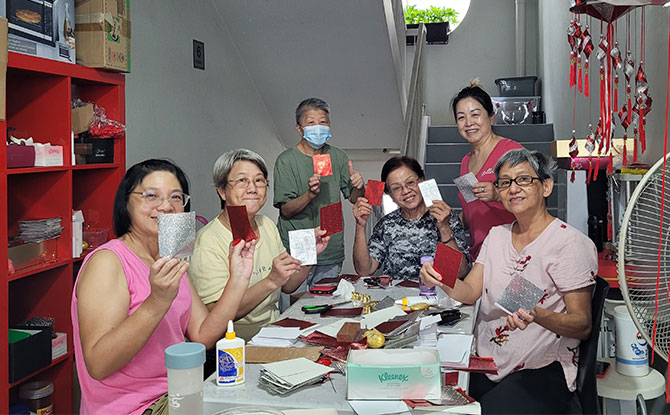 My Community Festival is back from 4 to 20 August 2023, offering a chance to get a grassroots-level look at Singapore's neighbourhoods and the activities that make the community tick. There are a plethora of tours, talks, workshops and activities packed into My Community Festival, including free trails and experiences that just cost a nominal fee.
This year, My Community Festival shines the spotlight on neighbourhood champions who keep the community going with their neighbourly spirit. Enter into the world of the people behind a community library, those who run a boatel at Changi Village for fishermen, the women that operate the Blessing Booth in Marsiling and others.
For more details and full listing of programes, visit the My Community Festival website.
---
National Museum of Singapore's National Day Activities
Celebrate Singapore's 58th at National Museum of Singapore where there will be hands-on workshops, craft activities, scavenger hunt and more. Swing by the Life in Singapore galleries before they close from 4 September.
You can also go on a digital trail around the galleries to learn more about the life of Mr Lee Kuan Yew, Singapore's founding prime minister, and also watch a movie by director Royston Tan about his work.
Don't forget to watch the outdoor 'live' screening of the National Day Parade on the museum's front lawn!
---
Orchid Extravaganza at Gardens by the Bay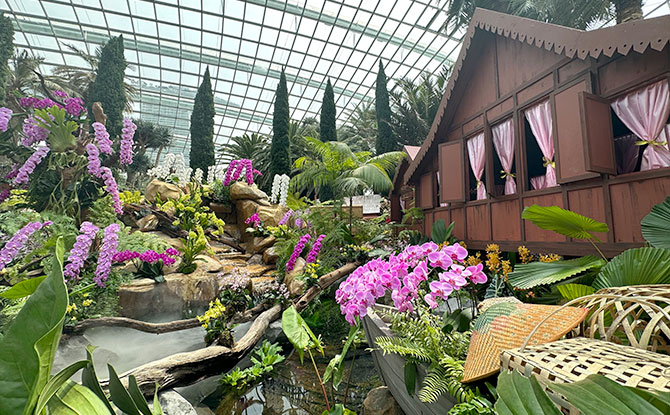 How about admiring orchids at Orchid Extravaganza, Gardens by the Bay? The display uncovers the allure of orchids in the east tropics and each country is represented by orchis cultivated from species native to Indonesia, Thailand, Brunei and Malaysia.
Fund out more about Orchid Extravaganza.
---
Run For Singapore at Our Tampines Hub
Complete three rounds of the L5 jogging Track at Our Tampines Hub and collect a sticker for each round completed. Collect all three stickers to exchange for a National Day Parade funpack. This is limited to the first 200 finishers.
The run is free and open to all on a first-come-first-served basis from 8 am on 9 August. More details here.
---
ParaDash
To be launched on 1 August 2023, ParaDash is an in-app game inspired by the Red Lions! Besides watching the thrilling free-fall displays by these elite parachutists at NDP 2023, ParaDash players can put their precision and skill to the test to land a parachutist virtually – and win cashback worth up to $258.
Anyone with a SimplyGo EZ-Link card can play the game in the EZ-Link App. Usage of the card gives more game play chances. Look out for more details from 1 August.
---
Double Celebrations at Singapore Zoo
Singapore Zoo is celebrating its 50th Golden ZOObilee alongside Singapore's 58th Birthday. Enjoy the local residents' exclusive $50 ZOObilee bundle deal for one adult and one child admission tickets.
Families going on the Art-Zoo Happy Zoobilee trail can also receive double pins – one themed in celebration of Golden ZOObilee, and the other a limited edition National Day pin.
---
FairPrice Ang Mo Kio & Jurong West Block Parties
Party on in the heartlands at block parties on 5 August. The parties will be hosted from FairPrice on Wheels trucks which will pay homage to local flavours and nostalgic experiences. FairPrice on Wheels will bring an extensive selection of over 200 local and house brand products to the block parties.
Residents can also enjoy carnival games, food stalls with Made in Singapore products. A special tote bag will also be given away to shoppers who spend above $10 at the FairPrice on Wheels truck.
Head to Blk 424A pavilion at Ang Mo Kio Ave 3 on 5 August, Saturday 12 pm to 2 pm, or Blk 442 Jurong West Ave 1 from 5 pm to 7 pm.
---
National Day at Science Centre Singapore
Try out various National Day-themed activities at Science Centre Singapore on National Day! Activity booths will be open from 10.30 am to 12.30 pm and 2.30 pm to 4.30pm.
Watch how an image can disappear in water at Scientist For A Day and make your very own light catcher at the Tinkering Studio. Activities are great for children ages 7 and above.
Read our guide to Science Centre Singapore.
---
The Polliwogs' Old School Showdown
On 6 August 2023, children aged 5 to 8 will experience a blast from the past with The Polliwogs (Vivo City)'s Old School Showdown, where they get to face off in a classic game of Hoop Wheeling, Eraser War and more. He or she might even be crowned as The King/ Queen of Old School Games.
The top three winners of the tournament will walk away with winning medals and incredible prizes worth more than $1,000.
---
National Day Singalong at Toa Payoh HDB Hub
Belt out the National Day tunes at HDB Hub along with The A Capella Society's Children Pop Choir & Youth voices, children and youth with special needs from Extra.Ordinary People. There will also be performances by homegrown music artists. Put on your red or white outfits or traditional ethnic wear to celebrate our Little Red Dot.
Find out more here.