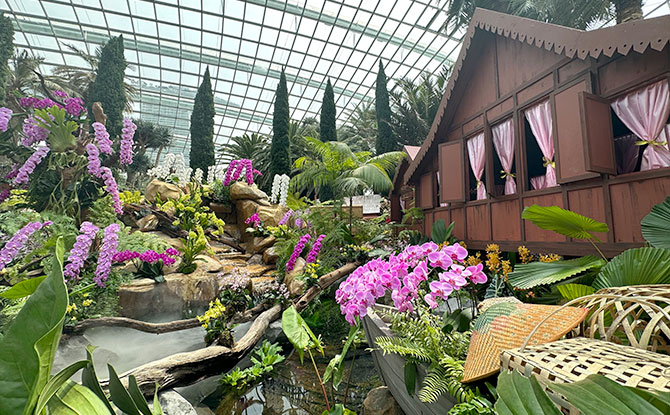 Orchid Extravaganza 2023 feels like a gathering of countries from around the region with each country represented by orchids cultivated from native species and models of their traditional houses.
The latest Floral Display at Gardens by the Bay's Flower Dome focuses on the orchids found in the east tropics, specifically those from the countries of Malaysia, Indonesia, Thailand and Brunei Darussalam.
In addition, alongside the colourful blooms, Orchid Extravaganza 2023 also showcases different kebaya.
This is in support of the multinational nomination jointly submitted by Brunei, Indonesia, Malaysia, Singapore and Thailand to inscribe the kebaya on the UNESCO Representative List of Intangible Cultural Heritage of Humanity.
---
-- Story continues below --
---
Orchid Extravaganza 2023 at Gardens by the Bay
Stepping into the Flower Dome, you will be immediately greeted by orchids and a lath house, a structure that is used by horticulturalists to provide support, shade and protection for plants.
Lath houses are made from thin strips of wood and inside the two at Orchid Extravaganza 2023 (one at the entrance and one at the Flower Field) there are not only plants, but displays of botanical art.
Various species of orchids decorate the Flower Field at the Flower Dome. These orchids also decorate the re-creations of traditional houses on display.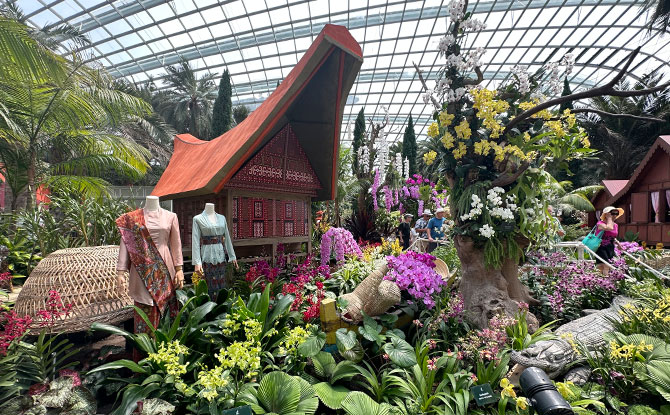 The Rumah Toraja, also known as Tongkonan, are the traditional houses of the Toraja ethnic group of South Sulawesi, Indonesia.
It has a distinct roof that resembles an upturned boat or buffalo horns. These roofs are decorated with intricate carvings and designs. Be sure to look out for Indonesia's national flower, the moon orchid, beside the house.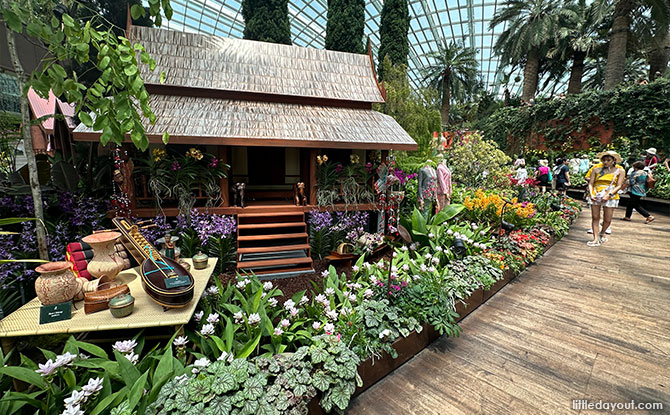 Rumah Tungkup is a type of traditional house that can be found in Brunei's capital city Bandar Seri Begawan. Displayed beside it are traditional items as well as for simpor, the country's national flower.
Malaysia is represented by the Rumah Pahang, while the Ruean Thai is a type of dwelling with traditional architecture from Thailand.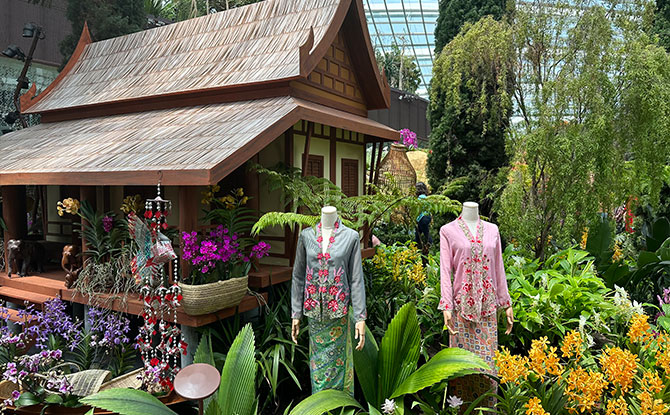 Walking around Orchid Extravaganza 2023, you will feel as if you have stumbled across a secret east tropics village, beautifully decorated with orchids from all around the region.
Also, since it is National Day in August, you can also view Singapore's National Flower, the Papilionanthe (formerly Vanda) Miss Joaquim 'Agnes'. The orchid was declared Singapore's National Flower in 1981.
---
Kebaya Displays
There are also many different styles of kebaya on display side by side with the orchids and re-created houses.
This traditional blouse is worn by women from countries in Southeast Asia, including Brunei, Indonesia, Malaysia, Singapore and Thailand. It is typically made of lightweight fabric like silk or cotton, decorated with embroidery.
In addition to the kebaya displays within the Flower Dome, there is also a mini exhibition next to the ticketing counter at The Canopy, just in front of the Flower Dome, where you can find out more about this traditional dress.
Orchid Extravaganza 2023 at Gardens by the Bay is now on till 13 September 2023.
If you are looking for things to do in August, check out our list of things to do for National Day 2023, and also be sure to look at these National Day promotions, which includes one for Gardens by the Bay.