One week to go before the one week of holidays….for the kids. Some parents might groan at the thought of it, some rejoice at the thought of sleeping in, others relish the time to bond with the kids. If you'd like your children to be meaningfully engaged and learning, how about signing up for March holiday camps 2020? From sports, art to coding classes, there is always a skill to learn or to improve upon. See our list of March school holiday camps and workshops for 2020 that your children will enjoy PLUS have an enriching time, while you enjoy your me-time.
March School Holiday Camps & Workshops 2020 
March Holiday & Easter Camp by Coding Lab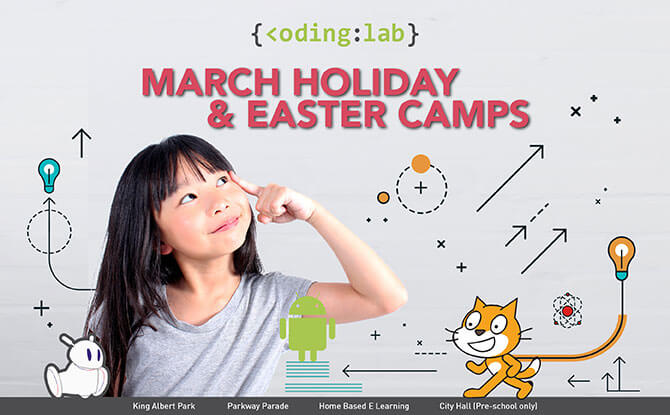 Whether it's e-learning or coding lessons in a lab, Coding Lab has got you covered. Coding Lab is behind some of Singapore's recognised top coders who have won Best Coding Award at Microsoft's Minecraft Cup and awards Champion of IMDA's National Hackathon. If you would like to nurture your child's interest in technology, sign them up for Coding Lab's award-winning curriculum for a headstart.
The curriculum is designed for children between ages 4 to 18 to build a strong programming foundation. It begins with simple games and animations (ages 4 to 9), app design and Python Junior (ages 10 to 12) and the Mathematics-infused Python courses (ages 13 to 18).
If you prefer your child to stay in, sign up for an online class and learn from the comforts of the home!
There are three locations to head to for camps and workshops: Parkway Parade, King Albert Park Mall and The Grassroots Club in Yio Chu Kang. For more details, head to Coding Lab's website or call 6528 2282.
Kaesac Learning Centre's Understanding Mathematics Workshop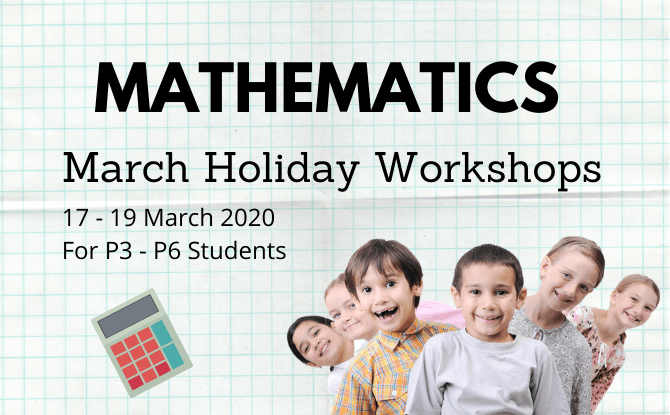 Help your Primary 3 to 6 child maintain their momentum in Mathematics at Kaesac Learning Centre's Mathematics Holiday Workshop. The three-day workshop is designed to solidify kids' understanding of Mathematics concepts and introduces them to problem-solving strategies. Use the school holidays to give their confidence a boost.
To find out more about the Understanding Mathematics Workshop, call 6478 1228 or visit the Kaesac Learning Centre website.
The Music Scientist Science & Music Workshops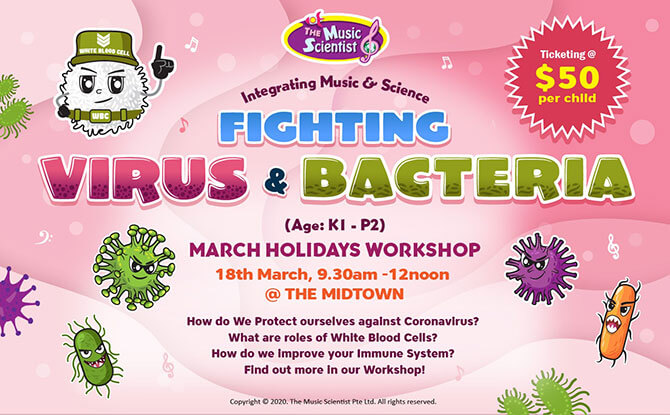 Unsure what to do this March School Holidays amidst the virus situation? Learning and fun should not stop! Join The Music Scientist for a variety of Science & Music activities, where there are a total of 4 workshops to choose from – 'Virus & Bacteria', 'Plant Uses', 'Sharks' and 'Corals & Sea Jellies' workshops! And for the Virus & Bacteria Workshop, learn ways to fight the viruses, get a chance to role play as white blood cells, and hands on the making your own hand sanitizer! Click on their website to find out more!
ActiveSG Sports Camps
If you'd like a good dose of sports and sunshine during the holidays, sign up for ActiveSG's sports camps. There are plenty of options to choose from – mini tennis, akido, volleyball, Zumba and so on, suitable for pre-schoolers and older children. Take your pick and find the nearest ActiveSG's centre for a convenient drop-off or join in the fun at family-friendly activities like kinball or piloxing. See all your choices for these active March school holiday camp 2020 here.
Lulele's March Holidays Chinese Camps for 6 to 12 year olds
Lulele is a Chinese enrichment centre in the East and offers camps which gives an insight into current affairs, at the same time nurturing a love for Chinese. If you have some trouble getting your primary schoolers to use the language, sign them up for the four-hour sessions or full-day sessions discussing how to decipher fake news, creating and writing stories or improving their speech abilities through story-telling. More details here.
Xin Zhong Wen's Chinese Oral Workshop for P4 to P6s
Eager to seize the opportunity to improve your child's oracy skills. Xin Zhong Wen's workshop for upper primary kids will equip them with the skills to converse effectively. The students will learn how to answer questions, form sentences, analyse video clips and have one-to-one practice sessions with the skilled teachers.
Xin Zhong Wen is located at Great World City, NEX as well as Westgate. Sign up here.
NParks' Nature-themed Camps & Workshops
Not only does NParks organise regular nature-themed workshops and walks, they organise camps for 7 to 12 year olds at affordable rates at Sungei Buloh Wetland Reserve and Bukit Timah Nature Reserve. The one day camps will include educational activities surrounding the wetlands, forests and nature conservation.
There are also many walks and nature-themed art workshops like string art, water colour, paper quilling to look out for. The "Coco & Friends" nature adventure for pre-schoolers ages 5 to 8 will also be happening at Bukit Timah Nature Reserve.
Check out all the activities here.
Art Flock's School Holiday Programmes
To get your child's creative juices and inner Picasso growing, sign up for an art camp! I have been eye-ing Art Flock's classes which introduces palette knife painting techniques (Don't worry, knives are for painting), clay for portrait-making, charcoal and mixed media techniques.  You can get a pair of siblings to share a bundle with three passes.
More details on schedules and classes here.
The Rink Holiday Ice-skating Camp
This will please the Frozen fans. Join in the icey fun at The Rink located at JCube. The Learn-to-Skate March school holiday ice camp teaches the kids the basics of ice-skating in just four sessions. Classes are split according to age groups and lessons are conducted daily followed by practice time. Skate to the details here.
Ignite Tennis Academy Holiday Camps
Tennis is a popular sport amongst many kids and adults. A quick way to learn the basics or hone those skills is to join a tennis camp. Ignite Tennis Academy is located The Salvation Army, Tanglin and March holiday camps run from Tuesday to Thursday. Get served the information or call 9820 1000.
Speech Academy Asia's Public Speaking Camp
If you would like to boost your child's confidence through conquering the fear of public speaking, try Speech Academy Asia's two day holiday camp during the March school holidays 2020 in Singapore. The full day camp is guaranteed to be fun while imparting public speaking techniques so children can practise to be great at public speaking. There are also outdoor activities in the camp. Click to find out more.
The Write Connection's Holiday Programmes
Apart from oracy, writing skills are equally important. The Write Connection has nine schools offering March holiday workshops and programmes for both primary and secondary school students. Most classes focus on writing with some on oral skills, even literature and philosophy. Pricing, schedules and locations are here.
Sportshub's Multi-Activity Camp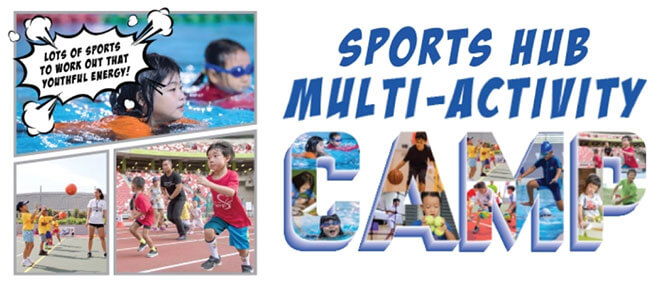 This holiday sports camp is suitable for children ages 3 to 12 and gets the child moving while learning more than three sports a day. You can choose to sign up for just one day or all five days of the camp. Sports include cricket, frisbee, baseball, karate and dodgeball. More details here.
Kids Discovery Works' STEM Holiday Camps
STEM-themed camps are always a popular choice. Kids Discovery Works offer science and robotics half-day, full-day camps for kids. Kids have a chance to discover Newton's law of motions with rockets, formulating "explosives" and exploring non-newtonian fluids and polymers (SLIME!) at Superhero Science and Whizz. Other camps include C.S.I themed crime-solving sessions all about exploring chemical reactions, deciphering DNA and trying finger-printing. Decipher the details here.