School's out! Most parents would have asked the question to one another "What are your holiday plans?". For families who are keen to try various sports without burning a hole in the pockets, we have got great news for you. Sport Singapore has its ActiveSG arm, which organises a whole range of sports for the little ones ages 4 and up and even parent-child activities.
Budget-Friendly ActiveSG Holiday Programmes
From Akido, rock climbing, fencing, volleyball to combat saber experience (!!!), there is something for every family. The fees and duration differ for every sport. While some camps are held for four days, with three to four hours of activity per day, some are a one-off workshop that lasts a couple of hours. Based on your schedules and budget, you can select the different types of sports offered at different ActiveSG facilities islandwide.
Our 8 year old has tried ActiveSG's rock-climbing, mini tennis, badminton, flippaball, inline-skating and more recently athletics. It is superb that he has had such opportunities which are also subsidised for citizens (30% subsidy). If you have not used up the ActiveSG credits, you can also use that for payment of classes. Each Singaporean and PR has ActiveSG credit of $100 to use, so you have $100 free to spend on any classes! Do note that the credit expires if any portion is unused for the year, hence do remember to perform a transaction using your account.
We Tried Three: ActiveSG Holiday Programmes – Athletics, Badminton & Flippa Ball
Moan not that the holidays are here. We love the pocket-friendly ActiveSG holiday programmes that keep our children well occupied during the school holidays! Best of all, the programmes expend their energy and all motor skills are engaged! This usually means there is a reduced amount of complaints about being bored and a lower tendency of screen addiction.
---
-- Story continues below --
We got our kids to choose a few sports they'd like to learn, checked schedules and fees before deciding on the programme to register for. Some programmes are pretty popular so do register early as there are limited slots!
Here's our take on how three programmes went: athletics, badminton, flippaball. Apart from flippaball workshop which was a one-off three hour session, the athletics and badminton camps lasted three days. Do note that you just need to be dressed for the sport and all other equipment is provided during the programme! This is a big win for parents who do not want to spend too much on equipment not knowing how keen the child will be in a particular sport.
ABCs of ActiveSG Athletics
The athletics programme gave a good introduction of athletics which requires ABC: A for agility, B for balance and C for coordination. During the three days, children ages between 5 to 10 learnt the key components of athletics and got a chance to practise the fundamental movement skills. They learnt to sprint, jump over obstacles, throw, jump far and do relays.
As the athletics programmes are conducted at different stadiums, the children, though a large group, were constantly on the move. They were divided into groups to race, jump and throw. There were usually two coaches on site and younger ones would be placed in a different group based on their abilities. Because of the experienced coaches, the children were very well engaged and could follow the different instructions given at the various setups.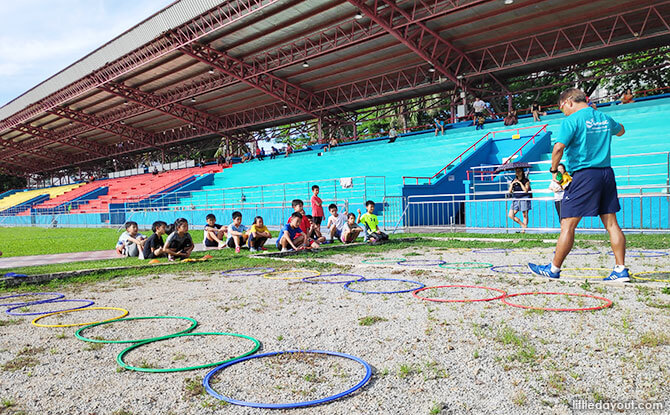 The children were given a taster of short-distance running, hurdling, long jump, shot-putting. These were enabled from the clever use of batons, beanbags, small hurdles, cones and hula hoops. The kids had so much fun, they wanted to do the obstacle courses again and again. Little did they know, they were using all the skills required for athletics. The holiday programme gave a good taster of what the training sessions at ActiveSG Athletics Club are like. The ActiveSG Athletics Club runs twice-a-week training sessions for aspiring athletes, focusing on developing character and improving health, fitness, co-ordination and motor skills. More details here.
ActiveSG Badminton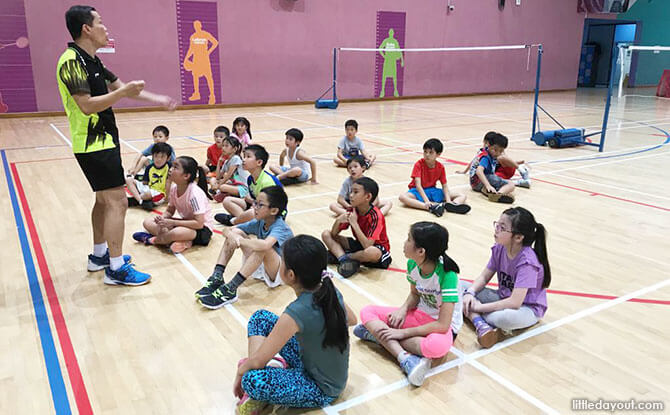 The three-day badminton camp is held at various sports halls such as Bishan, Choa Chu Kang, Clementi, Hougang, Sengkang, Tampines. The camp introduces participants to rules in a game, parts of a badminton court and what the lines mean, also training the participants in the skills required to play a good game of badminton.
Badminton is known to be a pretty intensive sport, fret not, the badminton exposure camp for children ages 6 and above focuses mainly on the basics of the sport. Learning to hit the shuttlecock, serving over the net and using the right strokes can be a mean feat to learn. Hence the coaches were quite encouraging, telling the children to keep trying. Hand-eye, eye-feet and hand-feet coordination is key to the sport. Thus, a mere three-day taster may not mean your child is able to pick up the sport well but practise makes perfect!
Like athletics, this badminton camp also offers a preview of the ActiveSG Badminton Academy. The academy does basic skills development and training sessions which uses the Shuttle Time syllabus by Badminton World Federation. More information here.
ActiveSG Flippa Ball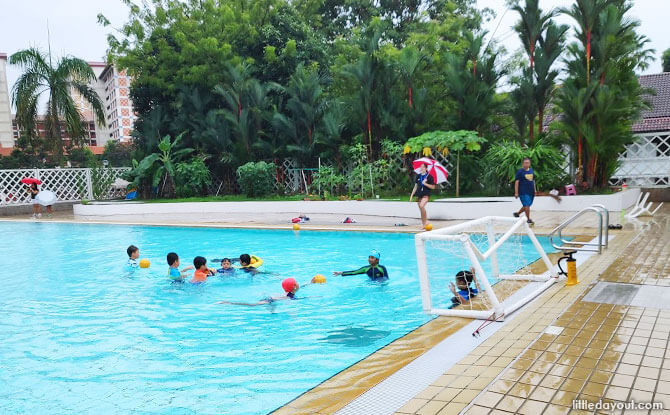 Flippa Ball? What's that? Flippa Ball is a modified version of Water Polo. It is played in a slightly shallower pool. Ideal for children ages 7 and above who should be comfortable in water. Two teams will try to throw balls into their respective goals. It is one fun way to learn a team sport and also brings out the competitiveness in the child. The children were taught techniques of throwing and game rules such as using only one hand to pass, movement allowed without holding a ball and no physical contact.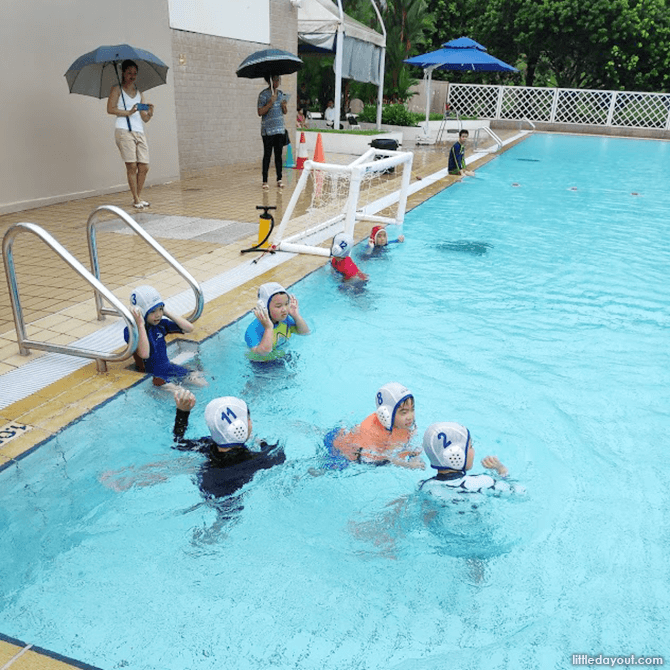 With some of Singapore's athletes being the best in Water Polo in the region, the children would learn how difficult it is to play the junior version! Swimming across the length of the pool several times is a good test of stamina in the water. This was a taster session organised by an external water polo club, hence participants could find out more at the Flippa Ball taster sessions if they were keen to play the sport on a longer term.
Trying Different Sports at ActiveSG School Holiday Programmes
Aside from keeping the kids occupied during the holidays, the ActiveSG programmes provide opportunities to learn about different sports. This is also a chance to find out the preferences of the child, his or her physical talents and possible long-term training programmes. For some affordable fun, sign up for the programmes here!