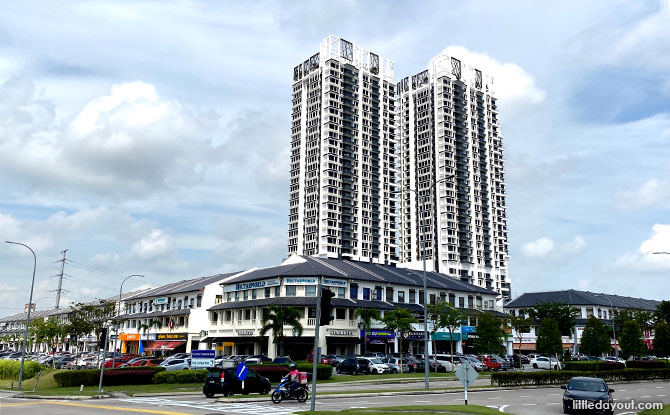 Just 5 km away or a 10-minute drive from LEGOLAND Malaysia is the Eco Botanic township with various gated premium landed residential concepts, serviced apartments and commercial units. But of course, it was the whiff of several good food options at Eco Boulevard that drew us here! Be prepared to visit with several stomachs to take this all in!
As you turn off Jalan Kampung Lalang, you'll spot the series of pristine low-rise shophouses in a U-shaped formation around the tall three 35-storey Eco Nest service apartments. Eco Boulevard is home to a burgeoning range of eateries and restaurants, cafés and convenience stores. A number are new, having sprouted up of late.
What we love about Eco Botanic are the free parking spots available just in front of all the food outlets we wanted to head into. Taking a stroll around the blocks is also enjoyable with the five-foot walkway shading us from the elements. Off we went on our food hunt led by our noses, with some guidance from locals and we were delighted to discover more than just food alone.
---
What To Eat at Eco Botanic
Old School Local Food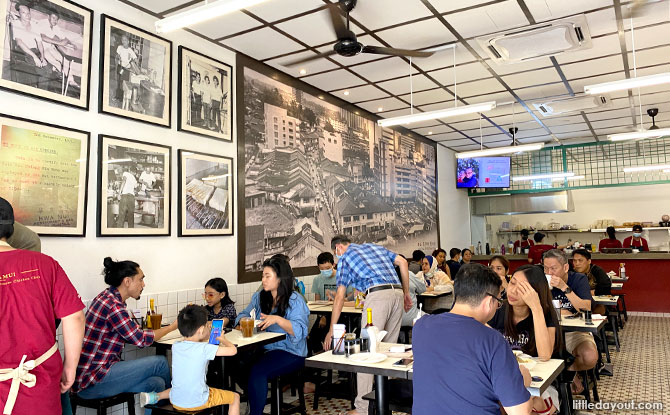 Restoran Hua Mui, the original Hainanese Chicken Chop coffee shop from JB City Centre that has been around since 1946, has opened a new outlet at Eco Botanic! Styled with every bit of a traditional coffee shop vibe, you can enjoy their signature Hainanese chicken chop with roasted tomatoes and crispy potato wedges, or the newer Blueberry Chicken Chop, traditional toasts and the Hua Mui Mee.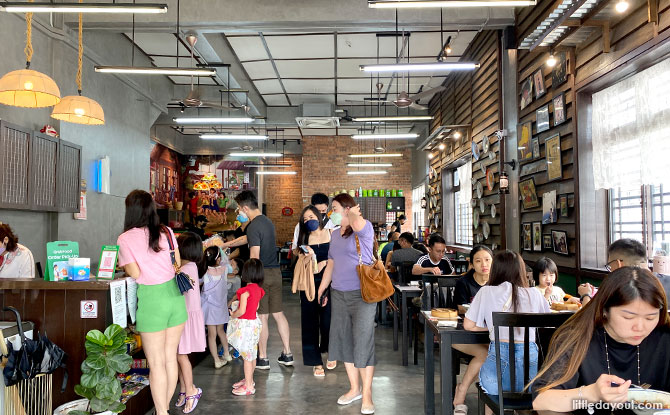 In the same row between Starbucks and Hua Mui, is the Good Times Café, a café decorated with trinkets and memorabilia bringing you back to old days. There's Di Lo Nasi Lemak, Sister's Mee Siam, Cousin Leng's Char Mee you can order for breakfast and more.
For another Ah Ma approved retro-styled cafe, be sure to check out the super quaint 阿婆家小店 Ah Po Jia tucked away behind the front row of Eco Botanic. Relive the good ole kampong days with its nostalgic mama shop snack corner, wood-planked walls decked with black and white photographs and vintage furniture and paraphernalia. The menu depends on the ingredients the owners get for the day and you can count on old school delights.
Close to Good Times Café, you'll find HouGang's signature Fishball Noodles, Laksa and Ngoh Hiang. Over at Ah Ma Teo Chew Kuih, there is Char Kuey Teow, Porridge, Curry Mee, with a quaint roadside stall set up showcasing its kueh kueh.
Kang Bee Hong is a well-known chicken rice brand in Malaysia that has several outlets and is popular with students from the nearby EduCity. Tuck into a hearty plate of chicken rice, add on char siew, siew yok, curry chicken and wanton soup too from one of the cheapest air-conditioned eats here at Eco Botanic!
Kuu by Tea Garden is another popular Johor restaurant serving local favourites and street food, with many other branches all over Malaysia.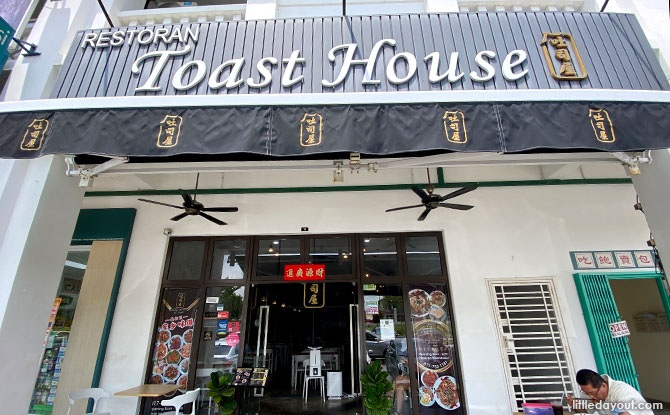 There's Toast House and Toast & Toast back to back at Eco Botanic. Both serve kopitiam fare like fried rice dishes, noodles and not just toast, but the former gives you more bang for your buck.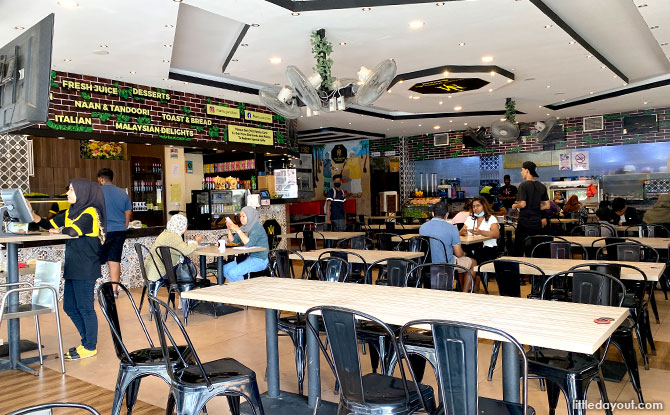 For local Malaysian delights, check out Mamu Junction Restaurant close to Starbucks. Get your fill of mee goreng, nasi lemak, curries and pratas!
---
Chinese Restaurants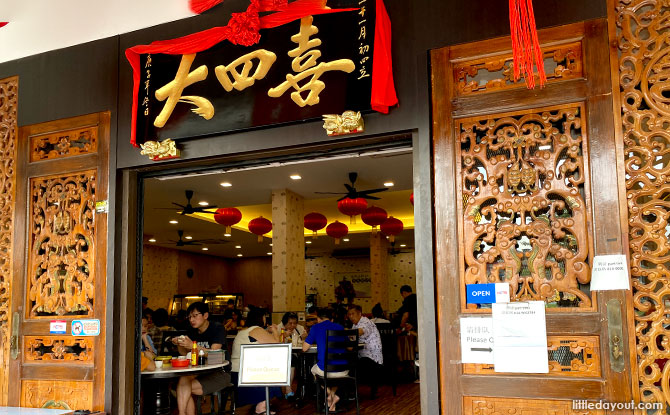 大四喜香港点心楼 Restoran Tasixi is another famous and popular Hong Kong Dim Sum Restaurant here at Eco Botanic, well known for its cheap and good dim sum and Hong Kong style wanton noodles.
For a hearty sit-down Chinese meal, head to Golden Sands with 6-course set menus starting from RM145 for 4 to 5 persons. Or try Shun De Cuisine with its range of Cantonese dishes like soups and stews, steamed fish and Flaming Drunken Goose.
---
Special Eateries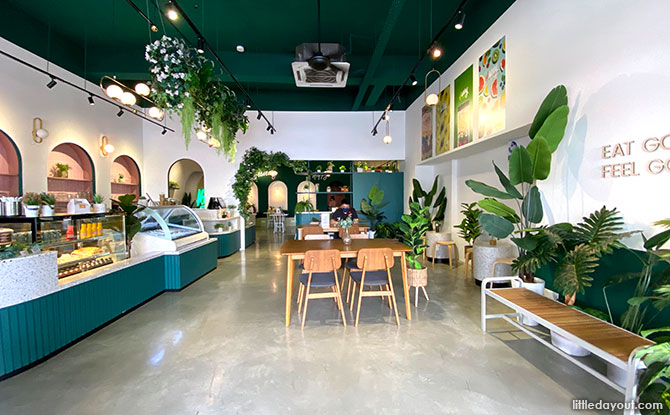 Looking for healthy, modern fusion dishes satisfying to the soul and body and a green spot to relax within? HGourmet is known for its sous vide dishes that make you "eat good and feel good". There are interesting options like Seafood Dragon Fruit Salad, Beef Kimchi Pai Tee tapas, Brioche French Toast, Kimchi Chicken Panini and Sous Vide Miso Seabass. Choose to round off your meal with gelato and pastries too!
---
Cuisines From All Over the World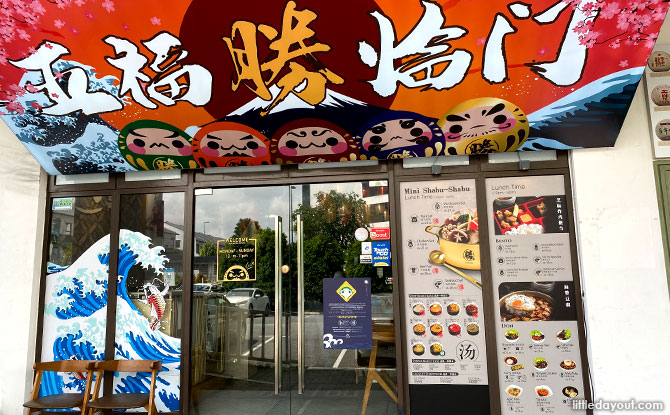 There are a number of Korean food outlets at Eco Botanic. You will also find a Japanese shabu shabu and don eatery, a Patisserie & Boulangerie, Arab Fusion food, modern Indian cuisine at Vanakam India and Turkish Kebap & Pide to suit every palate.
---
Get Caffeinated with Good Coffee and Tea Spots at Eco Botanic
If you love 100% Arabica Coffee beans or a wide range of coffee and non-coffee (matcha, genmai or houjicha) options, chill out at the chic double-storey corner unit housing Tom & Danny Café. From there, watch the world pass by as you dive into their Big Breakfast sets, Scallion Pancakes, Souffle and Mille Crepe and more. They also have Japanese Curry Rice, Spaghetti and various fried rice options.
For the more familiar joints, head over to Starbucks, The Coffee Bean & Tea Leaf, both facing the main road. Another tech-driven coffee chain option is Zus Coffee, which is mostly populated with younger folks.
---
Have a Bit of Fun with Dogs at Eco Botanic
If you're missing your dog whilst away from home, you'll notice that Eco Boulevard is turning out nicely into a pet sanctuary. You can stock up at Pet Lovers Centre or check out Eco Petcare, a pet grooming centre.
Best of all, you'll be warmly welcomed by three friendly resident corgis at the gate of the new Corgi's Talk dog café. Families would love their kid-friendly menu featuring popcorn chicken, pastas, chicken chop and fish & chips. There's also a plethora of coffees, teas (clear, Niko Neko, flower, flavoured), sparkling sodas and waffles with ice cream.
---
Get Stocked Up at Eco Botanic's Convenience Stores
There's Watsons, CU, Guardian and Family Mart within the same block where Starbucks is located. Get your stash of snacks, and more importantly, top up your Touch N Go cards at Family Mart.
---
Relax at Eco Botanic's Beauty and Wellness Centres
Trends Wellness is the first health centre in Johor Bahru that specialises in Head Treatments, Meridian Facials and Enzyme Balneotherapy.
We also loved the inviting-looking XO Hair Salon with its prices reflected on the glass panels, at a fraction of Singapore's prices.
La Derm facial offers eyebrow design and trimming, as well as facial treatments.
---
Other Discoveries
We came across Venturi, a one-stop baking supplies store, as well as a quirky bookstore cum café called The Petit Prince. The day we were there, Olive Grocer also threw open its doors bringing this neighbourhood fresh vegetables and organic produce.
---
Opening Hours
Most places at Eco Botanic open from 10 am and close by 6 pm or 7 pm. Some eateries close later, at 9 pm. It gets crowded close to lunchtime so you might want to head over earlier.
---
Getting to Eco Botanic from LEGOLAND Malaysia
Stay only on Jalan Kampung Lalang to get to Eco Boulevard. We would suggest keying in Starbucks Eco Boulevard (Address: No. 84 & 84A, Jalan Eko Botani 3/2, Taman Eko Botani, 79100 Nusajaya) as the end point on your GPS/map app.
This is because when we keyed in Eco Botanic City, a gallery within Eco Boulevard, Google led us to a roundabout and instructed us to go through the gated private residential section of the Eco Botanic township, which was a lovely drive in itself. The security guards kindly redirected us back towards Jalan Kampong Lalang. Starbucks at Eco Botanic is the cornerstone landmark at the traffic junction leading in to Eco Boulevard.
Enjoy your little jaunt around Eco Botanic with all its great eats, and check out what other things you can do around LEGOLAND Malaysia here.
---
LEGOLAND Malaysia
Get your tickets to LEGOLAND Malaysia Resort's theme parks here.
Book your stay at LEGOLAND Hotel here.
Related Articles