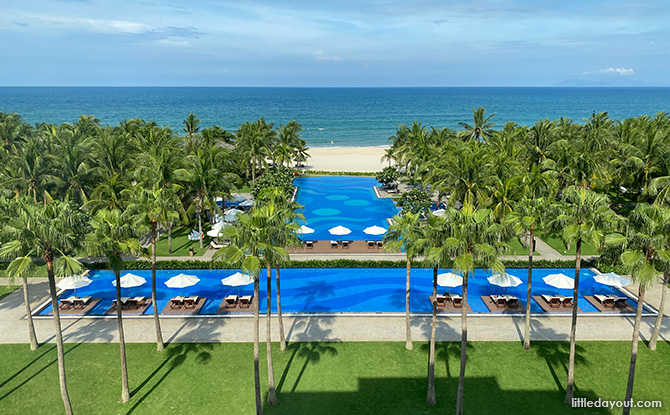 Just less than a three-hour flight and a short 15-minute car ride away, lush landscaping, an expanse of five gorgeous pools and a white sandy beach beckons at Danang Marriott Resort and Spa.
Holiday here and you'll find yourself in a whole new world of tranquility and beauty set against the famed Marble Mountains in Da Nang, Central Vietnam. Yes, it's mission possible with kids in tow with a well decked out Kid's Club, educational activities and curated family tours launched by this beachfront oasis.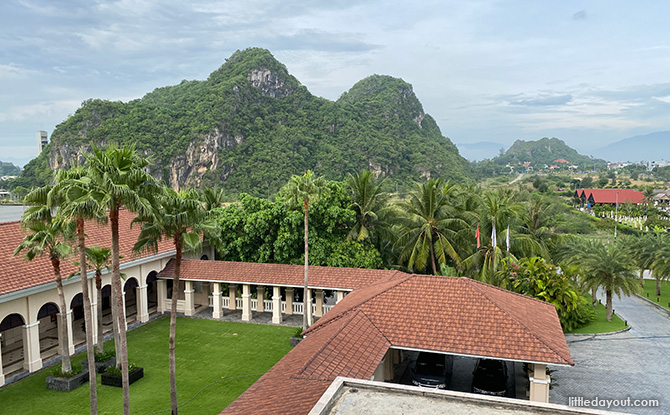 ---
-- Story continues below --
Take your pick of an Hoi An Eco Tour for some paddling fun in a water coconut forest if you're an outdoor loving family, go on a Wildlife Walk through the Son Tra Nature Reserve for your dose of nature, or check out the Marble Mountain – Hoi An Ancient Town tour for a cultural day out.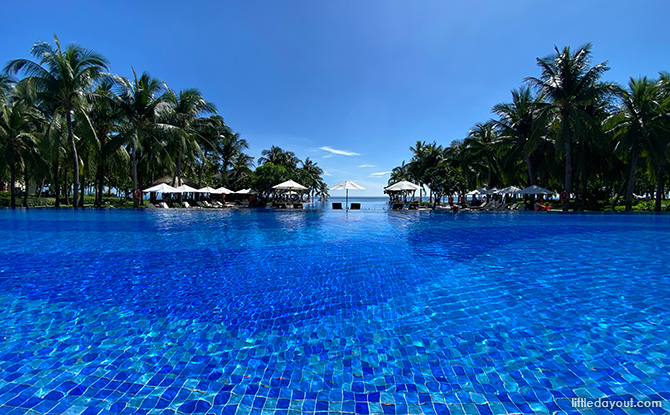 Formerly known as Vinpearl Luxury Da Nang, the beautiful resort is owned by the Vinpearl Group. Since September 2022, Marriott has been managing the property and the renamed Danang Marriott Resort And Spa is now part of Marriott's worldwide group of Bonvoy offerings. The resort is being gradually refreshed to be in line with Marriott's branding and its newly-crafted selection of learning experiences are set to engage the whole family.
Relax in a Well-Maintained Home Away from Home
The oceanfront paradise is a soothing mix of Cham, French, Indochinese and contemporary architecture. Families can experience the getaway vibe yet feel right at home in one of the generously-sized 200 rooms in the main building or the 39 garden or ocean-facing three- and four-bedroom villas.
With ensuite bathrooms and egg-shaped tubs, a private pool, kitchen, dining and living areas, the luxurious neoclassical style villas are a popular choice for a fun time with larger multi-generational groups of extended family and friends.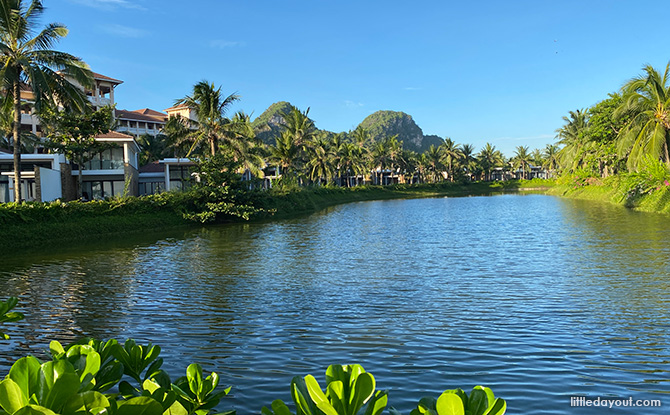 Two streams separate the rows of villas and on a clear day, you'll see the reflection of Marble Mountains on them. The three-bedroom pool villa starts from 575 square metres so you have the luxury of space in and around.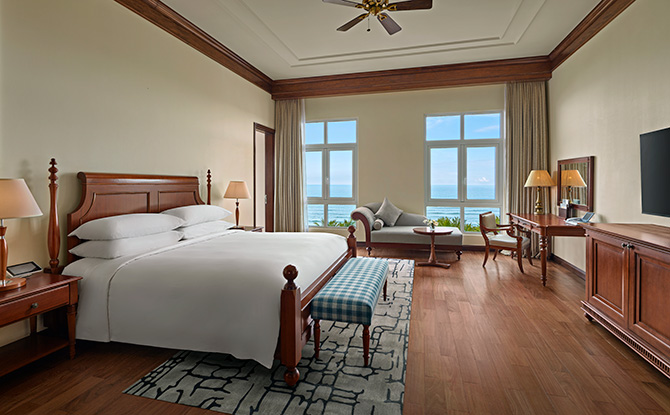 For our three-days two-nights stay, we had the pleasure relaxing in the 108 square metres Executive Ocean Suite. It comes with a living and dining room, bedroom, bathroom, dressing area, powder room and kitchen. The large suite was comfortable and truly a home away from home. Add on a bed within the living room and you and your kids have the privacy of your own bedrooms.
Join in Fun Activities for Kids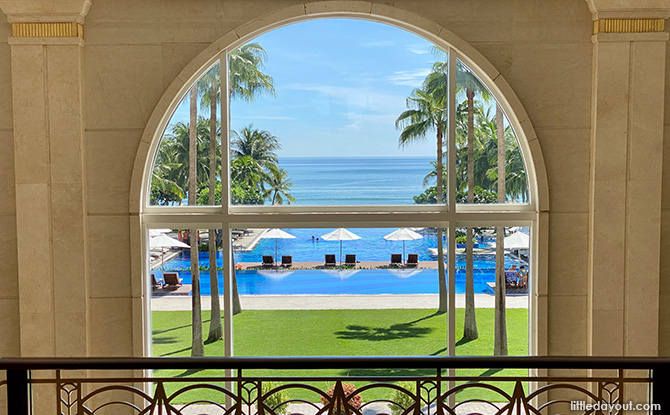 The pools are sure to be a talking point when you catch sight of them as you arrive at the main lobby. Kids will clamour to have more than a splash or float the day away on a flamingo. There are five huge pools, including two infinity pools, to choose from so you can have your pick of your private instagrammable spot in the tropical sun.
If you like some time alone with your significant other, you can drop the kids off at the Kid's Club with supervisors who can fully occupy them with a wide choice of fun classes and a galore of activities.
There are cooking classes such as cupcake decorating, spring roll making and smoothie blending, as well as artistic workshops including bracelet making and conical hat painting. Besides, the fully-equipped Kid's Club has plenty of toys, gadgets and Play Stations too.
Outdoors, there is a playground and activities like beach walks, kids' aerobics and swimming lessons.
Pamper Yourselves and Pump It Out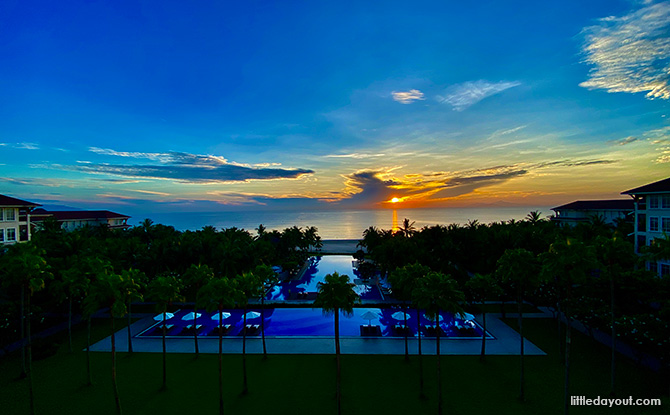 One thing that you need to do whilst at Danang Marriott Resort And Spa is to simply watch the sun reveal its first sliver of light across the expansive horizon of the South China Sea. If the sky is not filled with clouds, you're in luck and will witness the glowing orange ball of light dazzling the sea as it rises.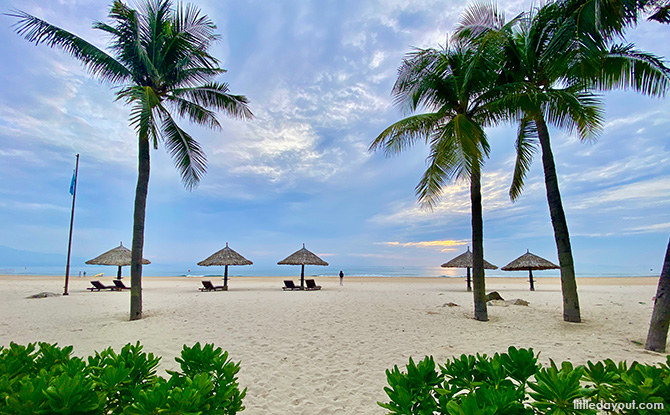 Thereafter, continue your taste of paradise as you dive your feet in the soft white sand of Non Nuoc Beach. Within the resort's grounds, you're surrounded by over 1,114 well established coconut trees that have withstood the monsoon seasons over the years typically from late October and November.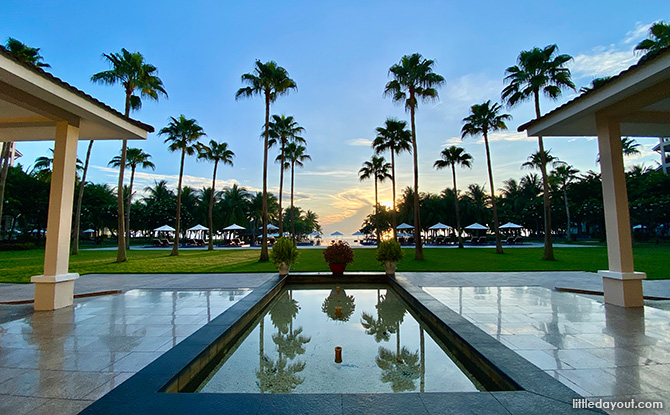 With the white sandy beach, verdant gardens and sea views, it's no surprise that this property is a hot favourite for alfresco events including exceptional weddings. Guests can enjoy a poolside party or one decked out in the ballroom.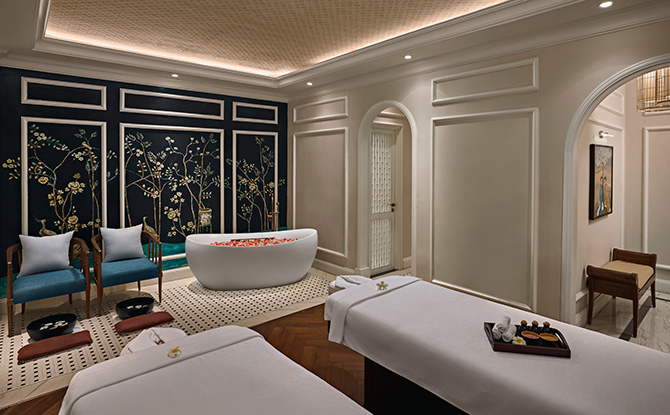 Hop down to Quan spa at the main building and you'll find a beauty salon, steam, sauna, jacuzzi and salt therapy room. Take time to enjoy a variety of massages and foot reflexology in their treatment rooms.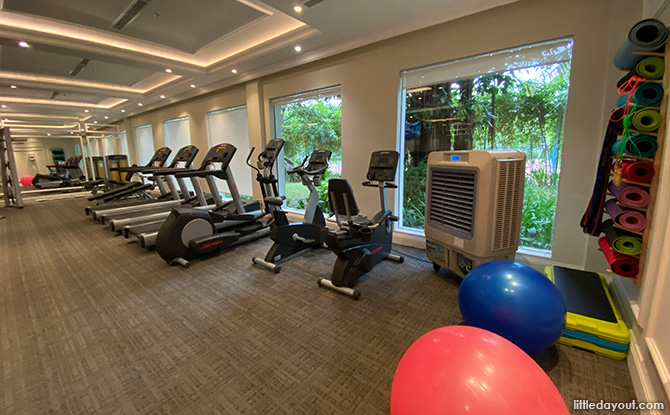 Alternatively, choose to pump it out on the treadmills and prove your mettle on the pedal machines and weightlifting equipment, or on the tennis courts.
Eat to Your Heart's Content with Various Dining Options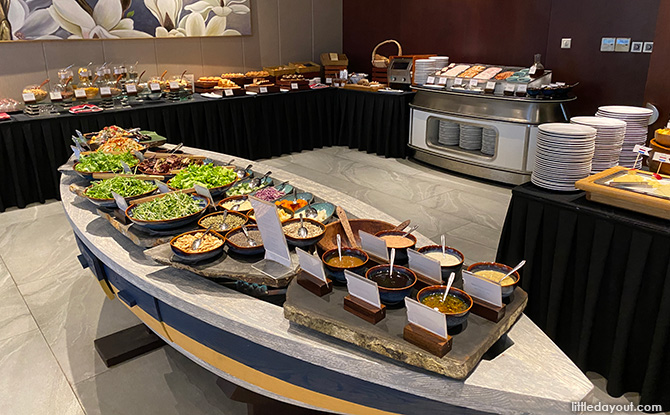 What's on the menu at Danang Marriott Resort and Spa? Plenty. Start the day with a full-fledged international breakfast buffet.
Goji Kitchen + Bar is currently undergoing renovations and will soon be ready to resume serving international breakfast buffets and lunch.
For your meals, you can dine in style at the elegant Madame Son restaurant showcasing authentic Vietnamese and fusion cuisine. Each season, you experience new creations as the chef combines Western and local delights.
Currently, the Coconut Set menu is in vogue, and it's mind-blowing to find the different ways coconut is infused into each creation as it pays tribute to the many coconuts on the property.
In addition, there's a dazzling array of delectable choices from their menu too.
To get your dose of inspiration, seasonal cocktails and afternoon tea, re-visit the 1970s at the Writer's Bar, which overlooks the pools.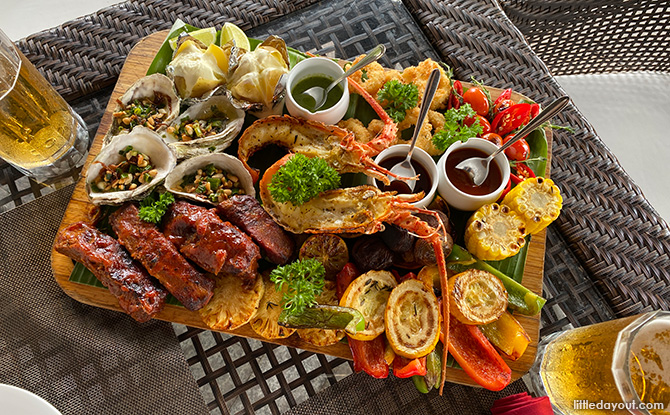 This beach vacay is incomplete without ice cold beer and a scrumptious serving of seafood and light bites at Non Nuoc Bar by the beach. Indulge in the Chill & Grill, a large platter containing lobsters, oysters, prawns, ribs and vegetables.
Participate in Activity-Packed Learning Experiences
Danang Marriott Resort and Spa has thoughtfully packaged three types of adventures perfect for families.
During the Hoi An Eco Tour, you get to learn how to paddle a bamboo basket boat at a water coconut forest. Up the ante and don a traditional nón lá (conical hat) and farm clothing to the Tra Que herb village to help farmers plant their organic produce, tour the gardens and soak your feet in a relaxing herbal water bath. Thereafter, learn to make rice paper, cook up some authentic Vietnamese food and get to taste your creations too.
At the guided Wildlife Walk through the Son Tra Nature Reserve, experience a coastal forest and views of the ocean, and be in the company of rare birds, butterflies and primates, including the critically endangered red-shanked douc langurs.
We experienced a cultural day out with the Marble Mountain – Hoi An Ancient Town tour during our stay, with a satisfying climb up Marble Mountains just 700 metres across from the resort's entrance. Shops selling different marble figurines line the bottom of the mountain.
To get halfway up without any exertion, we simply took an elevator.
Thereafter, we panted up a series of stone steps to check out some caves and went right up to the top for a glorious 360-degree view of the Central Vietnam.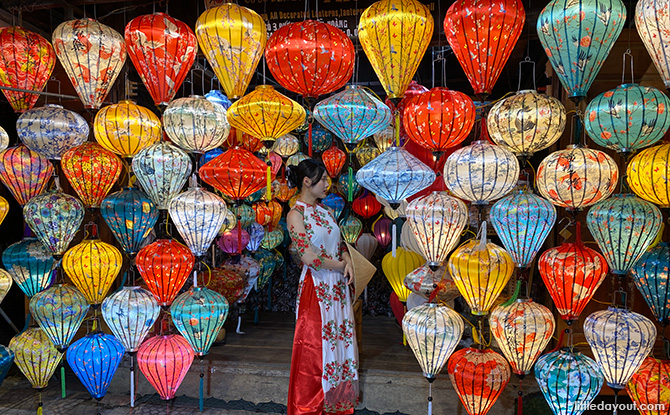 A visit to the central coast of Vietnam is not complete without a stroll along the charming cobbled streets of the iconic Hoi An Ancient Town in Quang Nam province. This former port city is a melting pot of cultures, with its old wooden Chinese shophouses and temples, French colonial buildings, Vietnamese tube houses and the famous Japanese covered bridge.
The town comes alive closer to the evenings with lotus-lit lanterns on sampans traversing the river. Go on a scenic boat ride and definitely enjoy a sip of Vietnamese coffee at one of the many quaint coffee shops.
Get Great Access to More Attractions
If you like to plan your own activities, Han Market is just 7 km from the resort and Downtown Danang with Lotte Supermarket is a 20-minute ride away. Discover local hidden gems and catch the dragon bridge come alive spouting fire and water on weekend evenings. From the resort's beach, you can catch a glimpse of the Linh Ung Pagoda.
Venture 50 km away, and you can also see the historic ruins at My Son Sanctuary southwestwards and the famous Golden Bridge at Ba Na Hills in the west.
---
Danang Marriott Resort And Spa Family Packages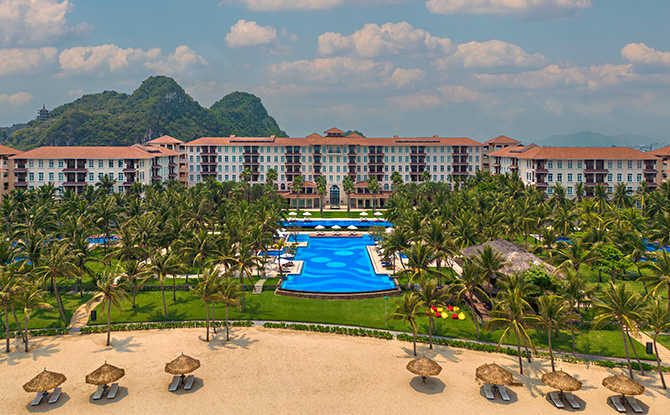 Under the M Passport package, families who book a pool villa at Danang Marriott Resort And Spa will be treated to a daily breakfast for two adults and two children (under 12 years old), M Passport activities for kids, a daily 60-minute spa treatment for two adults, a one-way airport transfer and a daily in-villa BBQ dinner.
There's much to do in and around at Danang Marriott Resort and Spa. You can choose your own adventure package, pick the pace you like and customise the perfect holiday to make memories together with your family right here at this gem of a beachfront resort.
Danang Marriott Resort And Spa
No. 7 Truong Sa, Ngu Hanh Son
Da Nang, Vietnam 550000
T: (+84) 236 396 8888 |
danang.reservations@marriott.com
www.marriott.com/dadmr