We never thought a short three-day-two-night trip to Kuala Lumpur could be such a magical and relaxing affair, but it was at Sunway Resort Hotel where we experienced thoughtful hospitality and an amazing family holiday.
Sunway Resort Hotel is a five-star hotel in Kuala Lumpur located at Sunway City Kuala Lumpur, approximately a 40-minute drive from Kuala Lumpur International Airport.
Sunway City is a self-contained destination, with leisure facilities like Sunway Lagoon Theme Park, Sunway Lagoon Wildlife Park and Sunway Pyramid shopping mall. It even has a Sunway Medical Centre and Sunway University!
Sunway Resort Hotel is located at the heat of Sunway City and recently underwent a major revamp.
---
-- Story continues below --
On our recent visit on a media invite, we had a chance to experience all that Sunway Resort Hotel had to offer.
---
An Overview of Sunway Resort Hotel
On arrival, we were greeted warmly by Stephanie and Khalil and taken to the highest floor, the 21st storey, to get a bird's eye view of the resort!
The view was indeed breathtaking and the kids squealed in delight when they spotted colourful slides and waterplay down at swimming pool on Level Five below!
---
Waterventure Terrace Room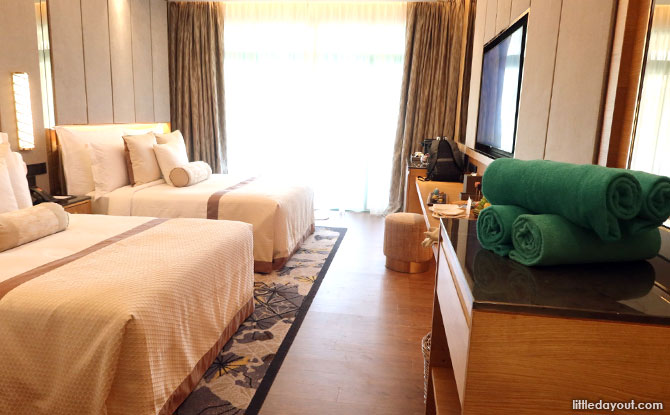 We would be spending two nights at the Waterventure Terrace room.
These rooms are perfect for families and come with two queen0sized beds and an outdoor living space. Most importantly for the kids was that the room had direct access to Waterventure, a brand new kids play zone at Sunway Resort Hotel.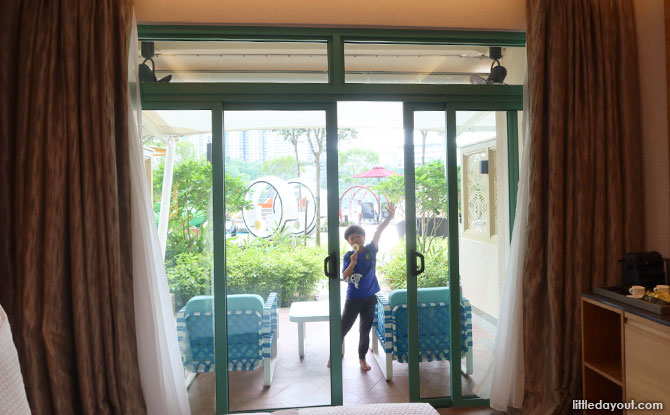 It was a quickly skip and a hop from the room to the waterplay and playground for all day fun!
There was no need for a bathtub since kids can find their splash zones just outside the room!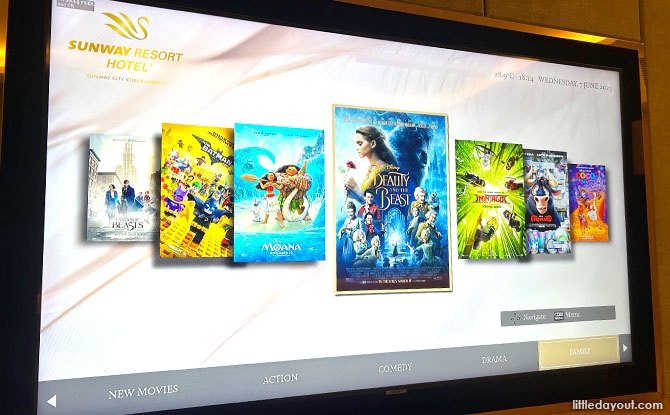 One of our absolute favourite features of this room is its wide selection of movies.
This caters for family with movies like The Lion King, Inside Out and the list goes on! Perfect for a movie night!
---
Other Room Types at Sunway Resort Hotel
Besides the Waterventure Terrace Room, Sunway Resort Hotel also has other interesting room types to cater to guests with different needs and preferences.
Wellness Suite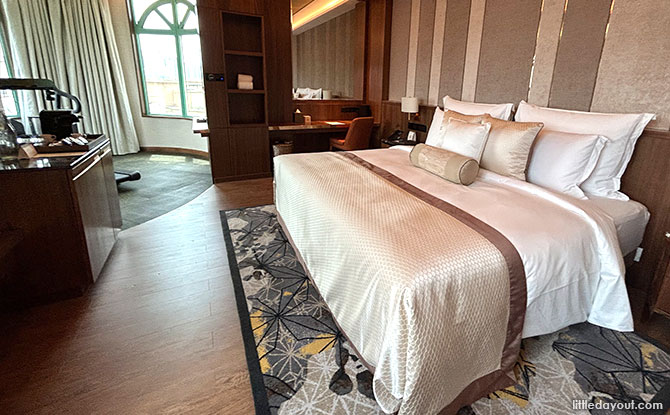 The Wellness Suite is tailored for fitspo couples and is decked out with its own gym equipment like a treadmill and all-in-one bench in the room.
Premier Suite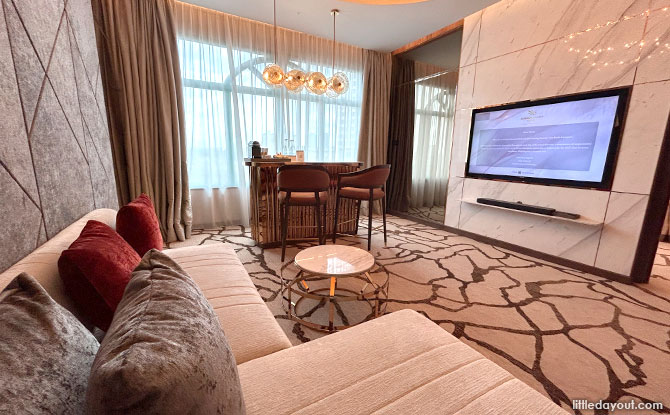 The Premier Suite is specially curated for guests who enjoy and appreciate in-room bar amenities. It comes with a fully stocked bar and has a whirlpool tub with a 21-inch TV for an added touch of luxury.
---
Waterventure
For us, our attention was fully devoted by the fun kid-friendly amenities that were literally a step outside from our Waterventure Terrace room.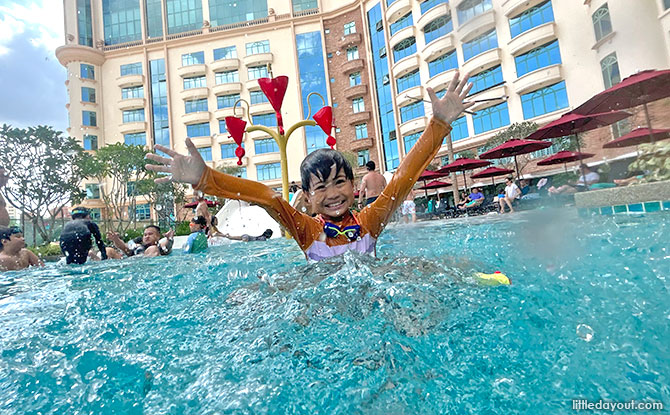 The Waterventure water play area was definitely a highlight of our stay at Sunway Resort Hotel!
This new family-friendly splash pad has a shallow pool area for toddlers, a tube slide and open slides.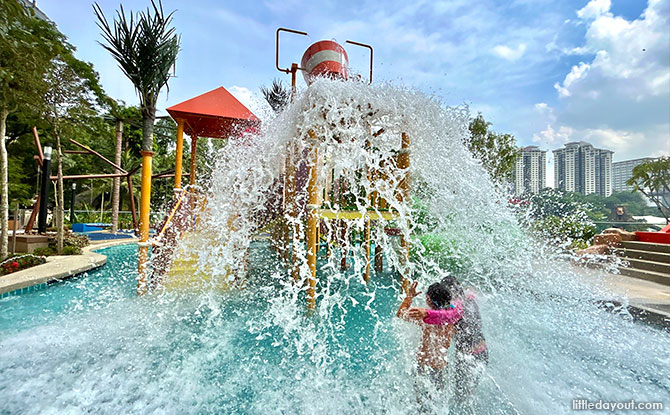 Splash buckets, sprinklers and a circular water curtain meant that the kids always stayed cool while at the splash pad.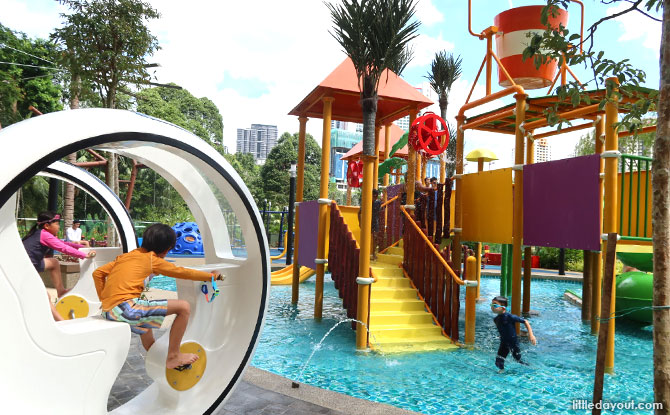 There are even jets that are powered by cycling.
There is also a playground area right next to the splash zone.
It has swings, spider webs, see-saws, a crater cave, xylophones and other sensory playground equipment to keep the kids occupied for a long time. It is also kept perpetually cool by huge fans!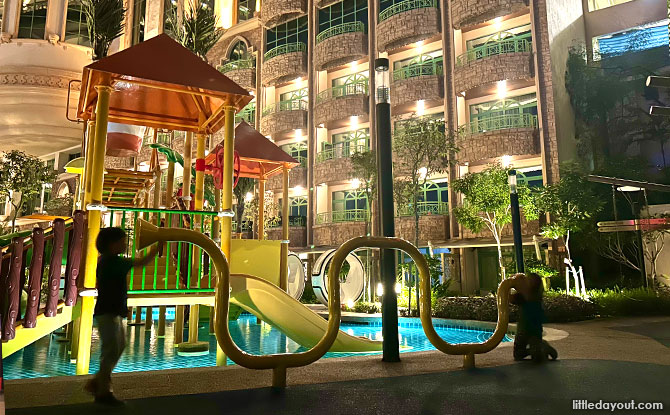 My kids loved the playground so much that they even insisted on visiting it in the evening!
---
Splashing at the Main Pool
From the Waterventure play area, a pathway leads down to the main swimming pool.
The Sunway Resort Hotel pool is beautifully landscaped complete with a cascading waterfall!
The pool has jacuzzies on both ends and deck chairs all around. The kids absolutely loved the pool and they couldn't wait to dive in and get swimming!
---
Poolside Dining
Just as we thought it couldn't get any better, we got to try wood-fired pizzas served poolside!
We got to try the pepperoni and four cheese pizzas and they were absolutely delicious! The kids loved the fries topped with loads of shaved cheese bits and requested for more!
The poolside pizzas are highly recommend and a perfect way to satisfy any hunger pangs worked up while swimming.
---
Wonderland Explorers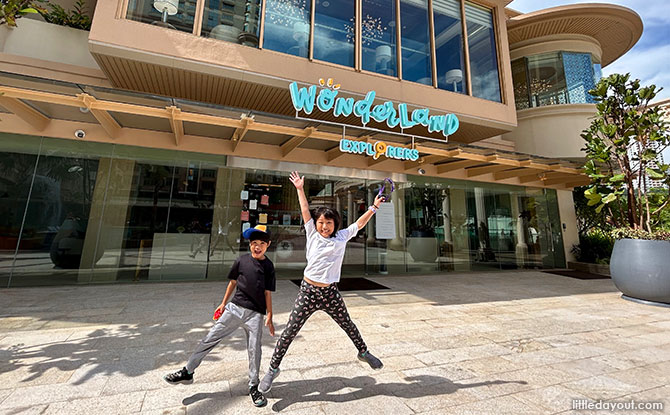 Another family-friendly highlight at Sunway Resort Hotel is its kids club, Wonderland Explorers.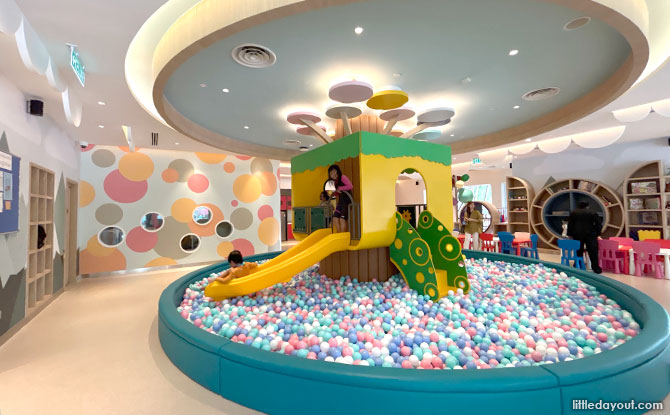 Located below the Premium Leisure Lounge, the Wonderland Explorers kids club has a fun indoor playground, complete with a ball pit
There are also boardgames, storybooks, and free and easy crafts.
Workshops are also conducted in a kitchen and there is also a technology room and quiet corner too. Kid friendly toilets within the club mean that you don't have to worry about where the kids are!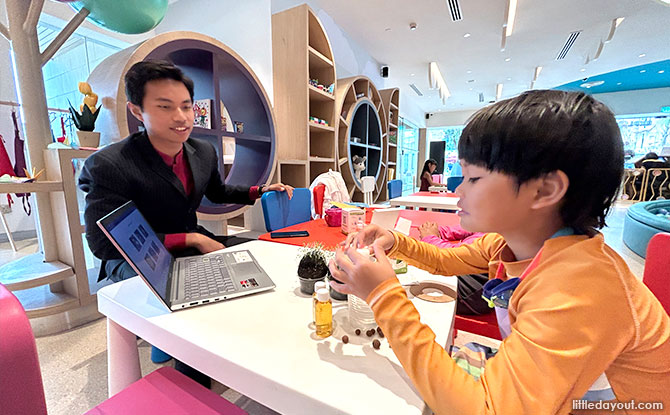 Families can register their little ones for daily activities like batik painting, candle making and some chargeable ones like making planters and mini burgers, baking banana chocolate chip muffins and candle making.
On Sundays, Wonderland Explorers also holds movie and pizza sessions!
---
Premier Leisure Lounge
We were stoked to learn that guests staying at the Waterventure Terrace, Family Fun Suites and Villas have free access to the hotel's Premier Leisure Lounge.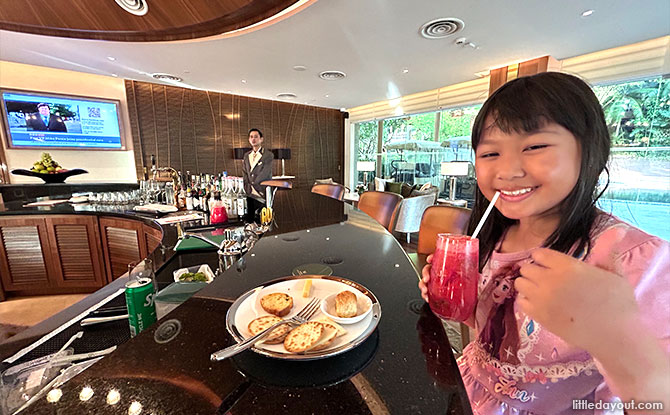 Open throughout the day from 10 am to 10 pm, the lounge serves all-day free-flow coffee, tea and juices. Alcoholic drinks are chargeable but with complimentary free flow from 5.30 pm to 7 pm.
There are sandwiches from 2.30 pm to 4 pm and evening cocktails between 5.30 pm to 7 pm.
What a way to live the high life!
---
Health Club
For those who need feel the urge to work out, Sunway Resort Hotel's Health Club is well-equipped with technogym equipment. Gym rats will find cardio-vascular, resistance machines and free weights at this workout space overlooking the tropical pool deck.
---
Food and Dining at Sunway Resort Hotel
Sunset Terrace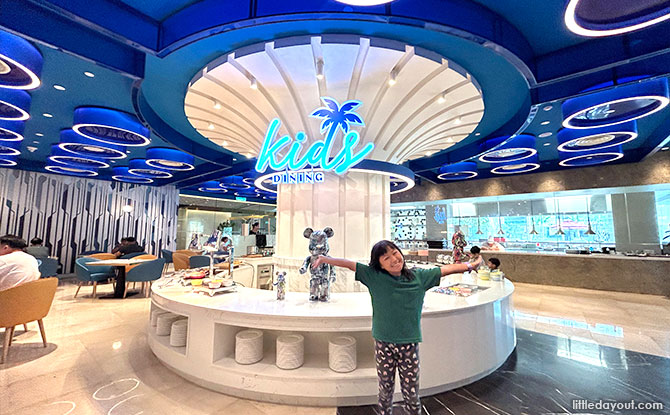 We had our breakfasts at the Sunset Terrace restaurant.
You can tell that Sunway Resort Hotel has put a lot of emphasis on catering to families because Sunset Terrace had a special kid's buffet section.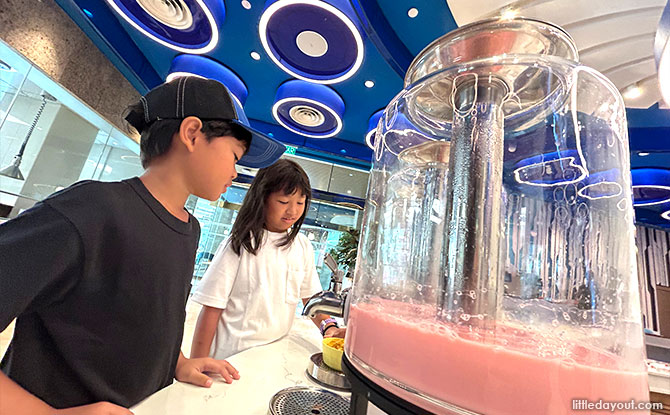 The food items at the kids section were placed low enough for the children to reach them and self-serve on their own. There was a lovely selection of kid's favourite dishes to choose from like cereals, pretty cupcakes, butterfly shaped waffles, hash browns, cheese sticks and more!
The main breakfast selection was a gastronomic delight too!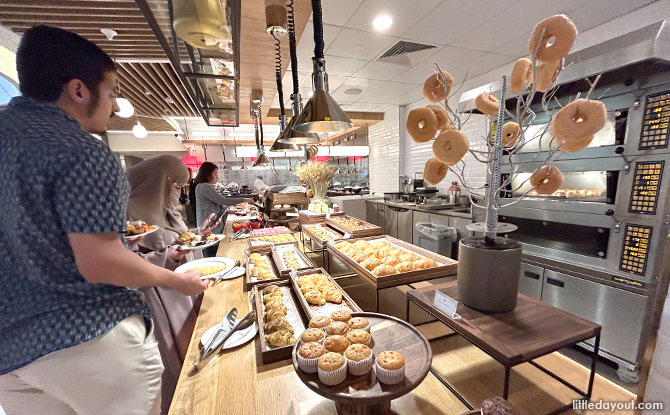 We loved the bread station, which had a donut tree. There was also a noodle station along with Western, Chinese, Indian and even Arabic selections!
We also had the opportunity to dine at Sunset Terrace for dinner and the experience was no less forgettable.
We ordered the Crabmeat Linguine and Filo Fish & Chips, which were delicious.
Also on the menu were items such as burgers and sandwiches, light bites, pizzas and beverages like juices, wine, coffee and tea and spirits.
---
Black Tap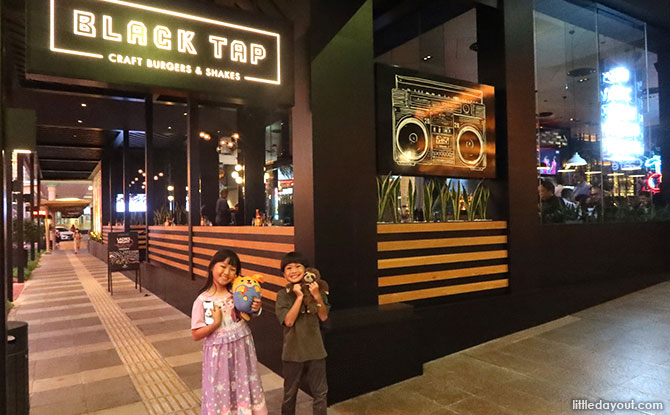 We were also thrilled to be able to pay a visit to the first Black Tap in Malaysia, situated just right next to Sunway Resort Hotel!
Black Tap is famous for their delicious craft burgers and over-the-top shakes and we certainly were not disappointed.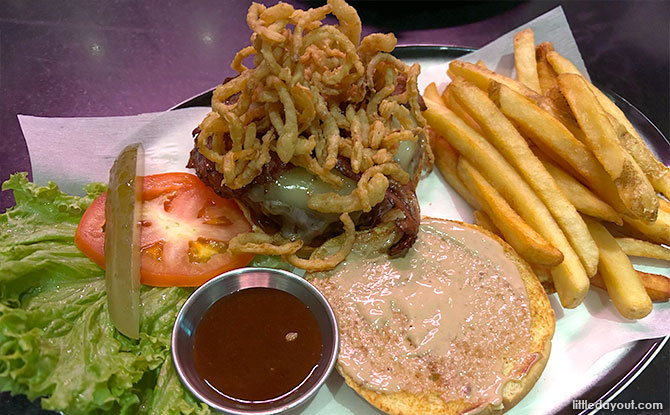 We ordered vanilla and chocolate shakes and paired them with Korean BBQ wings and the Wagyu Steakhouse Burger. The servings were large enough for all four of us to share!
We would certainly recommend Black Tap as a dining option during your stay at Sunway Resort Hotel.
---
Things To Do around Sunway Resort Hotel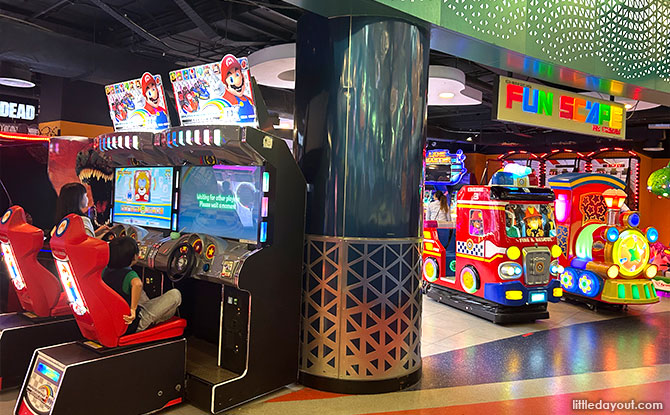 Sunway Resort Hotel is well connected to the other fun activities around Sunway City.
It is right next to the Sunway Lagoon Theme Park and linked to Sunway Pyramid shopping mall which has such a wide selection of shops all contained in one place.
We loved that there was also an ice-skating rink, arcade and Toys R Us all within the mall. Hence there is no need fret about have to travel far out when the shopping bug bites.
---
Final Thoughts
Sunway Resort Hotel is amazingly family-friendly and we thoroughly enjoyed its facilities like the Waterventure water play area and Wonderland Explorers kids club. We loved how centrally located it was within Sunway City, making it a great base for a visit to all the attractions around the area.
It is a great place to stay for families looking for somewhere to experience warm hospitality and family-oriented activities on a holiday break.
We look forward to visiting it again soon!
Where: 1, Persiaran Lagoon, Bandar Sunway, 47500 Petaling Jaya, Selangor, Malaysia
Website
Media Invite
If you are looking for somewhere to visit with kids who love animals, read about the experience at Zoo Negara in Malaysia, or read about our experience at Village Hotel Sentosa.