Jurong is a huge estate, extending from the cluster of malls around Jurong Gateway Road on one side to Nanyang Technological University at the other end. With an area this large, is should not be surprising that there are a wide range of Jurong playgrounds that kids can enjoy. We round up some of the best Jurong playgrounds that west-siders should know about.
Editor's Note: If you are looking for "Jurong Play Ground" – the site near IMM with garden centres and weekenders' market, check out our story here on Jurong Play Ground.
---
Jurong Playgrounds for West End Fun
FEATURED
Forest Ramble at Jurong Lake Gardens
Jurong Lake Gardens is home to several children's play areas. The largest of these is Forest Ramble, the naturalistic playground at the northern end of the Gardens. Kids will have plenty of fun at this Jurong playground which has been inspired by animals found in a freshwater swamp. Get more details about Forest Ramble at Jurong Lake Gardens.
---
-- Story continues below --
FEATURED
Clusia Cove & Butterfly Maze
Not far from Forest Ramble is the Clusia Cove. This water play area at Jurong Lake Gardens is great for kids to wade in and has little sluice gate for them to play with. Jurong Lake Gardens is also home to the Butterfly Maze. Not only can kids learn about the flying insects but they can also enjoy little play features around the maze.
Taman Jurong Park
Taman Jurong Park is home to a "play curl" where kids can escape into its unique structure and explore its various passageways. There's also another playground for younger kids at the same park. Find out more about Taman Jurong Park.
---
Airplane Playground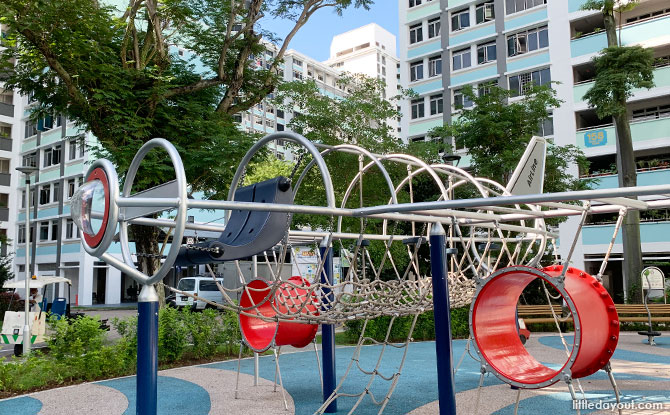 Close to Taman Jurong Park is the Airplane Playground. The steel structure, shaped like a jet plane, is great for a picture or two as kids pretend to fly away at this Jurong playground. Get more details here.
---
J-Link Playground
Beside the Jurong Regional Library is a little play area with some interesting looking hillocks. The J-Link playground could be just what you need for some simple fun. Find out more about the J-Link playground.
---
Jurong East Tower Playgrounds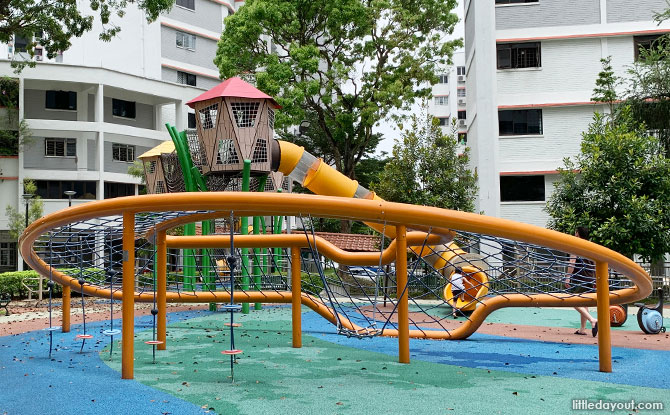 There are several elevated tower playgrounds in the Jurong East area too. Jurong East Street 24 has a playground with towers, connected by bridges, that kids can use to test out their scaling abilities. Another can be found at Jurong East Street 32 as well.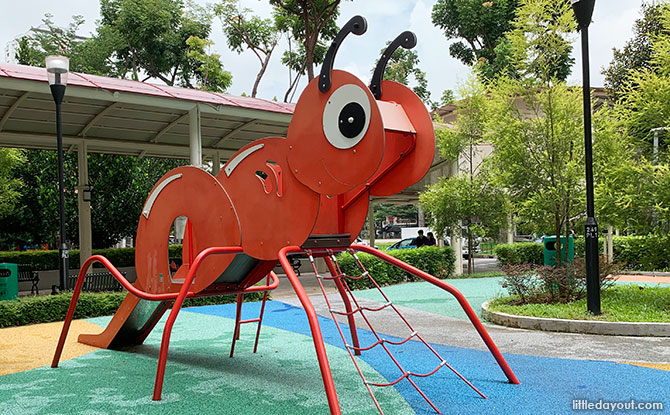 While at Jurong East Street 24, you can also check out an ant and ladybird playground.
---
Westgate Wonderland
The Westgate Wonderland shopping mall playground reopened on 12 September 2022. Pay a visit for that Alice in Wonderland feel.
Hopefully, the neighbouring Jem Play and the IMM playground will reopen soon too.
---
Jurong East Swimming Complex
To make a splash, the Jurong East Swimming complex has features such as a water playground, slides and a lazy river. Find out more here.
---
Waterworks at Science Centre Singapore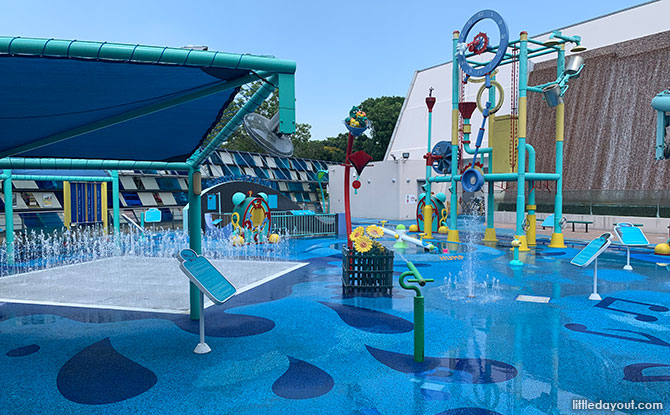 The Waterworks exhibition at Science Centre Singapore offers visitors a chance to splash about and cool down from the heat. Get more details here.
---
Yuhua Playground
Just beside Yuhua Community Club is a small neighbourhood playground with rope obstacles and a climbing boulder. It is looking a bit weathered and used to have a bouncy trampoline but, alas, it seems to be damaged when we last visited it in September 2022.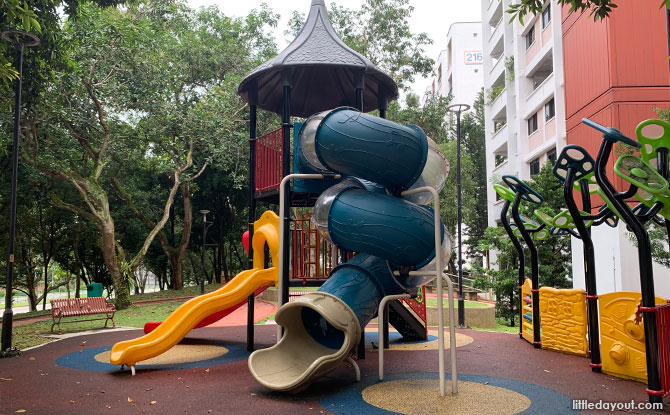 There is a nicer one for young kids on the other side of the Community Club at Block 210.
---
Jurong Spring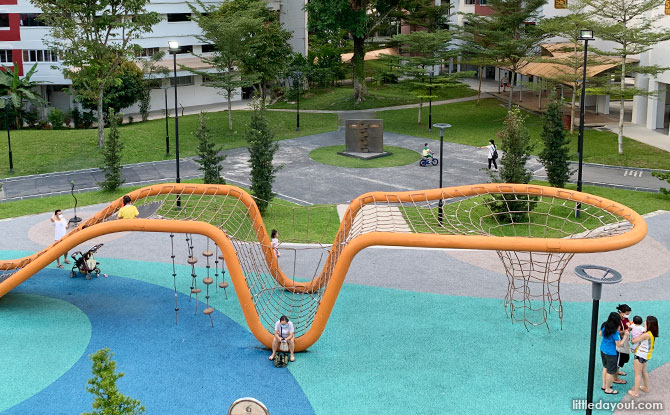 The playground equipment at Jurong Spring includes a vertical playground as well as orange netted structure for kids to climb about. Toddlers are not left out either as they have a small playground surrounded by hedges. Find out about the Jurong Spring playground.
---
Jurong Central Park
Have fun at a snakes and ladders-inspired playground at Jurong Central Park. The playground has interesting little mounds that add some fun to playtime. Find out more about Jurong Central Park.
---
Kidz Amaze, SAFRA Jurong
The centerpiece of Kidz Amaze, SAFRA Jurong indoor playground is a towering play structure. This play tower has five levels with each level built to accommodate the height of an adult.
SAFRA Jurong will be holding their SAFRA Sprint Kids 2022 Best Recruit Challenge in November. Find out how to get in on the action.
---
Jurong West Street 73 Playground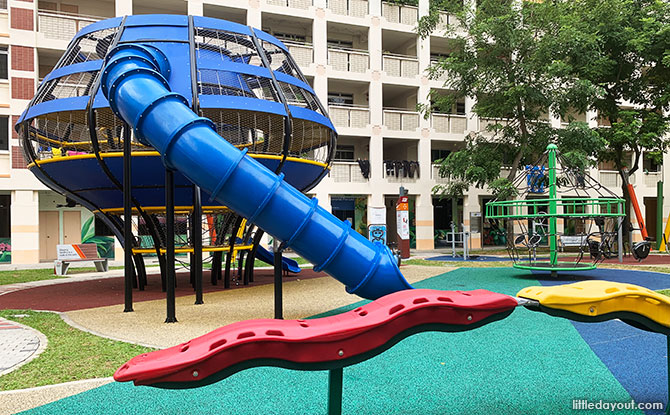 Over at Jurong West, there is a unique-looking neighbourhood playground that almost looks like a space ship. This Jurong playground has a wobbly see-saw too.
---
Origami Playground at Jurong West Park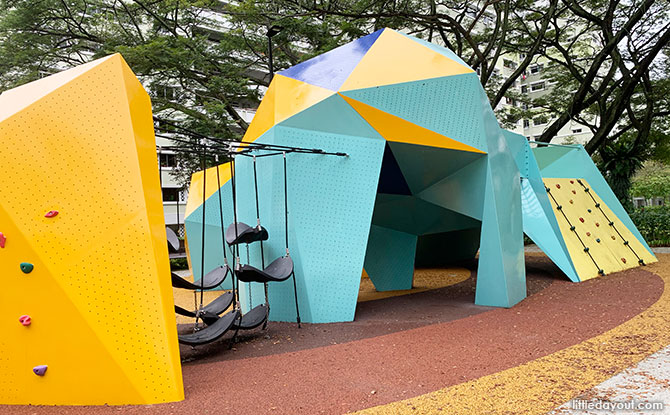 Shaped with folds like those found in a piece of paper is the Origami Playground at Jurong West Park. Hidden within the structure, there are hammocks and a slide. Find out more here.
---
Jurong West Swimming Complex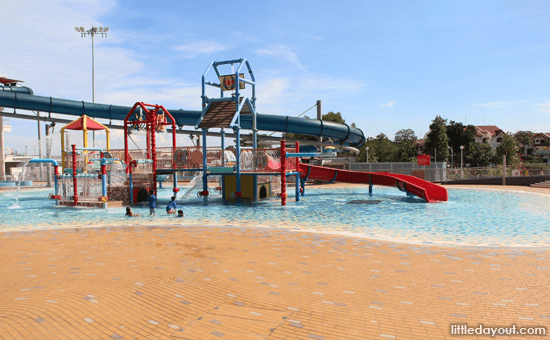 Jurong West Swimming complex caters to younger ones with a water splash pad and play structure. There is a water slide too. Find out more here.
---
Nanyang Lake Playground
All the way at Nanyang Technological University, beside Nanyang Lake, you can find an interesting netted playground with a pair of slides coming down from the centre.