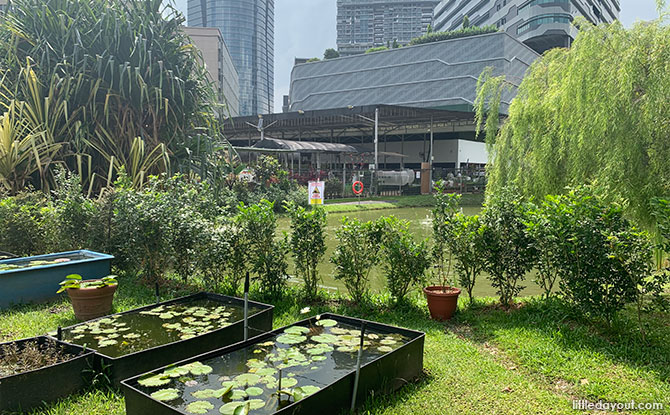 Mention playgrounds and we're there! But Jurong Play Grounds is not a children's playground with slides and swings. Instead, it is a place for the community, including fur-friends, to gather and hang out.
---
Jurong Play Grounds
Located between IMM and the Toh Guan housing estate, Jurong Play Grounds' compound houses multiple tenants. It is anchored by the World Farm garden centre and offers activities based on the themes of Eat, Play and Grow.
---
Al Capone
Jurong Play Ground boasts a pet-friendly neighbourhood bar and dining spot Al Capone's. If that makes the atmosphere sound like a Chicago gangster hideout to you, not to worry. Instead, it is a family-friendly food place that even has a dining area for dogs.
Wag 'n' Wild
Canines can also head to Wag 'n' Wild, a water park for pooches. (Psst.. there's a dog run too)
---
Happy Fish Swim School
Kids can also learn how to swim at Happy Fish Swim School, just opposite from Wag 'n' Wild at Jurong Play Ground.
---
Padel Courts
Are you a padel player? Jurong Play Grounds has padel courts where you can get your racket skills going.
---
Carnival Area
There's a carnival area too but it was closed when we visited.
---
Grow at the Garden Centres – World Farm, Tai Kwang Garden
World Farm is the space's anchor tenant. Step inside to shop for plants in the lush green garden centre.
A second garden centre located at Jurong Play Grounds is the Tai Kwang Garden. Both of these garden centres are conveniently located by the car park so that you can easily transport your purchases to a waiting vehicle.
---
Weekenders' Market
Weekenders' Markets are also held each month. Look out for pet products, gardening needs and more.
Jurong Play Grounds is located at 2 Jurong Gateway Rd, Singapore 608512.