When is a good age to start swimming lessons? How can you tell if a swimming coach is any good? Should you go for group or individual lessons?
Time to take a dive!
Little Day Out's Ask The Experts (ATE) series explores the top questions parents have of courses and lessons – as well as potential landmines to avoid.
In this ATE on swim schools, we spoke with trained swimming coaches who specialise in teaching young children to find out all you need to know.
---
-- Story continues below --
OUR PANEL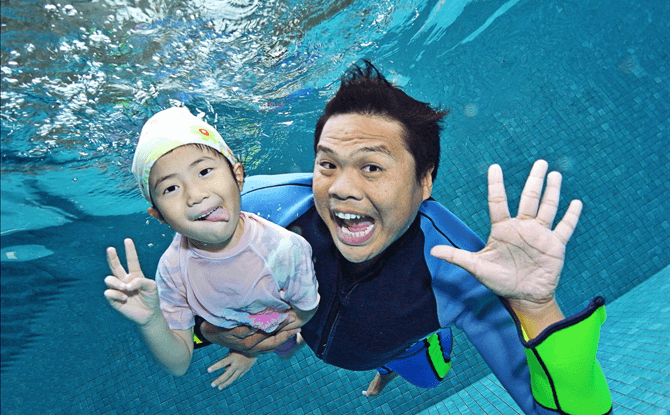 Garett Lee
Principal & Founder, Little Swim School
Garrett Lee holds multiple swim coaching certifications from USA, Australia and Singapore, as well as a Diploma in Sports and Exercise Science. He is also the lead course instructor trainer for the local national SwimSafer programme. As the founder of Little Swim School, he oversees curriculum and customer satisfaction, as well as operations and teacher development. He still teaches swimming lessons during weekdays, and supervises on weekends at various venues.
Justin Phua
Swim Coach, AquaBambinos Swim School
Justin Phua is a coach for infant and learn-to-swim classes at AquaBambinos Swim School.  He is AustSwim-certified, and is a member of National Registry of Coaches – Sports Singapore, and Swimming Teachers Association – Singapore.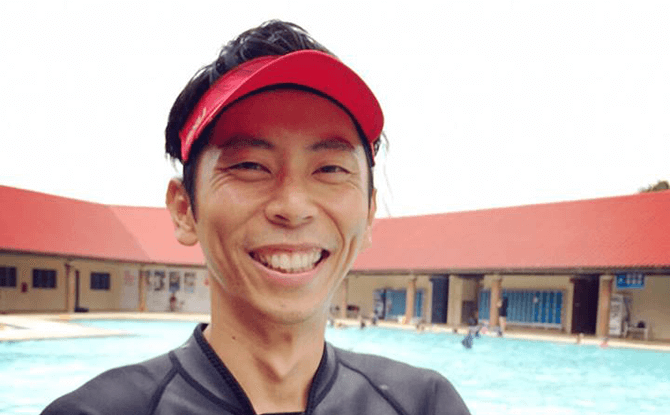 Ling Yao Hui
Senior Swimming Instructor, Happy Fish Swim School
Coach Ling Yao Hui specialises in teaching swimming for infants, toddlers, kids, special needs children, as well as adults. His list of certification includes NCAP swimming and shooting coach, SwimSafer instructor/assessor, AustSwim instructor/assessor (Towards Competitive Strokes, Infant & Preschool Aquatics, Disability Access & Inclusion Aquatics), FINA level 2 Swimming Coach, CPR + AED Provider, Swimming Pool Maintenance & Operation.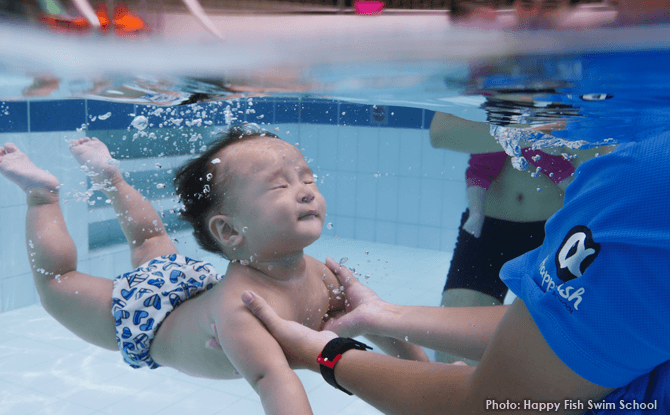 How does swimming benefit a child?
Garrett: The well-known benefits of swimming are typically linked tol water safety skills. But many are not aware of the recent research that has shown that swimming at the early ages can play a significant role in positively influencing literacy and numeracy!
In a four-year project that had findings released in 2013, researchers at the Griffith Institute of Educational Research (Australia) found that children who swim demonstrate more advanced cognitive and physical abilities than other children.
Justin: Swimming can benefit children in numerous ways. At my swim school, our focus is to ensure that kids are taught water safety skills and to be water confident. Research has also proven that swimming from a young age can develops a child's reading and physical coordination.
Ling: Swimming lessons introduces water safety. It is alarming that one child drowns every 45 seconds in Asia and most of these incidents involve infants and toddlers below the age of five years old.
Learning how to swim helps children build water confidence. improves co-ordination, strengthens mental and physical health. It also enhances learning abilities. We also integrate interesting songs and games to help children learn better. Swimming lessons also promote family bonding.
What age groups does your swim school teach? What are the specific skills that are taught in each age bracket?
Garrett: Our swim school has programmes for children from five to six months of age. The baby toddler programme, the preschooler programme and the regular learn-to-swim programme take a child-centric approach towards building a common set of skills that enable water-safe kids while promoting growth and development.
Swim skills that are tailored to the age-specific abilities of a child's motor skills important. We teach what is most achievable for kids, and obtain the most out of them. An example would be learning to roll over to float and catch a breath, then roll back into the water and kick and paddle for swimming mobility.
At the slightly older ages of four years onwards, stroke foundations are introduced, leading them to learn the main strokes of swimming such as front crawl, backstroke, breaststroke amongst others.
Justin: Our classes start for babies from six months to three years (for infant classes) and three years to six years for learn-to-swim classes. Our focus for infants are to get babies to be water confident as well as for mummies who are with them to learn important water safety skills and what to do in an aquatic environment
Ling: Our infant programme takes in babies from four months old. Skills taught include breath control, free floating, turning and propelling to safety, and water conditioning.
Our toddler programme for children two to four years old teaches propulsion, coordination in swim strokes, water safety, and water confidence.
Our kids' programme for children five to 12 years old includes basic freestyle, breaststroke, backstroke, stroke correction, fundamental life-saving techniques, treading water and survival skills.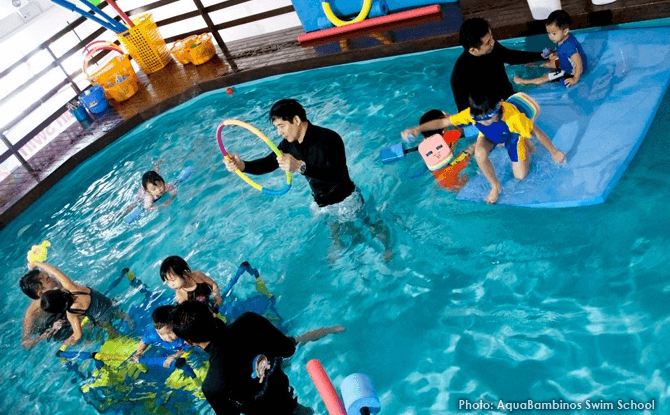 Are individual lessons better or group lessons better? Why?
Garrett:  Generally, I will always recommend group classes as a positive peer environment is can be very encouraging for kids of all ages. It also means lower swim fees.
Individual swim lessons are suited for those who need to have a lesson at a specific location and time. It is also a useful customised option for children who are particularly afraid of the water at an initial stage, and takes away the pressure of performing compared to peers in a group.
Justin: Children learn better through different ways and in different environments. Private classes allows coaches to spend more time on a child to learn new aquatic skills while group classes promote interaction between kids and promotes social awareness, friendships and peer learning.
Ling: Both have their advantages. Individual lessons allow children to learn at their own pace and get individual attention of the coach. Individual lessons are very beneficial to children with lower water confidence, have water phobia or hyperactivity. These children require special attention. For children with little to no learning obstacles, they can expect tremendous skills advancement.
Learning in a group allows observations and interactions between other parents and their babies.For toddlers, we can introduce healthy competition, which instills discipline.
At what age is it suitable for babies to learn swimming?
Garrett: You can find available worldwide swim programmes for children as young as newborns! However, it is important to note that such programmes are mindful of the duration of class, the environment setting and the frequency of lessons amongst a handful of other factors.
I cannot stress enough that at these very young ages, swimming in a non-temperature controlled pool with only regular chlorinated filtration is a much less than ideal learning environment.
As babies become older and have gone through their basic rounds of immunisation jabs and develop better neck control (usually between four to six months of age), signing up for swimming lessons becomes an easier decision.
Justin: It's never too early or too late to start swimming. Our classes for infants start from six months and provide a platform for both mummy and child to learn important water safety and confidence skills to ensure babies enjoy the aquatic environment safely.
What are some common misconceptions of child swimming lessons?
Garrett: The younger I start my baby/toddler for swimming lessons, the sooner they will progress as they have had a headstart.
Babies and toddlers do not learn and progress solely this way. While this may be closer to the truth for some toddlers, and especially for slightly older ones from 3+yrs or 4yrs and onwards, it is all very much based on the subjectivity of the child's motor development.
The second misconception: I have seen videos appearing on social media, showing how some babies can swim across a pool, or have dropped into a pool and came up doing a back float while crying for attention and it saved the baby's life. Will all babies achieve this?
It is the goal of every responsible swim programme to achieve such outcomes. But it is critical that the process of teaching the child with such outcomes are strongly accompanied by a teaching approach that is based upon a child-centric pedagogy.
I have always believed strongly in a teaching philosophy that teaches children at their pace in a loving, nurturing and encouraging manner. Skill outcomes must not be achieved as a result of the child having been "forced" through use of teaching methods that constantly threaten, or undermine them.
The third misconception: My child is able to swim, and is confident in the pool. I am able to let him play on his own without parental or adult supervision.
In my many years of experience, when it comes to a compromise in water safety, the real problem is complacency. Children should not be left alone or unattended to, even if they know how to swim. Even in a competitive swim squad, swimmers are under the keen eyes of a swim coach.
The water environment is one that needs to be respected. It is a different medium from land, and accidents can happen that affect swimmers. These can range from muscle cramps causing panic to a young swimmer, or issues such as shallow water blackout from the unintentional actions of a child playing with excessive breath control underwater.
Justin: Swimming is not about becoming the next Michael Phelps overnight but instead being comfortable and confident in and around water. A water-confident child is a happy child who picks up new skills faster.
Ling: One misconception is that babies are born natural swimmers. Babies are NOT natural swimmers and they need to be conditioned and have consistent practice to establish procedural memory (muscle memory).
Another misconception is that learning swimming helps to drown-proof children. There is no such thing as drown-proofing children. Children may be equipped with swim skills but there are many variables and unexpected dangers especially at unfamiliar pools. Children should never be allow in the pool without adult/parental supervision. Knowledge of swimming does not replace adult supervision. This can be applied also to children with floatation devices. Floats should not substitute adult supervision as well.
What kind of environment and teacher is necessary for a child to pick up and maintain an interest in swimming?
Garrett: A fun, joyful and encouraging learning environment led by a nurturing teacher has always been the best recipe for children to enjoy their swim lessons for years to come when they first start out as beginners.
With babies and toddlers, an indoor learning environment with heated water would present possibly among the best options for a perfect setting for swim classes.
Justin: Swim coaches should be patient, fun and lessons structured through games. Our pool is located indoors, heated and salt-chlorinated. Unlike conventional pools, children are away from the elements of the sun and rain and can learn in an enclosed environment.
Ling: Attentiveness and patience are key to helping children pick up and maintain an interest in swimming. Teachers who use positive reinforcements and introduce interesting and fun activities to engage children are better teachers as compared to stern conventional swim coaches. This is especially true when it comes to managing children with learning disabilities or have discipline issues.
What are some of the dangers or pitfalls to look out for when choosing a swim school or coach?
Garrett: Generally, the common issues parents face include incompetent teaching standards, incompatible personality (some teachers are too strict, yet others too gentle), unreasonable terms and conditions.
Reputation is key if a parent seeks to be assured of the teaching standards of the swimming coach or the swim school of their choice. It is clear that this industry works greatly on word of mouth recommendation, and one would not be too far wrong with trusted recommendations from friends and relatives.
Justin: Looking for a suitable school or coach can be a difficult process and parents should look at the structure of lessons, coaching style of the coach as well as the environment during lessons.
Ling: There are various licences and qualifications in the industry. Prestigious qualifications are not determining factors and do not guarantee the quality of the coach. It does not tell a parent how a coach handles children.
It is important to choose an ACRA registered business with good track records when it comes to selecting the swim school. Ask about their syllabus and curriculum.
Swimming lessons in Singapore are very skills orientated. It is vital for swimming programs to take care of the mental well-being of young children as well. Find a swim school aligned to your parenting philosophies.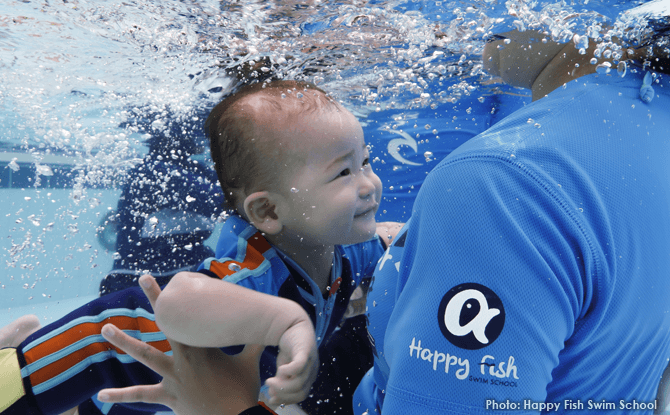 What swimming gear does a baby or a child need?
Garrett: All babies and toddlers who are not toilet trained or toilet trained but for less than 6 months, will need to use swim diapers of a snug fit and ideally, this should be accompanied by a second layer of a swim trunks or shorts that also helps to holds in the diaper.
Remember, if two fingers can be inserted under the elastic in the legs and waist, the swim diaper is too large. Any leaking poo can be disastrous and a health hazard that may warrant the pool to be shut down for maintenance.
Apart from diapers, a parent should bring at least one large towel for a quick wrap up after leaving the water.
Justin: Swim diapers and swim wear, and mummy or daddy in the pool with them!
Ling: If it's an outdoor swimming pool, it would be essential to let the baby put on thermal swimwear as the water in various public swimming pools and condominium pools can be pretty chilly.
When the toddlers become older and engage in more underwater activities, parents should prepare a set of goggles for their children to protect their eyes from chemicals and debris in the pool.
Our swim school uses teaching aids such as back floats, pool noodles and kick boards to correct children's swim postures and train their propulsion skills. However, parents are not obligated to invest in these equipment. In addition, we do not recommend the use of inflatable neck floats, arm floats and swimming rings during lessons as they seem to hinder the development of horizontal swimming and gliding position for children.
Questions a parent should ask the swim school before signing up:
What is the ratio of the student to coach?
What are the qualifications and experience of the coaches?
What is the objective and lesson structure of classes?
What is the class size and age mix in the class?
What will be taught during the number of lessons signed up (Overview of a term / what can be expected)?