Even if you have no intention of nurturing your child to become the next Joseph Schooling, swimming is a life skill that is very useful to have. As pool parties and swimming playdates are very popular among kids here, swimming lessons for toddlers builds water confidence from a young age. And when on holiday at a beach resort, water sports are usually the highlight for little ones! To get started on swimming lessons for kids in Singapore, here are some noteworthy swim schools in Singapore that you can check out:
Schools with Swimming Lessons for Kids and Toddlers in Singapore
---
aquaDucks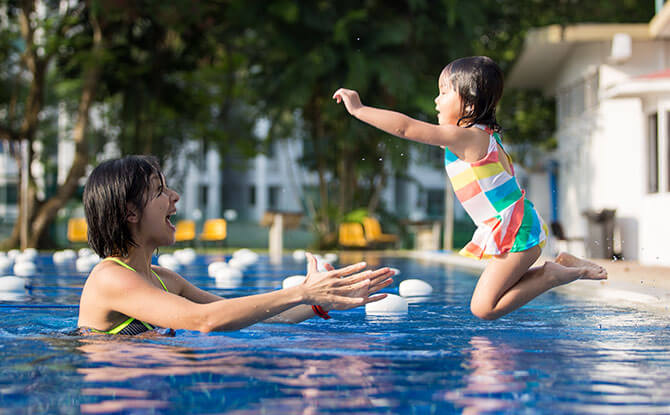 aquaDucks is one of the oldest and most popular swim schools in Singapore. Founded by Dutch swim coach Koen Verhoef more than 30 years ago with a small group of students at the Hollandse Club, aquaDucks has since grown into a big swimming family.
Lessons are conducted at multiple locations featuring the swim school's own pools – which are sheltered, heated, and salt-chlorinated to prevent skin irritation – and two clubs: Hollandse Club and Swiss Club.
Believing that learning should be fun, the school employs a blend of the best American, European and Australian techniques, taught by some of the most passionate and energetic coaches.
aquaDucks offers swim programmes for all ages, ranging from classes for babies and toddlers, to lessons for preschoolers 3 to 4 years old, learn-to-swim classes for 5-year-olds and up, adult swimming lessons and even aquafit for seniors!
Swim Venues: Dempsey (29 Harding Road), Kent Ridge (87 Science Park Drive), Newton (25 Gilstead Road), Nexus (201 Ulu Pandan Road), Queenstown (58 Jalan Penjara), Turf City (2 Turf Club Road), Hollandse Club (22 Camden Park), Swiss Club (36 Swiss Club Road)
Swim Fees: Various
Telephone: 6463 5554
BONUS for Little Day Out readers: Enjoy a free trial with the promo code LITTLEAD.
---
Isplash Swim School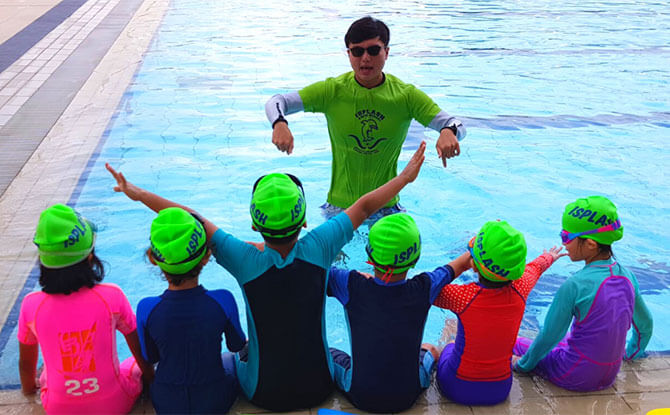 There may be many swim schools for children in Singapore, but finding one staffed with passionate certified coaches, offering a proven teaching system, and at an affordable rate is not easy.
At Isplash, in-house coaches follow a systematic approach to teaching, which enhances the effectiveness of each lesson. Kids learn in a safe and fun manner, following a curriculum that includes the SwimSafer Programme and Singapore Swimming Proficiency Awards, both of which are recognised by MOE schools here.
Group lessons for kids 5 to 14 years old are conducted at Jurong West, Jurong Lake, Bukit Batok and Choa Chu Kang Swimming Complexes. Toddlers 2 to 4 years old can learn at the Jurong Lake swimming pool. Classes start from just $17.50 per lesson! For those who prefer other venues, Isplash will even offer to help find a match among its group of more than 200 affiliated instructors and swimming schools – at no cost at all!
School holiday programmes for kids 5 years and above are available from $250 for 8 sessions.
Swim Venues: Jurong West Swimming Complex, Jurong Lake Swimming Complex, Bukit Batok Swimming Complex, Choa Chu Kang Swimming Complex
Swim Fees: Toddlers Swimming Class – $100 for 4 lessons, Kids Swimming Class – $70 for 4 lessons, Holiday Programmes – from $250 for 8 lessons.
Telephone: 8123 8985
---
Pacific Swim Team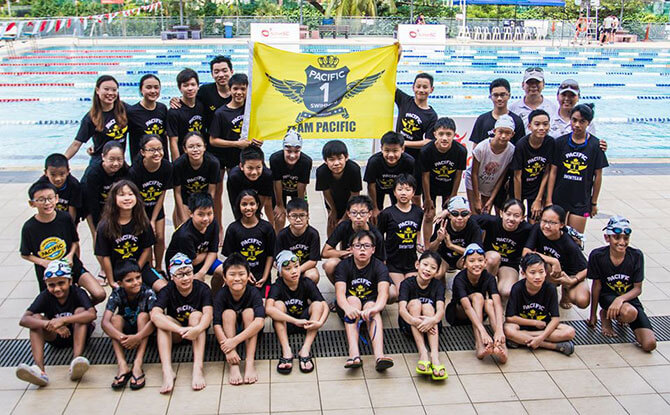 Pacific Swim Team has been around for more than 20 years and is one of the few swim schools in Singapore to offer certifications from three recognised bodies – SportsSG, Singapore Lifesaving Society and Singapore Swimming Association.
Pacific offers swimming lessons for kids as young as 3 years old up to adults. Committed to helping every swimmer achieve his or her full potential, it has a range of classes, from beginner to competitive levels.
Parents who wish to improve the children's water safety can sign them up for the SwimSafer programme. Other swim programmes available include the Singapore Swimming Proficiency Awards, Distance Swimming Awards, Open Water Programme or Lifesaving Programme.
Those with a passion for swimming can progress to their competitive training. As a testament to the strength of its programmes, Pacific Swim Team has produced a FINA World Cup Swimmer and its swimmers have achieved top placings in the Singapore National Age Group Championships.
Swimming lessons are held at Our Tampines Hub & Pasir Ris Sports Centre and Pools. In fact, Pacific Swim Team is the only swim school in Singapore that hire Lifeguards to take care their swimmers' safety. It is also one of the few swim schools in Singapore with an online system that allows students to track their progress, payments and attendance.
Swim Venues: Our Tampines Hub Swimming Pool & Pasir Ris Sports Centre Swimming Pool
Swim Fees: Children learn to swim group class: S$70 per month
Telephone: 9856 8280
---
Swimfast Aquatic Group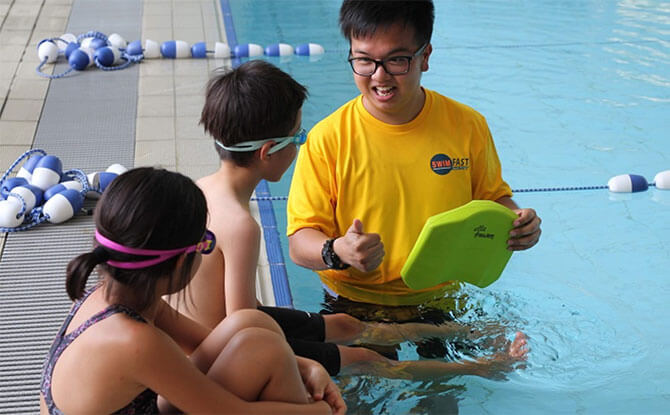 Swimfast Aquatic Group is started by two-time Olympian David Lim, with the objective of providing quality swimming lessons in Singapore to the public. As expected, the school is very strong on the competitive front, counting the likes of Tao Li, Amanda Lim and Quah Zheng Wen in its competitive squad. It has also won 14 out of 15 of the Singapore National Swimming Championships from 2005 to 2019.
For its Learn-to-Swim programme, Swimfast offers swimming lessons for kids in Singapore for children from 4 years old, holding its swim classes at three venues: ACS (Barker Road), SJI International School and Methodist Girls' School. The swim school's philosophy of having low student-teacher ratios has resulted in its class sizes being kept small intentionally – at a maximum of six students to one coach.
Swim Venues: Anglo-Chinese School (90 Barker Road), SJI International School (490 Thomson Road), Methodist Girls' School (11 Blackmore Drive)
---
X Lab – Swimming Lessons For Kids In Singapore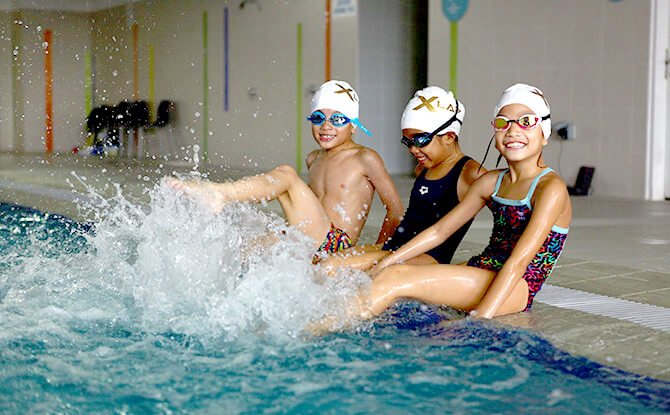 Another school that has its swimming lessons for toddlers in Singapore within the compounds of a school, in this case, GEMS World Academy, is X Lab. Its Learn-to-Swim classes for children 3 to 16 years old are conducted at the international school's sheltered 50-metre pool and heated indoor pool.
X Lab believes in creating a swim experience that is fun, rewarding and transformational, focusing on six important aspects of a child's development: mindset, physical, mastery, social awareness, communication and intelligence. When it comes to swimming lessons for kids in Singapore, these work together to create what the swim school calls a "winning mindset", which will carry its students beyond the pool and into life.
X Lab is one of the few swim schools serving the population in the north of Singapore that have access to good facilities.
Swim Venue: GEMS World Academy (2 Yishun Street 42)
Swim Fees: $350 for 10 lessons for its Learn-to-Swim programme
---
Little Fishes Singapore Swimming Lessons
Finding passionate certified coaches with a proven Kaizen teaching system at an affordable rate may not be easy, but Little Fishes Singapore Swimming Lessons has what you are looking for. With children's stories, musicals and themes weaved in, their swimming lessons are never repetitive and boring.
Instead, they are extremely engaging with lots of fun-filled activities like mimicking Toy Story characters or having a singalong with Wheels on the Bus Go Round and Round. Both children and parents will definitely enjoy the concoction of the best American, Japanese and Australian techniques to stimulate your child's brain, to improve motor skills and, of course, to enable them to be water safe.
Let's get outdoors to enjoy the sun. Take the plunge and learn to swim with Little Fishes Singapore Swimming Lessons!
Swim Venues: Various swimming complexes in Singapore
Swim Fees: From $70 per month
Telephone: 9643 6331
Website
---
Able Aquatic School
The "Able" in the school's name stands for "Always Believe in Lifelong Exercise". Started in 1981, Able Aquatic School is one of the longest running swimming schools in Singapore for children, supported by a large group of experienced coaches.
It holds its swimming classes for toddlers and kids at most swimming complexes in Singapore. They cater to a wide range of groups, including babies, toddlers, kids and special needs children.
True to its name, the school also reaches out to adults through its adult swim classes and aqua aerobics lessons.
Swim Venues: Various swimming complexes in Singapore
Swim Fees: $60 – $80 per month for its Children Group Class
---
Marsden Swim School
With more than 20 years' experience under its belt, Marsden prides itself on being "Singapore's only Gold Standard AUSTSWIM swim school".
This school has swimming lessons for kids in Singapore which are held at four venues covering the west, centre and north of the island. At two of these locations – The Grandstand and German European School Singapore – students train in a heated and covered swimming pool and an indoor Olympic-sized pool with temperature control respectively.
Marsden Swim School is one of the swim schools in Singapore which holds water safety and familiarisation classes for infants and toddlers from 4 months to 4 years old. Older kids can join the school's swim classes, which are not just about fun, but also ensure that little ones learn the correct techniques from the start so bad habits do not develop. Student-to-teacher ratio is also set low, with a maximum of five kids in each class.
Swim Venues: The Grandstand (200 Turf Club Road), Queenstown Swimming Complex (473 Stirling Road), Ang Mo Kio Swimming Complex (1771 Ang Mo Kio Ave 1), German European School Singapore (2 Dairy Farm Road)
Swim Fees: $36 per lesson with full term enrolment