Whether you want to spend some time outdoors or participate in fun workshops that expand young minds. There are plenty of things to do during the June School Holidays 2018 in Singapore.
With the mid-year break taking place from 26 May till 24 June 2018, you may be wondering what to do and how to make the most of the four-week break. Here are some – well plenty – of ideas on what to do in Singapore, places to visit and activities to check out.
With only 30 days of holiday time, you better get crackin' with these 30+ things to do during the June school holidays 2018 in Singapore.
30+ Things To Do During The June School Holidays 2018
---
---
-- Story continues below --
Looking for things to do during the June school holidays 2018 where kids can cool off? Check out the free Marina Barrage Water Playground. While not as large as the nearby Far East Organization Children's Garden, it still offers simple, splashing fun for young children.
---
Westgate Summer Camp – The Magnificent West
31 May, 1, 2, 3, 7, 8, 9, 10, 14, 15, 16, 17, 21, 22, 23 & 24 June, Westgate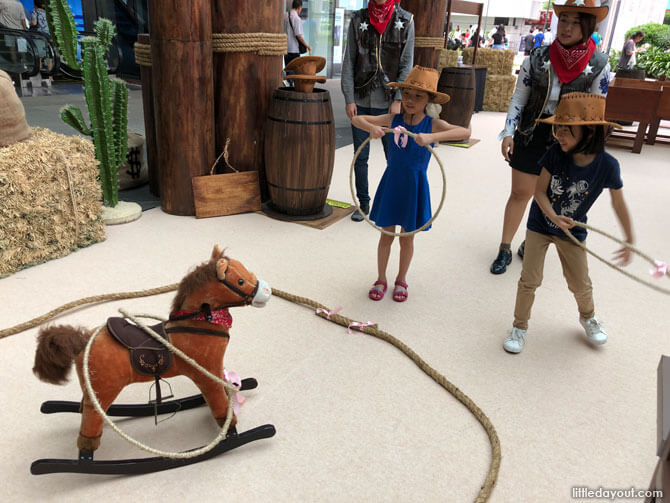 Put on your cowboy hat and saddle for some fun activities during the school holidays at Westgate. Exciting games for the family include the Horse Lasso, Tin Can Toss, Gold Mining and Cactus Throw. A minimum spend is required to redeem a ticket. Find out more.
---
Games of Yesteryear
Till 30 June, Singapore Sports Museum
Located within the Singapore Sports Museum, the Games of Yesteryear exhibition is coming to a close by the end of June. Till then, you can still pay this temporary exhibit a visit with the kids to learn about old-school games like gasing and five stones. Plus, there are also kids craft activities at the museum too.
---
Decadent Durian High Tea Buffet
1 June to 31 July, Marriott Café
Indulge in the King of Fruits at Marriot Café's Durian High Tea Buffet. Savour durian incorporated into bread & butter pudding, crème brulees, glutinous rice and more. A durian-lover's dream. Prices from $45++ for adults and $27++ for children.
---
23 and 24 June, Asian Civilisations Museum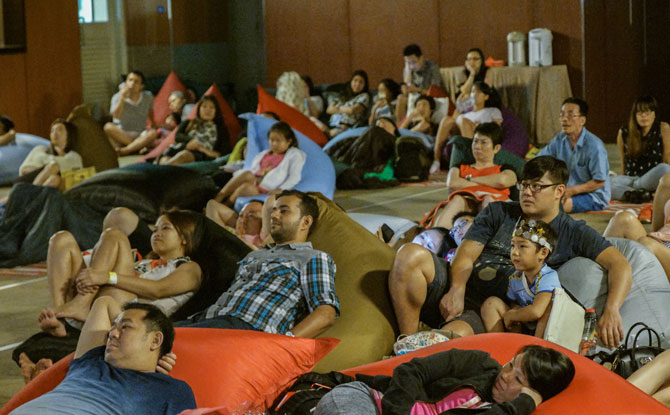 Spend a night at the Asian Civilisations Museums in this special sleepover for children and their parents. Explore the museum at night, listen to stories and watch a film screening in this unique after-hours experience.
---
SAFRA Punggol Family Arts Festival
2 June, SAFRA Punggol
Take part in arts and craft workshops from 1 pm to 6 pm at SAFRA Punggol as part of its Family Arts Festival. Create a puppet octopus, learn the basics of light painting and take part in other craft activity workshops. This is part of SAFRA Punggol Weekend Fun (June Edition) which takes place of the weekends in June 2018.
---
25 May to 24 June, S.E.A. Aquarium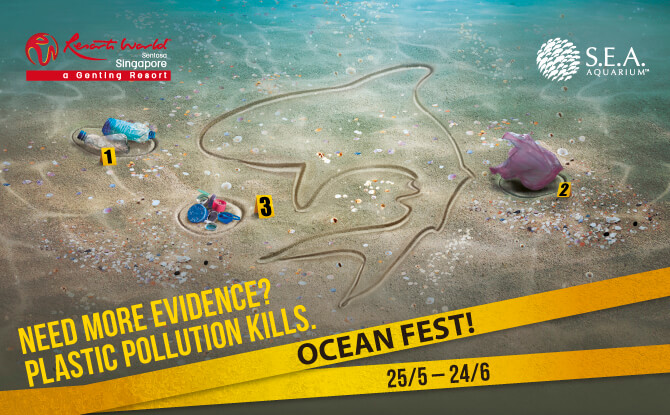 Discover how plastics are harming our oceans and what you can do to reduce its impact at S.E.A. Aquarium. Take part in activities such as an Ocean Lab and shop for eco-friendly products at the Ocean Eco-market.
---
2 and 3 June, Suntec Convention Hall 404 to 405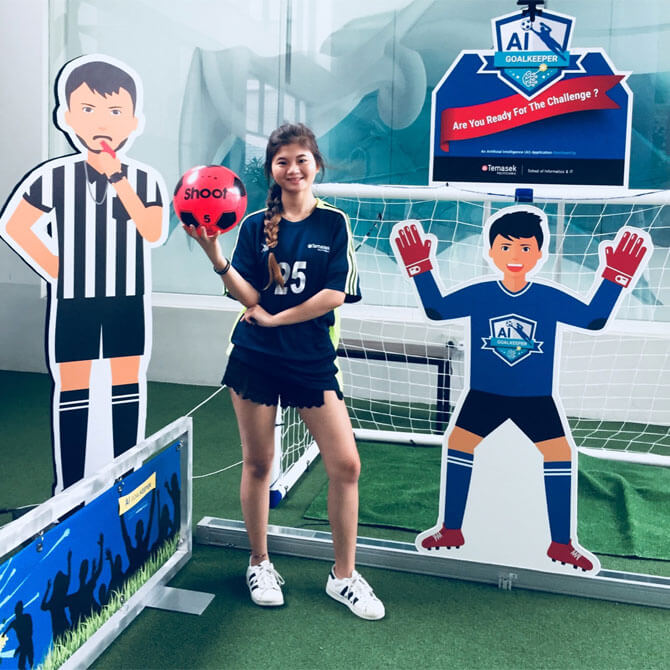 See what the future holds at IMDA's Tech Saturday (Upsized!) 2018. Find out how tech is shaping the way we learn, live, play and work and get hands-on with technologies such as AR and VR. There will also be tech workshops for all ages.
---
3 and 23 June, East Coast Beach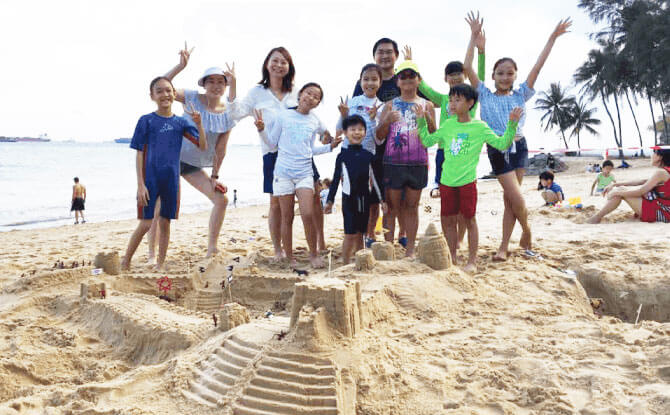 Have some fun in the sun at a Little Day Outing to Castle Beach. At this amazing sandcastles family workshop, parents and children will work together to build a sandcastle with the guidance of the instructors from Castle Beach.
---
Hari Raya Light Up 2018 and Geylang Serai Bazaar
Light Up till 30 June; Bazaar Till 14 June
Pay a visit to Geylang Serai to soak up the festival spirit at the Hari Raya Light Up 2018. Browse through the stores selling festive goodies at the Geylang Serai Bazaar too.
---
MindChamps PreSchool Welcome Day
26 May to 30 June
Wondering how to select a preschool that is a good fit for your child? The MindChamps PreSchool Welcome Day is a chance to visit the school, get a personalised tour and view classes in action. Parents are encouraged to ask questions about how their child will benefit from the curriculum and explore the centres' facilities. Find out more about how to register for a visit here.
---
25 May to 24 June, Changi Airport
Go on a bobsleigh ride, visit the Discover Europe exhibition and watch the Sesame Street live show S is for Sharing at Changi Airport during the June school holidays 2018. Discover Europe at Changi provides a variety of fun things to do during the June school holidays 2018 at the airport.
---
Parkour Kids Holiday Camp Intensive
4, 11, 18 and 25 June (start dates), Superfly Monkey Dragons
Kids can pick up the fundamental components of parkour like jumping, climbing, vaulting and balancing in an intensive camp that increases their awareness of their abilities and surroundings.
---
Father's Day Baking Adventure
16 June, Genius R Us at City Square Mall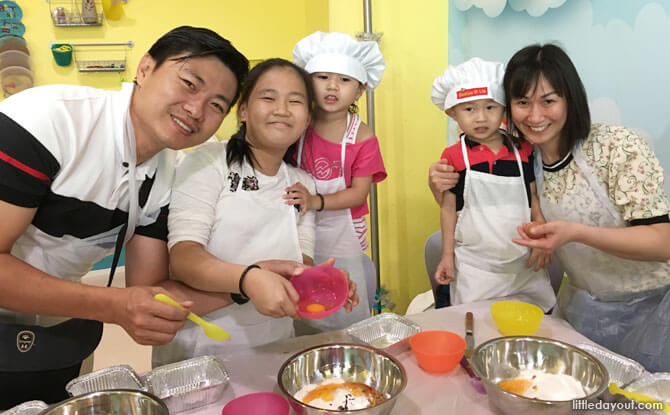 Father's Day is coming up soon! Celebrate the day with memorable family time with the Man of the House on a Father's Day Baking Adventure. There will be a Little Day Outing to Genius R Us where the family can make super-cute Super Dad cookies together. Find out more.
---
Children's Festival @ Gardens by the Bay
26 May to 10 June, Gardens by the Bay
If looking for things to do during the June school holidays 2018 with young kids, pay a visit to the four fantastical lands based on Enid Blyton's The Magic Faraway Tree at the Children's Festival at Gardens by the Bay.
---
6 May to 26 August, SAM @ 8Q
View the world through the eyes of contemporary artists at the Singapore Art Museum's Imaginarium: Into the Space of Time. There are interactive exhibits and programmes planned around SAM @ 8Q.
---
Roll Over the Ocean, Roll Over the Sea
8 to 21 June, Forum the Shopping Mall
Bubbly fun awaits little ones as they explore underwater wonders and get to see amazing sea creatures from the deep at a digital playground. Redeem a QR code to play with a minimum spend. Mommies and daddies who shop at Forum The Shopping Mall will also enjoy an ocean of promotions around the shops.
---
21 May to 23 June, KidZania Singapore
Participate in fun sports-themed activities and tryouts at KidZania Singapore during the June school holidays. Become a sports broadcaster, join in a Cheerleading City Parade and take part in Sports Clinics by Sports SG. The whole family can stay fit and have fun together at KidZania Singapore this June school holidays 2018. Find out more.
---
Dance Camp
13 June or 18 June, Wings to Wings Dance Development Centre
Let your child be exposed to a variety of dance styles at Wings to Wings' Dance Camp. Sample from Zumba, Ballet, Jazz dance styles and have fun with games at this day camp.
---
Pesta Ubin
26 May to 24 June, Pulau Ubin
Looking for outdoor things to do during the June school holidays 2018? Discover the island life at Pesta Ubin. Take part in nature walks, go kayaking and explore the wonders which Pulau Ubin has to offer. Find out more.
---
24 June & 1 July, Hua Language Centre at Parkway Parade
Go on a family treasure hunt with a difference. Discover the fascinating stories behind animal-themed Chinese idioms, solve clues and search for the "treasures". Every sign-up will get a goodie bag of a cute tote bag, flashcards, booklet on animal-themed Chinese idioms and more. Find out more.
---
Marvel Studios: Ten Years of Heroes
9 June to 30 September, ArtScience Museum
During the June school holidays 2018 in Singapore, get immersed into the world of Marvel Studios Superheroes and get to meet characters like Iron Man and Thor at this ArtScience Museum exhibition.
---
SPARK: The Music Circle Opening Season
1 to 10 June, The Music Circle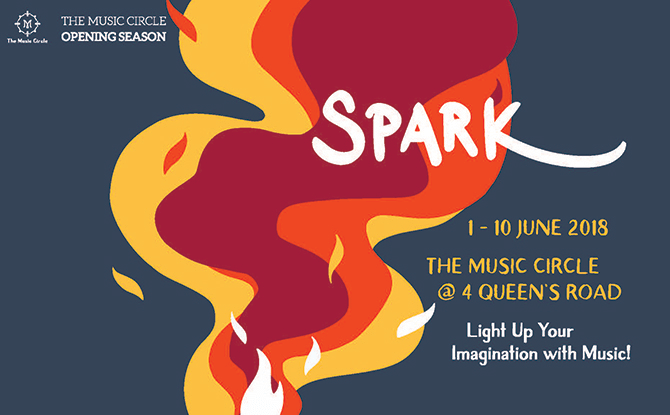 The Music Circle celebrates the opening of its music school with music-and-storytelling sessions, a music-themed carnival, performances and trial classes for its various programmes. Find out more.
---
Bornfire Circus
3 June, Esplanade – Theatres on the Bay
Meet John, an ordinary, average salaryman, trapped in the lacklustre cycle of life. Then, meet the ensemble, a part of John's multifaceted personality. They each represent a more bold, experimental, playful, risk-taking, extroverted, and creative side of John. Watch him rediscover his inner self and reignite his lost love for play through the craft of circus. Part of Esplanade's Flipside 2018 festival. Circus games start at 5.30 pm with an UNBOX performance at 7.30 pm.
---
Children's Festival: Small Big Dreamers 2018
9 June to 9 September, National Gallery Singapore
Experience art at National Gallery Singapore's Children's Festival: Small Big Dreamers 2018 which features installations that teach them about values, passion and creativity.
---
Tabby McTat by Julia Donaldson & Axel Scheffler
8 to 10 June, KC Arts Centre – Home of SRT
Watch a musical performance about a singing cat, Tabby McTat, who gets separated from Fred the busker in this story about friendship, loyalty and cats.
---
Wednesdays in June, Peranakan Museum
Pay a visit to the Peranakan Museum on Wednesdays and introduce kids to film photography through child-friendly photography workshops. They can also participate in craft activities inspired by Peranakan colours as part of Children's Season 2018. Find out more.
---
Till 19 August, The Artground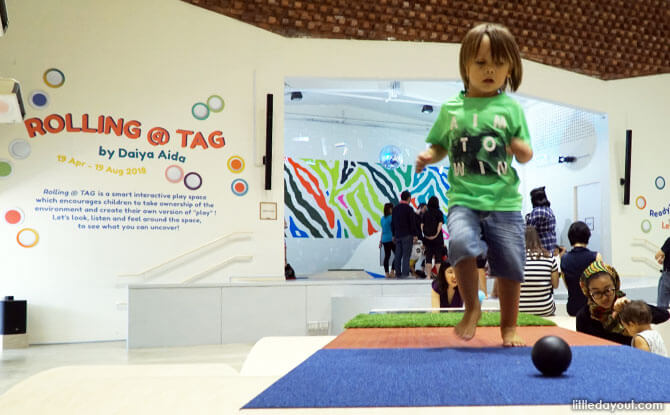 Visit the interactive exhibition Rolling @ TAG at The Artground which encourages kids to get moving and exploring.
---
Read! Fest
22 June to 28 July, Various Libraries
National Library Board's Read! Fest returns for its fifth edition with its opening weekend taking place on 22 and 23 June. There will be literary pop-up activities and art installations by Singaporean artists as Read! Fest celebrates the theme The Pursuit of Happiness.
---
8 June, Asian Civilisations Museum
Create your own masterpiece inspired by the carvings on the stone walls of Angkor temples in a rubber stamp carving workshop. Participate in this ticketed parent-child workshop and create your own one-of-a-kind stamp.
---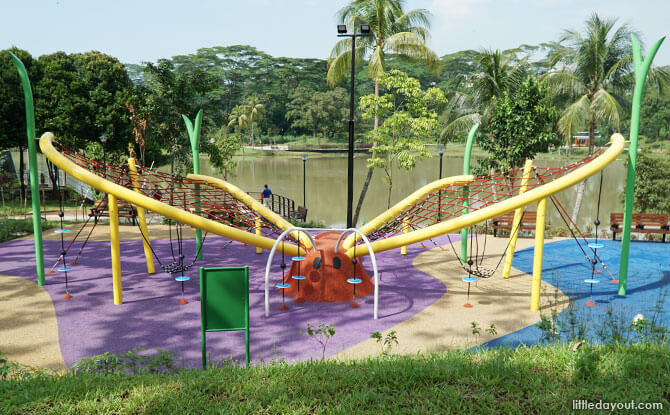 Explore a butterfly playground, musical playground and the landscaped grounds of the revamped Marsiliing Park in the north of Singapore.
---
Don't Say Bojio
26 May to 27 June, Singapore Zoo
Discover 45 things you did not know about Singapore Zoo with its "U-dunno-meh" Checklist as it celebrates its 45th anniversary. On weekends, learn about the zoo's animals with Zoolympix and take part in other activities such as picnics and movie screenings.
---
#FilterLife Weekend
23 and 24 June, Peranakan Museum
Go on gallery tours, dress up in Peranakan costumes and explore old photo hand-colouring techniques at the #FilterLife Weekend taking place at the Peranakan Museum. The festival takes place on the last weekend of the June school holidays – so make it a last hurrah before the kids head back to school. Find out more.