Tech Saturday (Upsized!) 2018 is back from 2 to 3 June 2018 with a weekend of the coolest tech and fabulous fun! This exciting event promises a peek into the future through interactive experiences and hands-on activities for all ages.
Organised by the Infocomm Media Development Authority (IMDA) as part of the Smart Nation Innovation Week, Tech Saturday (Upsized!) 2018 will be held at Suntec Singapore Convention and Exhibition Centre Hall 404 and 405. Admission is free.
Work, Live, Learn, Play and Invent in the Digital Age
With the theme "Living in a Digital Age", Tech Saturday (Upsized!) 2018 will showcase how technology is changing the way we work, live, learn, play and invent.
Now into its fourth year, this highly-anticipated tech carnival is divided into multiple thematic zones bursting with interactive experiences for visitors in every corner.
---
-- Story continues below --
Learn Zone: Where Learning Comes Alive With Hands-on Experiences!
Discover the future of learning on board IMDA Lab on Wheels, a mobile bus transformed into a tech lab to showcase different emerging technologies. Come on board the Immersive Media themed bus and experience for yourself how Virtual Reality (VR) and Augmented Reality (AR) technologies are being used to transform the way we work and live. Or, take the Lab on Wheels Escape Room AI challenge and get to know the technology behind AI in a fun and exciting way!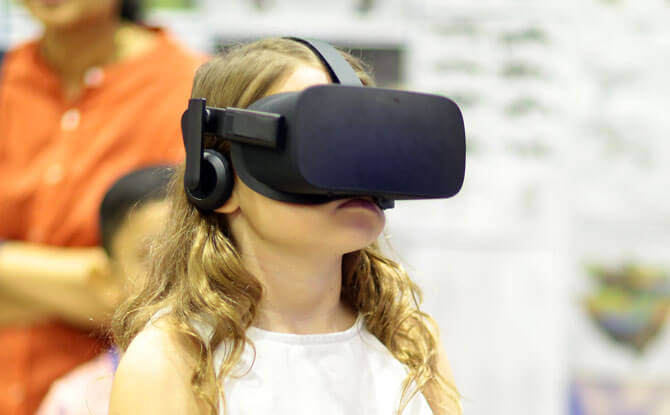 Learn important road safety skills with VR road safety lessons. Young ones can also try out age-appropriate, technology-enabled educational toys for meaningful playmaking.
Adults who are 40 years and above can give the Basic Digital Skills quiz a go to check on their competency level and sign up for a wide range of tech courses!
Play Zone: Drones, Games & Light Sabers
Uncover a world of fun at Tech Saturday (Upsized!) 2018's Play Zone.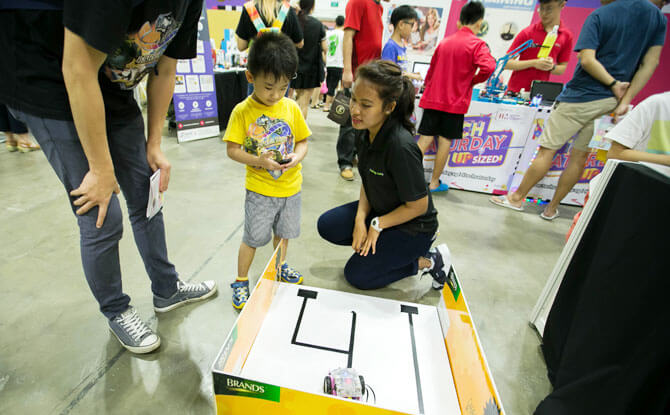 Play different carnival games created using the micro:bit pocket-sized computer. Local game studios and students will also be showcasing homegrown games. From gesture-based games to VR games to ever popular mobile games – there's something for everyone!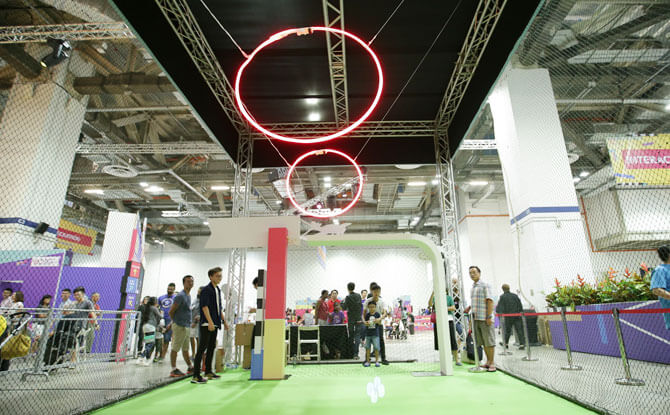 Drones, a hot favourite of past Tech Saturdays, will be making an appearance again. This time, get behind the controls and pilot one around an obstacle course at the carnival.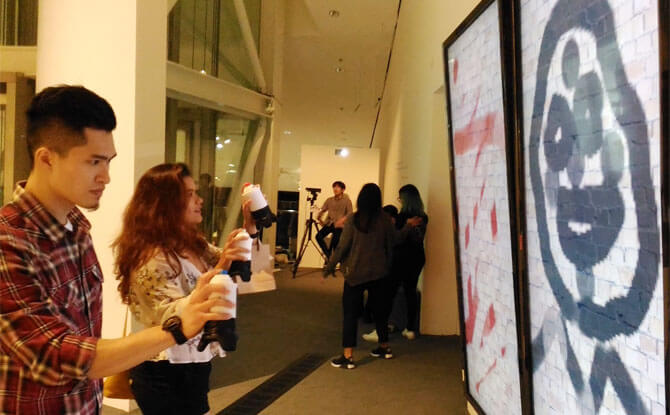 Feeling creative? Grab a digital spray can and unleash your inner artist on a Digital Graffiti Wall. Make sure to take a picture with your awesome indoor "street art" once you are done.
Star Wars fans will not want to miss Lenovo's Star Wars Jedi Challenge. This AR experience has been lauded by some reviewers as "the closest we will ever get to having a true Jedi lightsaber battle". Don your headset, draw your lightsaber and get ready for battle!
Other exciting activities at the Play Zone include the first-ever Kubo Challenge, a coding competition for families – no coding experience needed!
Invent Zone: Workshops For All Ages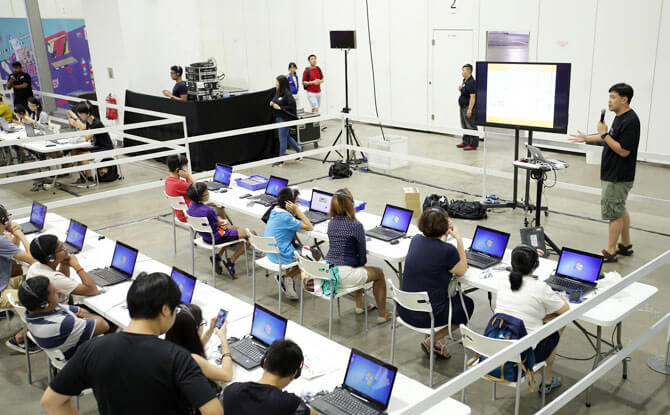 More than 50 exciting tech and media workshops will be held during Tech Saturday (Upsized!) 2018.
These workshops cater to all ages and interests. Get ready to spark off your inner geek!
Put together an electronic terrarium, assemble and control a robot or hunker down to programme your own computer game; all these and more at the Invent Zone.
Families with preschoolers can look forward to workshops specially curated for young ones. Watch your child light up as he or she builds a droid, plays a treasure hunt game with busy bots or goes on an exciting AR-powered adventure to spot jungle animals!
All workshops are free, but pre-registration is required. Online registration closes on Wednesday 23 May at 5 pm.
Inspire Zone: Inventing the Future
See into the future at Tech Saturday's Inspire Zone where a host of inventive prototypes by Singapore's students will be on display. Say "hello" to a humanoid robot or try to score a goal against an AI goalkeeper in a penalty kick-off.
You will also be able to meet the students behind these prototypes and learn what led them to dream up these imaginative creations.
Live & Work Zones: Tech at Home and at Work
Get to touch, feel and experience the latest consumer gadgets at Tech Saturday (Upsized!) 2018.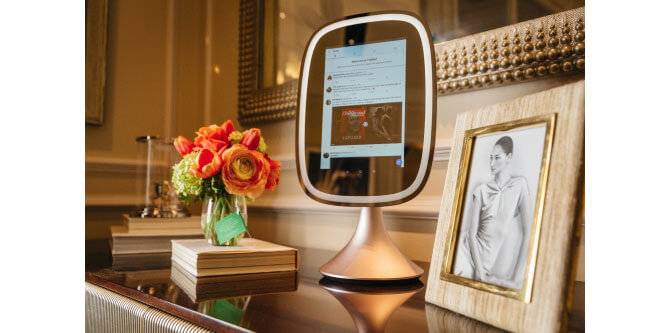 Take a selfie with Fred Technology's smart vanity mirror or observe as Ospicon System's SafetoSleep sleeping mat monitors the breathing of a newborn. These and other smart home devices will be on display at Tech Saturday (Upsized!) 2018's Live Zone.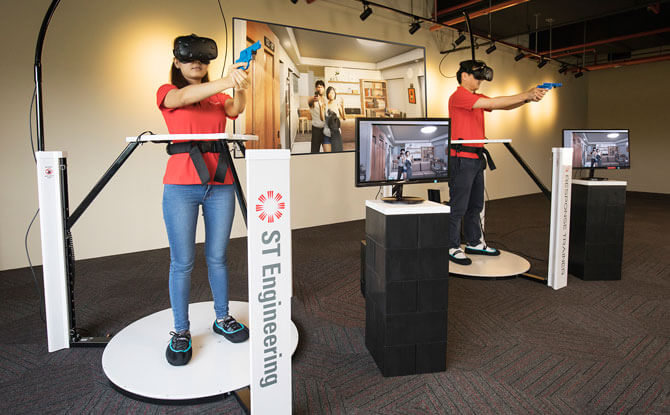 Robots and immersive technologies are transforming the workplace too. At Tech Saturday (Upsized!) 2018, step into the VR Response Trainer, a system designed to sharpen security officers' situation awareness and judgement skills, and see how well you react to different scenarios.
Experience Life In the Digital Age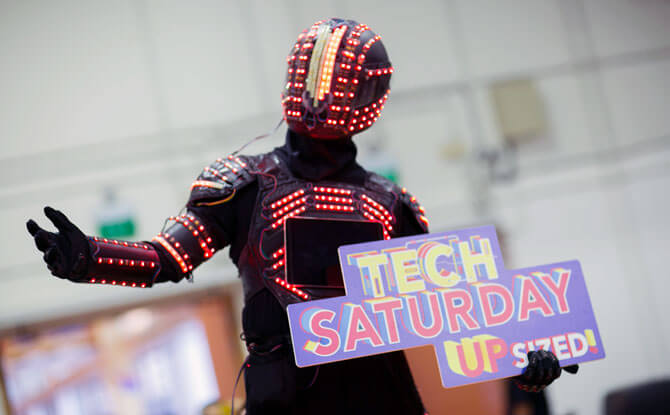 Tech Saturday (Upsized!) 2018 is an opportunity to experience how tech is transforming the way we live, play, work, learn and invent. It is also a celebration of creativity, ingenuity and talent.
So, whether you wish to take expose your kid to coding or simply tinker with the latest gadgets, ignite your imagination with all the possibilities the digital future holds at this exciting tech carnival.
Be sure to make your way down to Tech Saturday (Upsized!) 2018 on 2 and 3 June 2018 and experience life in the digital age!
Tech Saturday (Upsized!) 2018
Dates: Saturday, 2 June to Sunday, 3 June 2018
Venue: Suntec Singapore Convention and Exhibition Centre Hall 404 and 405
Time: 11 am to 7 pm
Admission: Free
For more information and programme details visit www.techsaturday.sg, where you can also pre-register for workshops.
This feature is brought to you by the Infocomm Media Development Authority.