If you are looking for somewhere different for a meal with family and friends, look no further. We have compiled a list of 20+ unique restaurants & dining spots in Singapore!
Experience Unique Restaurants & Dining Spots in Singapore
Dining spots include transportation-themed restaurants and animal-themed restaurants. There are places where you are invited to play-as-you-eat and others where you can play with your food. Pay a visit to these unique restaurants & dining spots in Singapore for a dining experience of a different kind.
Stewords Riverboat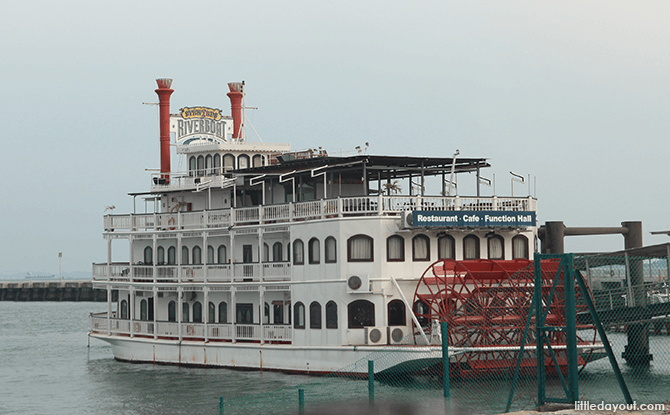 All aboard! Calling all sailors, pirates and sea-loving souls! Hop onto Stewords Riverboat at Marina South Pier for a family dinner aboard a retro steam boat with panoramic sea views. Enter the Main Deck and you'll step into a cosy, Southern-inspired nautical setting complete with wooden tables, booth seats and old-school country music playing overhead. The restaurant here is Santa Fe Tex-Mex Grill, which used to operate from a shophouse in Boat Quay. Today it still serves its much famed authentic Texan-Mexican favourites such as turkey quesadillas, chicken chimichangas, nachos and fajitas, as well as popular American fare like ribeye steak and BBQ baby back ribs. On the Upper Deck sits Wood & Steel Gastrobar, which is temporarily closed and set to reopen in May, offering a live band and open-air dining.
Address: 31 Marina Coastal Drive, Berth 1, Marina South Pier, Singapore 018988
Opening Hours: Daily 12 pm to 3 pm, 6 pm to 10 pm
Website: www.riverboat.com.sg
Read More: Stewords Riverboat and Santa Fe Tex-Mex Grill: Offshore Dining
Neko no Niwa (Cat Cafe)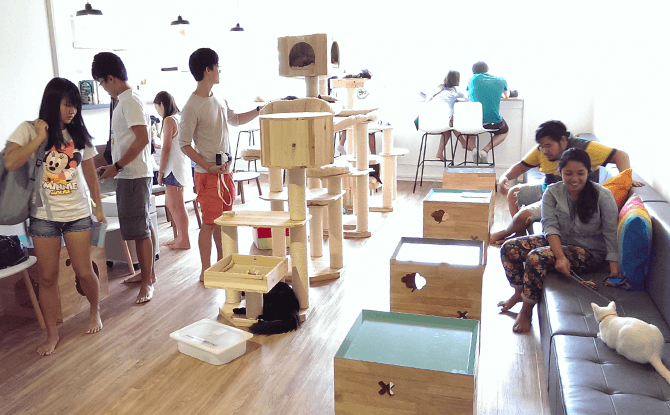 Source: Neko no Niwa
For an absolutely purrfect spot for coffee, light bites and cuddling adorable kittens – stop over at Neko no Niwa, Singapore's very first cat cafe. Founders Sam and Sue carefully selected the cats in this cafe with sociable personalities best suited to enjoy human company. We recommend visiting in the mornings or nighttime when these nocturnal cats are most active and playful; when visiting in the afternoons and evenings, many of the cats are resting or snoozing away (but still absolutely precious to look at!). Children must be at least seven years old and accompanied by an adult at all times.
Address: 54A Boat Quay, Level 2, Singapore 049843
Opening Hours: Mondays & Wednesdays to Fridays (11 am to 10 pm), Weekends & Public Holidays (10 am to 10 pm)
Website: www.catcafe.com.sg
Read More: 9 Feline Facts About Cats in Singapore
Crab In Da Bag
Source: Crab In Da Bag
Finally, a place where the whole family – not just the children – can enjoy getting their hands messy from eating seafood tossed in delicious Southern-inspired sauces. The signature dish at this Louisi-Asian seafood restaurant is their massive Caboodle Boil, a gigantic pot of seafood poured directly onto the table for everyone to enjoy (no plates and cutlery needed here!). The ambience at Crab In Da Bag is fun and festive, and because your hands will be too dirty to touch your phones, you'll be encouraged to engage in real, lively conversations with your loved ones for a truly heartwarming dining experience.
Address: 8 Stadium Walk, #02-05, Water Sports Centre, Singapore 397699
Opening Hours: Tuesdays to Fridays (4 pm to 11 pm), Saturdays & Sundays (12 pm to 11 pm)
Website: crabindabag.com
Cups N Canvas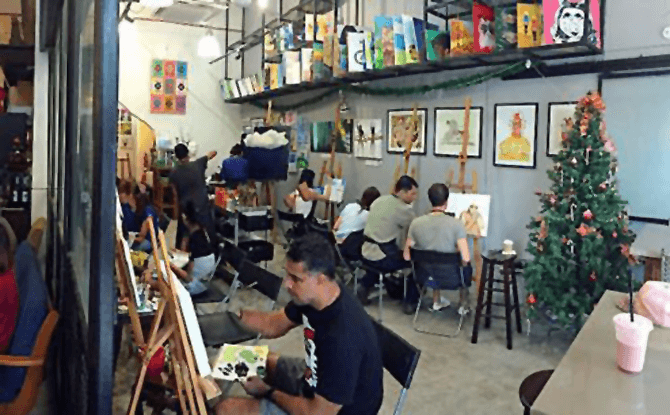 Source: Cups N Canvas
Blend art with food and drink at Cups N Canvas, a cosy little cafe-meets-art studio in Little India. Here, you and your little ones can get creative while enjoying all-day breakfast favourites, sandwiches and other Western cafe bites. Art jamming sessions for free-and-easy painting are available from 2 pm onwards on weekdays and on weekends, Cups N Canvas also offers painting lessons for guests of all ages led by their in-house experts.
Address: 139 Selegie Road, Singapore 188309
Opening Hours: Mondays to Thursdays (11 am to 8.30 pm), Fridays (11 am to 11 pm), Saturdays (9 am to 11 pm), Sundays (9 am to 8.30 pm)
Website: www.facebook.com/CupsNCanvas
Ocean Restaurant by Cat Cora
Source: Cat Cora
Many restaurants in Singapore can boast rooftop city views, but only one can claim to offer an under-the-sea dining experience: Ocean Restaurant at Resorts World Sentosa. Children will love eating while being mesmerised by the restaurant's floor-to-ceiling glass panels offering deep-sea views of over 100,000 marine animals from the S.E.A. Aquarium's Open Ocean Habitat. The menu here is designed by America's first female Iron Chef Cat Cora and features fine dining Californian-Mediterranean seafood dishes prepared with natural ingredients and fresh local produce.
Address: 22 Sentosa Gateway, S.E.A. Aquarium, #B1-455 & 456, Singapore 098136
Opening Hours: Daily 11.30 am to 2.30 pm, 6 pm to 10.30 pm
Website: Click here
Prima Tower (Revolving Restaurant)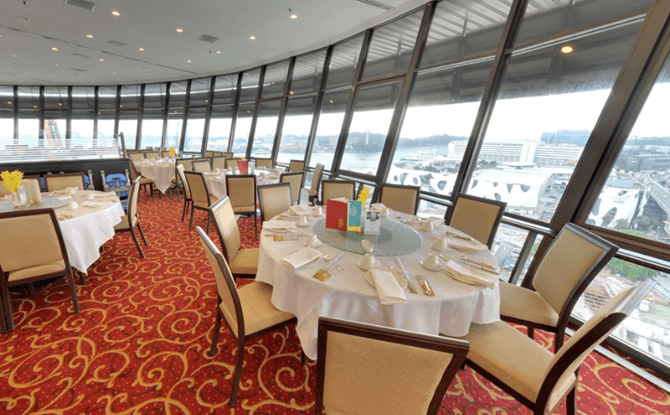 Source: Prima Tower
Established all the way back in 1977, Prima Tower is one of the oldest restaurants on this list but until today still holds its unique title of being the only revolving restaurant in Singapore. Sitting atop a grain silo, Prima Tower offers panoramic views of Sentosa Island and the city skyline along Harbourfront. The Beijing cuisine at this restaurant is equally good to look at as the menu is designed by notable Master Chef Chen who has 30 years' culinary experience and won multiple awards. Must-try's include Peking Duck, dim sum and the shredded scallops with fish and white egg.
Address: 201 Keppel Road, Singapore 099419
Opening Hours (Lunch): Mondays to Saturdays (11 am to 2.30pm), Sundays & PH (10.30 am to 2.30 pm)
Opening Hours (Dinner): Mondays to Sundays & Public Holidays (6.30 pm to 10.30 pm)
Website: pfs.com.sg/restaurants/prima_tower
Bricks N Cubes Cafe
Originally located at the Cathay, this Lego-inspired eatery recently moved to a new shop along Joo Chiat Road, but has stayed true to their toy theme. Children can enjoy playing real LEGO or digital LEGO games on iPads while mom and dad sip on coffee. The Western-Japanese fusion food here is also a big attraction with delicious menu items such as "Awesome French Toast", scotch eggs, breakfast pizza, waffles and pancakes. For an extra special outing for the whole family, sign up for Bricks N Cubes' child-friendly cooking classes to make pizza.
Address: 350 Joo Chiat Road, Singapore 427598
Opening Hours: Sundays to Thursdays (12 pm to 1 pm), Fridays & Saturdays (12 pm to 11 pm)
Website: www.facebook.com/BricksNCubes
Bliss House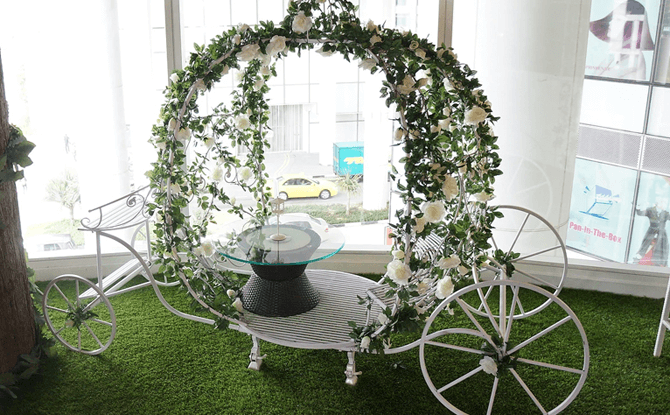 Source: Bliss House
If you have a princess or fairy tale lover in the family, Bliss House might just be their dream come true. Featuring faux grass, gorgeous floral decor and even a Cinderella-like white carriage, Bliss House is modelled after the Garden of Eden and truly makes you feel like you're in heaven on earth. While hugely popular with couples, Bliss House is also a family favourite, offering kids meals and easy-to-share Western dishes such as pizza and pasta.
Address: 6 Eu Tong Seng Street, The Central, #03-21, Singapore 059817
Opening Hours: Daily 12 pm to 10 pm
Website: www.blisshouse.com.sg
Smith Marine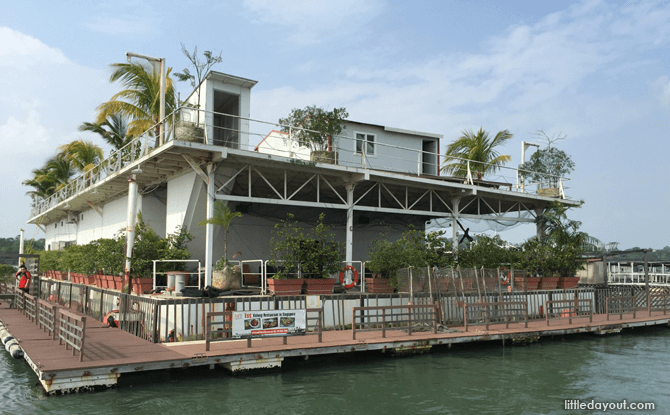 While farm-to-table restaurants are already well-known in Singapore (check out Open Farm Community and Bollywood Veggies), Smith Marine takes this dining concept one step further and into the sea. This floating seafood restaurant just off of Pulau Ubin is actually one giant aquaculture farm (also known as a kelong), where diners can fish for their own food in the restaurant's netted "sure catch pond" and have the expert chefs on board prepare and cook the fish in any style you want. Not to worry if you're not a fan of fishing as you can still enjoy plenty of other fresh seafood dishes offered on their menu while taking in the gorgeous sea views.
Address: Pulau Ubin Coastal Area
Opening Hours: Reservation required. Ferries depart from Changi Point Ferry Terminal for lunch at 12 pm and for dinner at 3 pm or 4 pm.
Website:www.smithmarine.com.sg
Read More: Smith Marine: Singapore's First Floating Kelong Restaurant
Tongkang Riverboat Dining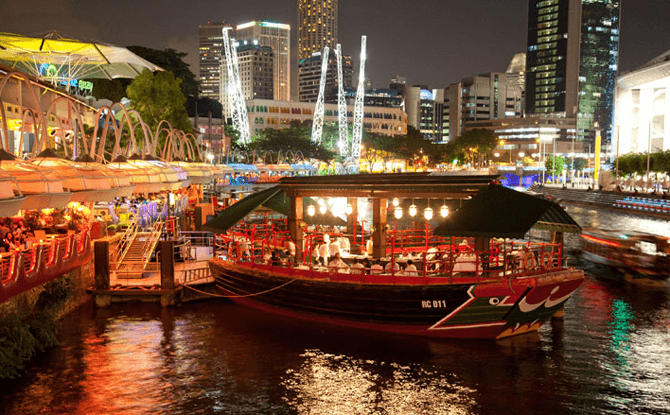 Source: Tongkang Riverboat Dining
In the early 19th century, traders used tongkangs – essentially a type of light wooden boat – to carry goods along rivers in Maritime Southeast Asia. In Singapore, the only place you'll get to see these boats today is at Tongkang Riverboat Dining, which has the country's last two remaining tongkangs. Located at Clarke Quay, one boat expectedly houses a bar for after-work drinks and parties, but the other stationary boat houses a family-friendly, fine dining restaurant serving Asian and European cuisine, including premium meats and seafood cooked on a grill that uses volcanic Serpentine stones from the European Alps. Not only is the food top-notch and the environment unique, Tongkang Riverboat Dining also offers stunning views of the sunset to complete your dining experience.
Address: 3D River Valley Road, #01-06, Clarke Quay, Singapore 179024
Opening Hours: Sundays to Thursdays (12 pm to 3 pm, 6 pm to 11 pm), Fridays & Saturdays (12 pm to 3 pm, 6 pm to 2 am)
Website:tongkang.com.sg
The Mind Cafe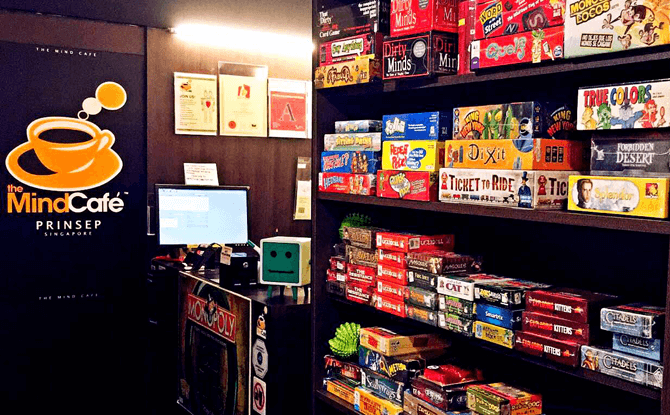 Source: Mind Cafe
Take family game night to a whole new level at The Mind Cafe, where you can pick any of 500 board games to play while enjoying comfort food like spaghetti, baked rice dishes and sweet pastries. Don't worry if you're new to the world of board games as Game Facilitators here can offer their expertise on what games they think are the best fit for you and your gang (depending on your children's ages and how many of you are present) and guide you through the rules of any game you're unfamiliar with. And, if your kids just can't get enough of the game, you can even purchase a set to continue the fun at home (subject to availability of course).
Address: 60 Prinsep Street, Singapore 188664
Opening Hours: Mondays to Thursdays (2 pm to 11 pm), Fridays (2 pm to 6 am), Saturdays (12 pm to 6 am), Sundays & Public Holidays (12 pm to 11 pm)
Website:themindcafe.com.sg
Kombi Rocks Diner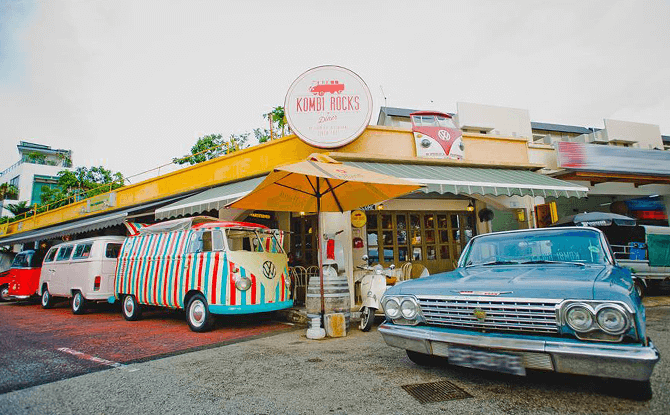 Source: Kombi Rocks
Take a step back in time to enjoy a meal in this old-school diner named after and inspired by the Kombi, one of the world's most iconic vintage vehicles. Formerly known as Koon Kee Restaurant, which dates all the way back to 1971, Kombi Rocks Diner today still serves many of its original signature Teochew-Thai fusion dishes. To celebrate your child's birthday or other special occasions, opt for their Ride & Dine package to enjoy a 30-minute joyride in one of their many adorable Kombi's, followed by a 4-course meal at the Diner.
Address: 66 Yio Chu Kang Road
Opening Hours: Daily 12 pm to 11 pm
Website:kombirocks.com/diner/
Sushi Airways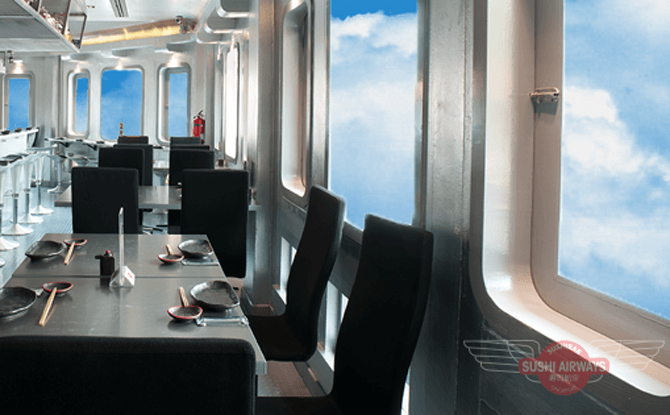 Source: Sushi Airways
Complete with boarding pass name cards, overhead compartments, aeroplane windows and waitresses dressed as airline stewardesses, Sushi Airways is an aircraft-themed restaurant that promises to take your dining experience up and above the clouds. Don't worry – there's no disgusting airline food here, only delicious Japanese cuisine. Sushi Airways's a-la-carte menu promises to serve only the freshest sashimi flown in directly from Japan four times a week. For families looking for a spontaneous dining experience, try the chef's Omakase degustation menu based on seasonal specialities flown in the exact week you're visiting.
Address: 20a Baghdad Street, Singapore 199659
Opening Hours:Daily 12 pm to 2.30 pm, 6 pm to 9.30 pm
Website:www.sushiairways.com
Jungle Breakfast with Wildlife (@ Singapore Zoo)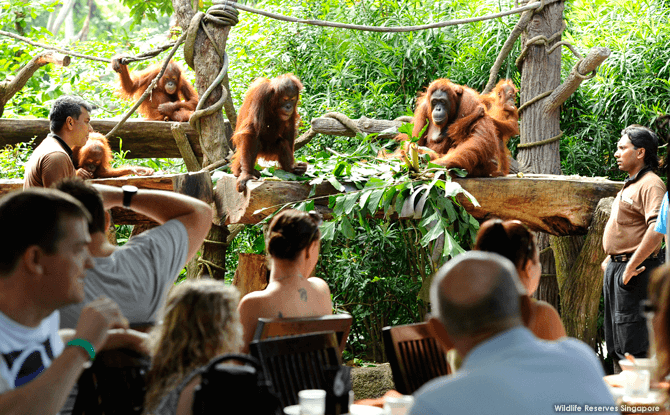 Source: Wildlife Reserves Singapore
It's not every day you and your family have the chance to get up close and personal with live animals. At Singapore Zoo, you and your children can enjoy breakfast in the good company of jungle friends, including the zoo's famed orangutans (the only place in the world offering this incredible program)! Enjoy a buffet spread of western-style and local morning delights, take breaks to admire these beautiful apes and snap some family photos with the other animals coming to make an appearance.
Address: 80 Mandai Lake Road, Singapore 729826, inside Singapore Zoo
Opening Hours: Daily 9 am to 10.30 am
Website:www.zoo.com.sg
Cafe 566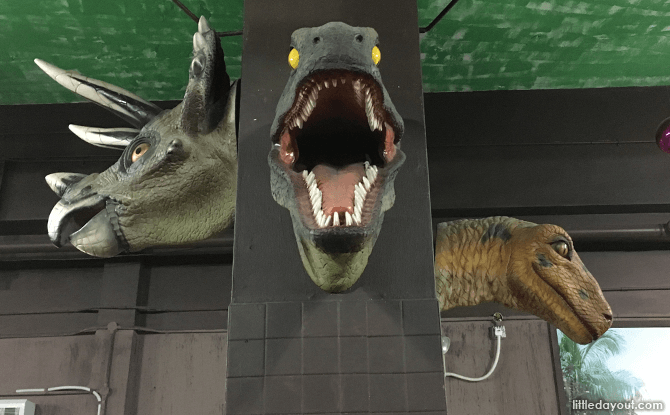 Hidden in the wilds of Mandai Estate is Cafe 566, a zi char restaurant with a wildlife theme. Its dining area is decorated with models of wild animals. You can dine with a triceratops looking down on you, a gorilla staring out from the corner or gigantic birds suspended in mid-air overhead. The food here is standard zi char fare at standard, affordable zi char prices.
Address: 566 Woodlands Road, Mandai Estate, Singapore 728697
Opening Hours: 10 am to 10 pm
Website: Click here
Play Nation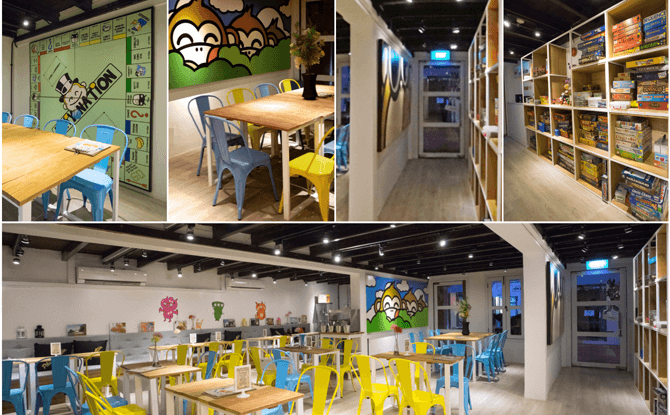 Source: Play Nation
For a unique arcade-meets-restaurant outing with the family, check out one of Play Nation's outlets at Prinsep, SCAPE or Tampines Hub, where visitors are encouraged to Play and Dine. Play Nation lets you quench your thirst and excitement by offering hourly packages to enjoy free flow drinks and unlimited access to a wide range of board games and console video games. The food here is also guaranteed to be a hit among children, with the menu featuring finger food like chicken nuggets, truffle fries and all-day breakfast items, including pancakes and eggs benedict.
Address: 58 Prinsep Street, Singapore 188686
Opening Hours: Mondays to Thursdays (12pm-11pm), Friday & weekend hours vary per branch
Website:playnation.com.sg
The Bedok Marketplace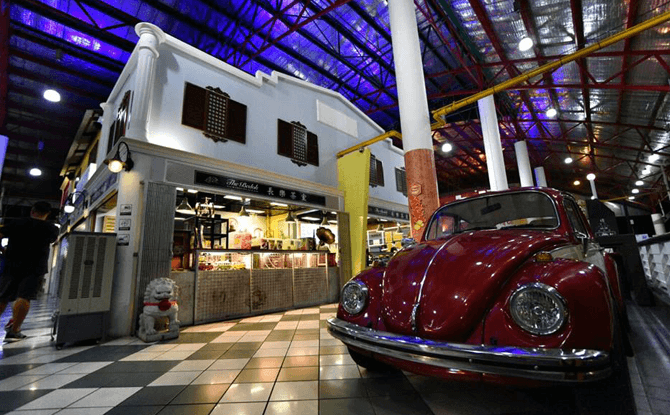 Source: Bedok Marketplace
Branch out of your neighbourhood hawker centre and take your family out to The Bedok Marketplace on the East Coast for a hipper vibe. The Bedok Marketplace used to be just like any other regular food court until it went through a major renovation project late 2014 to look like a trendy indoor shophouse street offering a mix of local and international delights, like Vietnamese noodles, yakitori, meatballs, and pies.
Address: 348 Bedok Road, Level 2, Singapore 469560
Opening Hours: Daily 11.30 am to Midnight
Website: www.facebook.com/thebedokmarketplace/
Prawning @ ORTO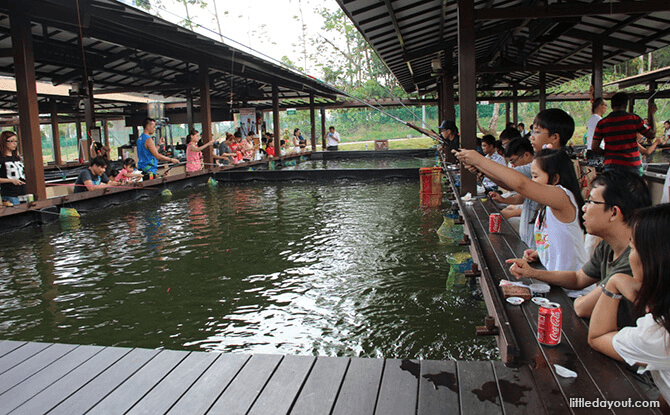 Some places let you join in the cooking process but here you can even literally fish (or rather "prawn") for your own dinner. Electric grills to skewer and grill your freshly caught prawns. ORTO (which means 'garden' or 'orchard' in Italian) is a leisure park in Yishun with plenty of other recreational activities like fishing and paintballing and has a great rustic charm and kampong feel to take you away from the hustle and bustle of urban life.
Address: 81 Lorong Chencharu, Singapore 769198
Opening Hours:24/7
Website: orto.sg
Read More: Orto: Fun Leisure Garden in Yishun
Genki Sushi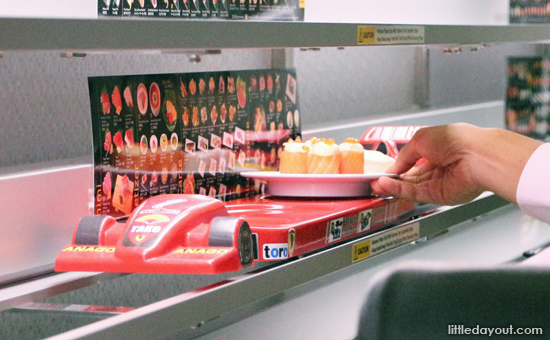 Genki Sushi brings a new meaning to the phrase "express food delivery". With four outlets across Singapore (Orchard, Chinatown, Bugis, Punggol), this chain of ultra-modern restaurants uses technology to wow diners. Instead of using the regular sushi conveyer belt, Genki Sushi uses miniature cars and trains on tracks to shuttle food from the kitchen to the table, which is super exciting for little ones obsessed with anything on wheels. The restaurants are also decorated with technology in mind, with mini tablets at each table for ordering meals, digital billboards instead of printed posters and iPad clocks.
Address: 181 Orchard Road, #04-30, Orchard Central, Singapore 238896
Opening Hours: Daily 11.30 am to 10 pm
Website: www.genkisushi.com.sg
Read more: Genki Sushi: The Food Express
Punggol East Container Park Eateries
Just this year Punggol launched its trendiest group of eateries at Tebing Lane – a collection of seven hip cafes and restaurants housed in cargo containers. Unlike Artbox in Bangkok and Common Ground in Seoul which have rows of fashion boutiques and interesting shops, the Punggol container park is still developing – ideal for just chilling out and enjoying quality time with your loved ones over food. The seven eateries here include Pump Station 1965, Big Fish Small Fish, Seoul Good, L'Chaim Bistro, D'Grill, Leung Kee Healthy Dessert, and Boost @ Banks, all of which offer comfort food children will love. Operating similarly to a food court, you order from self-service machines from whichever container you want your food from and head to the common alfresco seating area to enjoy your meal.
Address: Tebing Lane
Opening Hours: Varies per container
Rong Heng Seafood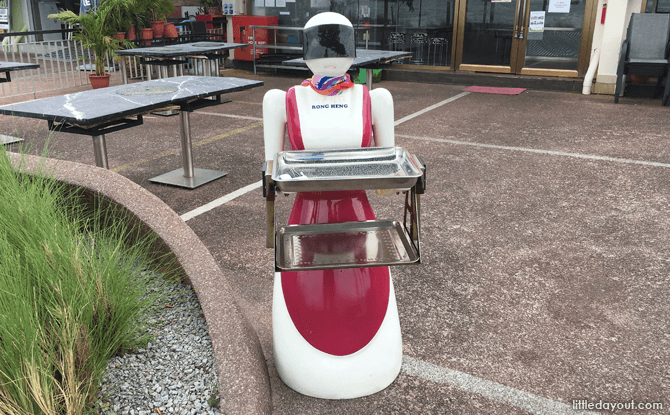 For a family meal with a futuristic touch, head down to Rong Heng Seafood at East Coast Park where clever robots are at your service. The restaurant serves traditional Chinese cuisine and offers both indoor seating and alfresco dining by the sea, but the highlight of this eatery is their Robot Lucy waitresses. Designed in Japan and weighing 70kg each, the five life-sized Robot Lucy's at Rong Heng Seafood are programmed to bring meals from the kitchen to your table, and on special occasions, they can even entertain diners by dancing to grooves such as Gangnam style.
Address: Blk 1202 East Coast Parkway, #01-03, East Coast Seafood Centre, Singapore 449881
Opening Hours: Daily 11 am to 11 pm
Website:www.ronghengseafood.com.sg