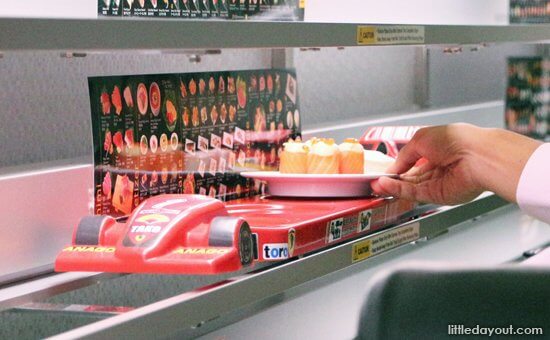 Most casual-dining sushi restaurants are run-of-the-mill, conveyor-belt type establishments. However, bringing new meaning to "express service" is Genki Sushi.
Some may remember Genki Sushi, with its cartoonish yellow-faced logo, from a few years ago. They had an outlet at Forum the Shopping Mall but it disappeared from the Singapore market only to re-emerge last year with two outlets, one at Orchard Central and another at Chinatown Point.
In Genki Sushi's latest incarnation in Singapore, they have used technology to take their game up a digital notch.
For starters, the décor of the restaurants includes digital billboards and iPad clocks on the walls that double up as "prompters" to tell the staff to attend to diners.
While other technology-enabled sushi restaurants let customers order from monitors located beside the table, ordering at Genki Sushi is done on an iPad mini. The tablet can be passed around the table and once the orders are locked in, they are wirelessly transmitted back to the kitchen.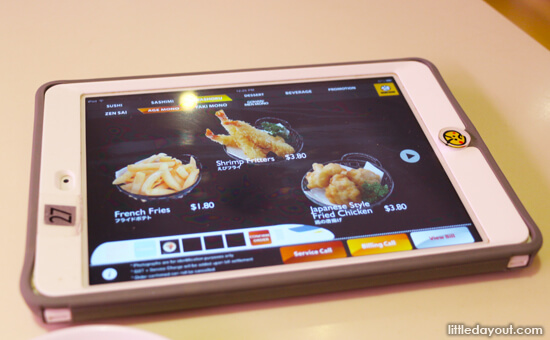 Meals on Wheels
Why do the orders need to be transmitted back to the kitchen? Well, because Genki Sushi does not have a revolving conveyor belt or kaiten-zushi. Instead, once the orders are received by the kitchen, the sushi is prepared and sent out to the tables from the kitchen on "cars" and "trains".
Located beside the tables are three tracks, one on top of the other, that run from the kitchen to the tables. "Vehicles" shuttle the plates of food to customers who off-load them onto the tables.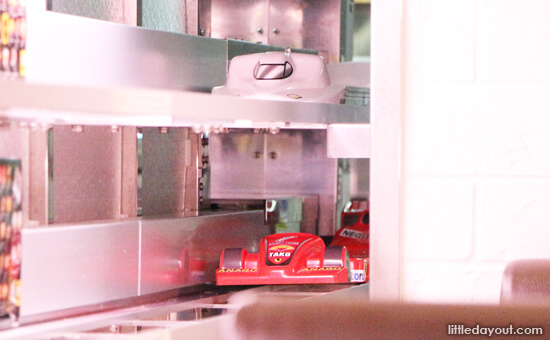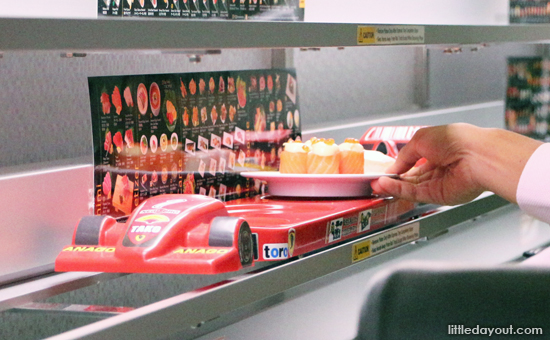 The empty delivery vehicles are then sent back to the kitchen with the press of a yellow button beside the table.
Kids will have a ball placing individual orders bit-by-bit just to get the food delivery service whizzing out over and over again.
Keeping a Clean Table
One of our bugbears with conveyor-belt sushi restaurants is that the plates need to be left at the table after the sushi has been consumed. This clutters up the table with a stack of plates.
Genki Sushi has an automated answer to that as well. There is a metal slot at each table where customers can insert the empty plates once done. Plates sent down the slot get automatically transported back to the kitchen for washing. How's that for automation!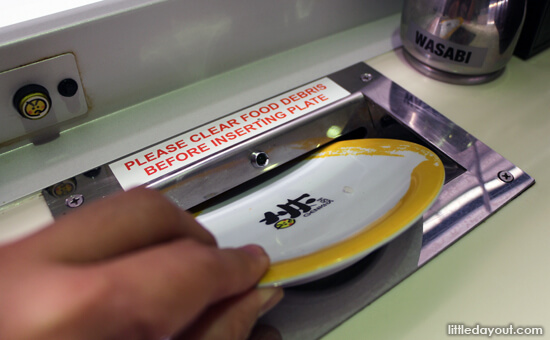 So How's The Food?
Even though some online reviews have been mixed, when we visited the Genki Sushi outlet at Chinatown Point, the food quality was acceptable. They offer the standard fare of sushi, sashimi, gunkan and cooked dishes. Prices are reasonable with plates of Seared Salmon Pollock Roe Sushi, Lobster Salad Gunkan and Chawanmushi costing $2.30 each.
For the kids though, we suspect they will not be so concerned with the food on the table, but more with the food whizzing past on the serving tracks instead.
Happy (and fun) dining!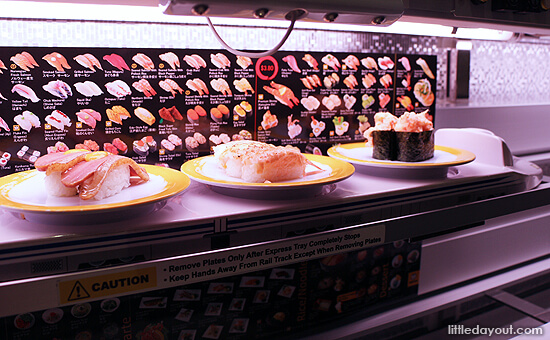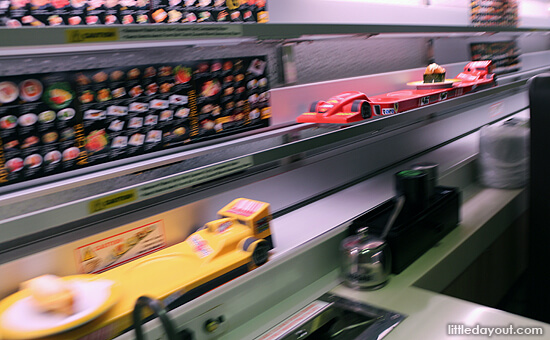 DETAILS
Genki Sushi Orchard Central
181 Orchard Road
#03-32 Orchard Central
Singapore 238896
Tel: 6238 0900
Genki Sushi Chinatown Point
133 New Bridge Road
#02-33 Chinatown Point
Singapore 059413
Tel: 6702 0900