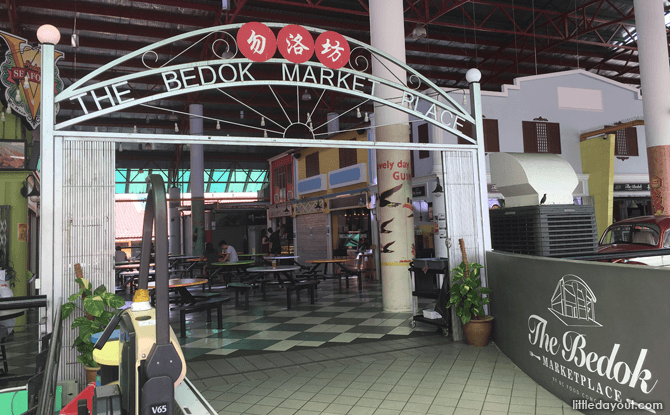 Waygu Beef, Salmon Sashimi, Foie Gras and freshly made Sourdough bread. If you think that these foods are located only in cafes and restaurants, think again because the stalls at Simpang Bedok Marketplace food centre will surprise you!
Many Easties will agree that Bedok is a popular spot when it comes to finding food that is affordable yet of fantastic quality. The stalls in Simpang Bedok Marketplace easily meet the standard of café foods, and yet, many times, the prices are much cheaper.
Having these dishes in a coffee shop setting also means many more choices of cuisines. Many stores serve a fusion of western and Asian cuisine.
We made our way to the second floor of Simpang Bedok Marketplace food centre to check out some of these "hipster" stores for ourselves.
---
1. Mr Kneady's
This artisan bakery serves a variety of dense, chewy and flavourful sourdough bread, freshly baked by Mr Kneady himself every day.
The process of making sourdough bread is an art in itself and requires both patience and skill, two things that Mr Kneady definitely has as seen from his experience as head baker in French bakery Maison Kayser New York.
This healthy and nutritious option has no artificial preservatives and each slice is packed with a variety of flaxseeds, nuts and natural spices. There are loaves for sale, and the small loaves mean that customers can bring home a loaf and consume it quickly, enjoying its freshness at its peak!
Mr Kneady's also serves sandwiches and open-faced toast with smoked salmon or kurobuta ham and Emmental cheese. Be sure to also try their yummy sourdough pizzas! Their best seller is named "Art Of War", a sourdough pizza base topped with white chocolate, banana and blueberries, when fresh out of the oven, be sure to get ready to fight for the last piece – it's seriously that yummy!
---
2. The Burning Oak
If you're craving some Japanese char-grilled goodness, this store at Bedok Marketplace food centre is definitely for you.
With snaking long queues and sky-high praises for the tenderness of the meat and value-for-money choices, this is definitely one of the well-known stores at Bedok Marketplace.
Their popular dishes include the Waygu Beef Rump Cap Don and Pork cheeks which are described as "melt in the mouth", "perfectly grilled" and "generous in their portions". Other well-received dishes are their foie gras and deliciously grilled yakitori sticks. Finish the meal with desserts and refreshing cocktails.
---
3. KoKoRo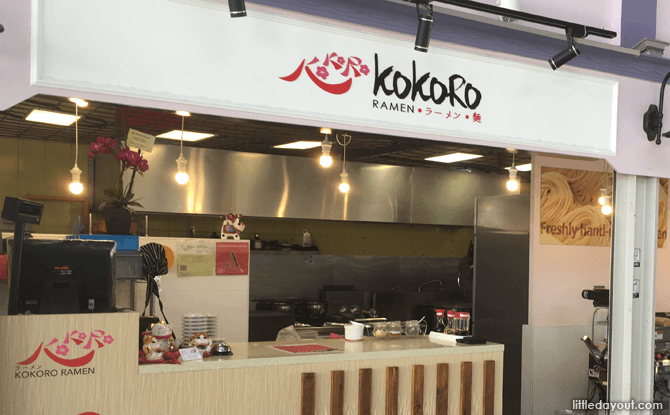 Ramen is a popular Japanese dish, but one that is also high in sodium and calories.
Thankfully, that changes at KoKoRo Ramen. The chefs take much pride in ensuring that their ramen is made with the best ingredients while not compromising on the taste of the food.
Ramen noodles are handmade fresh with the help of their on-site noodle-making machine, and cooked soon after, giving it a springy texture. The broth is boiled for eight hours with no added MSG.
Each ramen noodle dish comes topped with a perfectly cooked onsen egg and patrons can choose between favourites such as the Tonkotsu Ramen or the Miso Spicy Ramen.
---
4. Jiak Kang Tang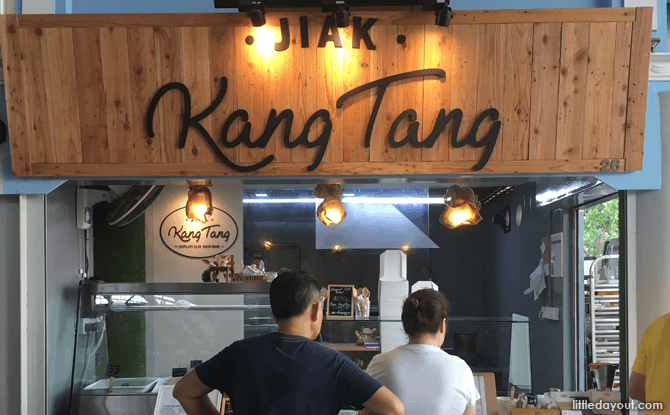 Proudly Singaporean brand "Jiak Kang Tang", which seems to be a fun play on the unique local phrase "Jiak Kan Tang" (directly translated to "Eat Potato") is another store that visitors can find at Simpang Bedok.
This phrase is usually used to describe someone who is westernised despite being Asian.
Although it usually used to poke fun at people, this phrase is a fantastic representation of Western food with a local touch.
The portions of the proteins are extremely generous and worth the price, and there are also options on deliciously healthy salads and sides to complement each meal.
Choose from a variety of fresh white fish, chicken breast, salmon or premium wagyu beef. The friendly owner is more than happy to tell you about the specials for the day and recommendations for the different combinations.
They are also proud owners of their own brand of cutlery made from biodegradable and food safe materials which are wonderful for customers who would like to do their part in saving the earth.
The price point may seem slightly higher but is definitely value for money with the filling portions, deliciously cooked food and wonderful customer service.
---
5. Wholly Crab Seafood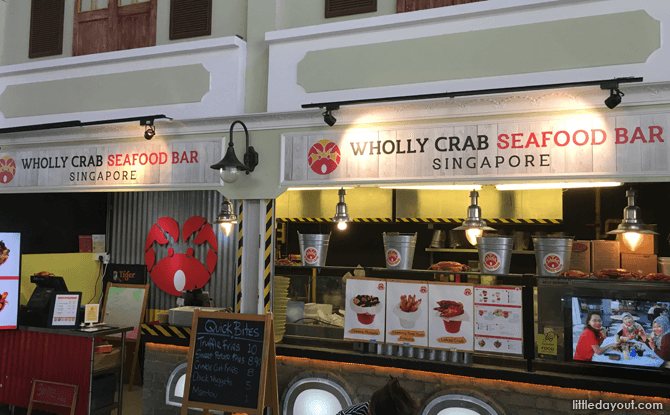 Louisiana-style cooking is known to focus on complex sauces and slow-cooking for the infusion of flavour. However, to cater to the exciting fast-paced life of Singaporeans, Wholly Crab Seafood also brings a twist of local touches for good measure.
With a variety of seafood such as shellfish and crustaceans, the dishes are served to in buckets to be poured out for communal dining.
Choose your own variety of seafood or the combo buckets with seafood such as crabs, prawns muscles and clams. Unique sauces such as chilli kicap, salted egg yolk and laksa are also available.
You can also try their salads or truffle fries as a side.
---
6. The Naughty Chef
Executive Chef Augustine believes that food does not need to be expensive and extravagant, but simple, flavourful, fresh and delicious.
From Authentic Italian to Italian-inspired dishes, The Naughty Chef is terribly good when it comes to bringing out the flavours of seemingly common dishes such as pasta, pizza and risottos.
Request for their menu and choose from familiar combinations such as Smokey Bacon Carbonara or Marinara Pomodoro, or go for something slightly more enticing such as their Lemon Crab Meat Aglio Olio.
We also highly recommend trying their desserts such as Panacotta, Lemon Meringue Tart, and decadent Baileys Tiramisu. With a fun team of people behind the brand, you're sure to have a great time!
---
7. ChopChop Selection
With large generous portions and a unique menu, ChopChop Selection is not your ordinary Western Hawker food store.
The menu features the regular staples such as steak, chicken cutlets and fish and chips. However, they are also bringing in their own version of Wagyu Patties Rendang Burgers and the trending Nasi Lemak burger (which I guess has just given itself an extended stay).
Their sides, such as cheesy nachos piled with delicious nacho cheese, are also of a generous portion. The decorations are slightly more towards the vintage theme, and they even have their own private seating area.
This is a great place for groups to visit and the more people present means more sampling of different types of food!
---
8. Sakana-Ya
Fresh, thick cuts of salmon, tuna and swordfish sashimi on a bed of Japanese rice topped with seaweed, salmon flakes and ebiko is typical of the donburi served at Sakana-Ya.
Their menu offers a decent selection of what you would find at a simple Japanese restaurant. There are options of salmon sashimi salad, unagi dons and udons as well.
For those who have a sashimi craving, get it satisfied here and perhaps get a side or two while you're at it!
This store is relatively new, so we are looking forward to find out if they too come up with their own original innovative ideas.
---
9. Mike's Caribbean Food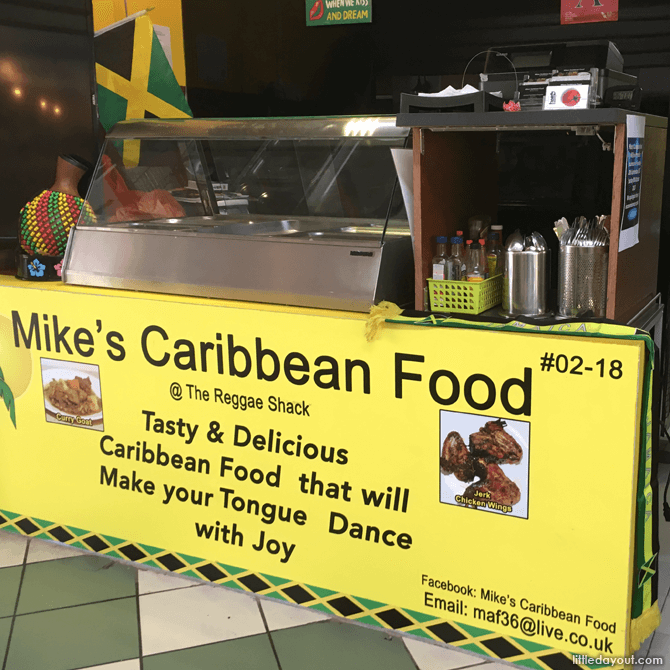 Calling all chilli lovers! This next store is for you!
Mike's Caribbean cooking may not have as long a menu as the other stores, but it definitely brings the authentic cooking which the owner himself describes as "what he had growing up".
It is not common for Jamaican food to be found on our sunny island, but people who have visited have called it "the best they have tasted".
Mike's hospitable and amiable personality is definitely one big reason to come down for a visit too as he will happily share with you the story behind each of the dishes. It is truly food made from the heart that makes the food taste special.
A dish that is highly raved about is his Curry Goat, which is said to test all spice-lovers.
Other signature dishes is his Jerk Chicken, Rice and Peas and Fried Plantains.
If you think you're up for a challenge to beat the heat, or even looking for an authentic Jamaican meal, this is definitely a store to sample.
---
10. Liang's Wanton Noodles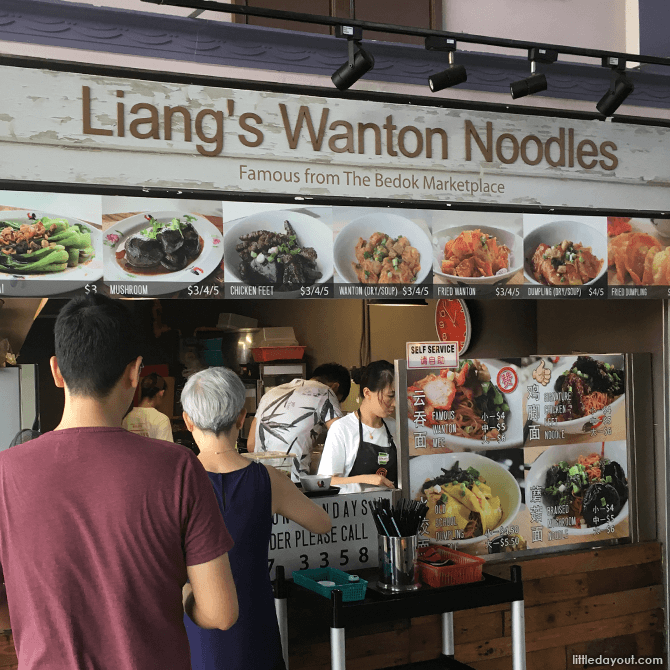 Located at the corner of Bedok Marketplace food centre is this simple store that sells their signature Chicken Feet Noodles.
This dish is simple but done well and has all the elements of a good wanton mee: springy noodles, crispy wanton, well-seasoned and cooked char siew and, for their signature dish, soft and savoury chicken feet which is sure to please the taste buds of those who enjoy this slightly exotic dish.
The noodles are tossed in a spicy chilli sauce and those who want to indulge in a bit more lard can add it in themselves. The soup is slightly more peppery for people who enjoy it that way but overall it is still a place that is recommended.
---
11. Urban Smokeshack
Juicy and tender are two words to describe the meat served at this store.
All the meats here are smoked for hours in-house and served with delicious homemade buah keluak or BBQ sauce.
A signature dish is the Angus Brisket which is smoked for nine hours, ensuring that it has a rich, smokey taste. Their lamb and pork sausages are thick and well-cooked.
They also have a pretty good rosti which is fried potato served with sour cream.
Visiting the Simpang Bedok Marketplace Food Centre
Many of the stores have a surprisingly strong social media presence, so do check out the links and relevant website below for information on promotions and opening hours.
Address: 348 Bedok Road #02-01, Singapore 469560
Facebook: https://www.facebook.com/thebedokmarketplace/