When you have to head downtown with kids tagging along, do you ever wonder how to keep them occupied?
Often, after moving around with the kids from shop-to-shop, it is the parents who need break and are keen to look for a spot to take a break while allowing the kids to keep themselves occupied.
Even though restaurants and cafes are plentiful along Orchard Road and Marina Centre, there aren't that many play spaces, specially for kids, in town.
Little Day Out headed out to the Orchard Road and Marina Centre belt to scout out some of the best little play spots where parents can let the kids have fun in the city while taking a pit stop from shopping!
If you know of any others that we've missed out, let us know, we'd love to hear from you!
Hip Kids Club, Forum The Shopping Mall
A fun hideaway for little ones, membership to this indoor playground on the second level of Forum The Shopping Mall is $15.00 for 1 year. Open to kids 120 cm in height and below, the gated playground is open for Hip Kids Club members from 10.30 am to 8 pm on Saturdays, Sundays and Public Holidays, and during weekdays, between 11 am to 1 pm and 4.30 pm to 8 pm. It is used by students from Chiltern House and Kidz Station at other times.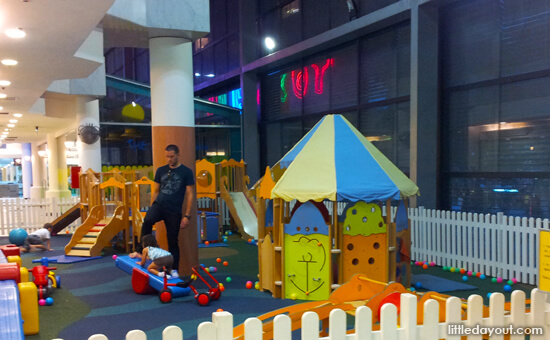 Ion Sky, Ion Orchard
Soaring high above Orchard Road on the 55th floor of Ion Orchard, Ion Sky is an indoor observatory where visitors to take in the surrounding cityscape. Access is from Level Four of  Ion Orchard where you have to purchase tickets ($16 for adults, $8 for children between four and 12 years old, or a family package for 2 adults and two children at $40, free admission for children 3 years old and under) before heading past the Ion Art gallery to ascend via lift to this lookout lounge. Ion Sky is equipped with special displays that can be swiveled around to identify the surrounding buildings.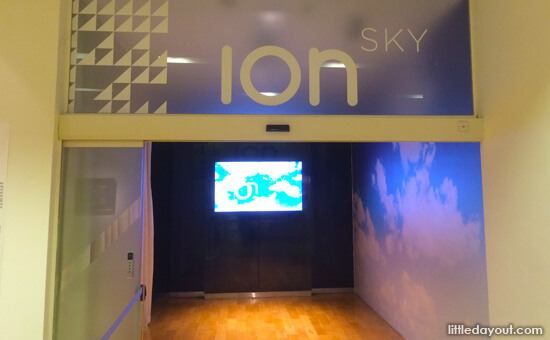 B2 Fountain, Ngee Ann City
Not a play area but we love this fountain at the basement of Ngee Ann City for two reasons, the seating running along the rim of fountain which provides welcomed rest to weary feet, and that kids get enthralled watching the bubbly jets of water dancing around the fountain.
Paragon Junior, Paragon Shopping Centre
Paragon's fourth floor is dedicated to little ones. Not only are kids boutiques found there but also the free and popular Paragon Junior Playground. Indoor with a padded floor and seats for parents to rest while waiting for young charges to expend their energy, the Paragon Junior Playground is a welcomed oasis for little ones in the middle of Orchard Road. Fidgets Island, an activity play corner for kids (fees apply) can also be found nearby. There are also two little computer game stations and kiddy rides scattered throughout the level as well (you'd be amazed what a rarity the latter are along Orchard Road).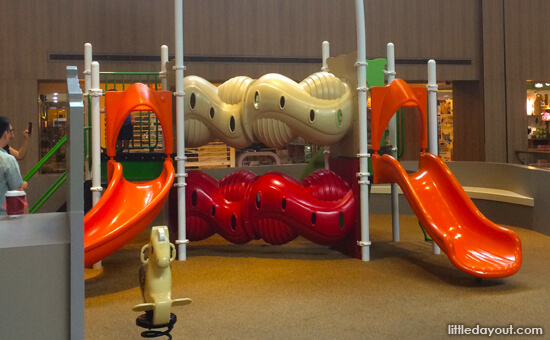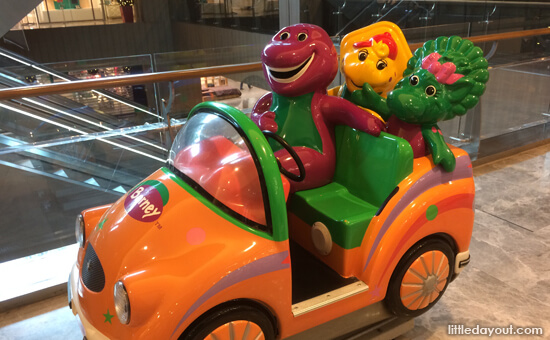 Sky Terrace Children's Playground, 313@somerset
Found just outside the Food Court at Level Five, the 313@somerset's Sky Terrace has an outdoor children's playground which overlooks Orchard Road. If you are looking for something indoors, head over to our next find.
Marche, 313@somerset
This Swiss-themed restaurant looks ever inviting and friendly. Head past the freshly baked goods and into the restaurant where you will find a hideaway for kids that Heidi would be proud to call home.
Roof Garden, Orchard Central
Most visitors to Orchard Central only explore the lower (and often confusing) levels of Orchard Central. But those who want to venture further can head up to the 12th floor (via an escalator from the 11th) where there is a public Roof Garden. This open-aired garden has some sculptures, a little pond and nice views of Orchard Road. It provides a nice escape from the busyness below – at least for a while.
Esplanade Park Playground
This is one of the few outdoor playgrounds in the city. It has one of the nicest backdrops with Esplanade – Theatres on the Bay and the CBD buildings nearby. Enjoy a slide, seesaw and swings at this playground, as well as a unique bell wall. Find out more here.
The Family Lounge, Plaza Singapura
Equipped with TVs and activity tables, a minimum spend of $50 within the mall is required to gain entry into this Family Lounge at Plaza Singapura, Level Four. Socks are required to enter into the playroom and children below 10 need to be accompanied by an adult.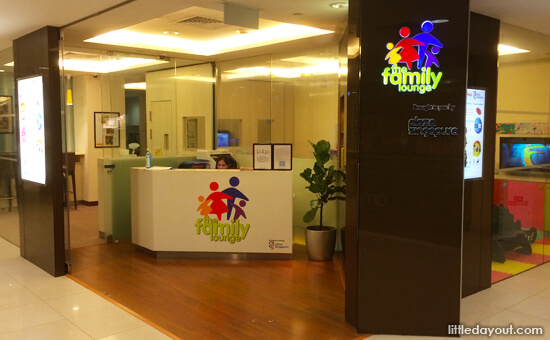 Indoor Playground, Marina Square
On the second floor of Marina Square, the red fire engine playground provides entertainment for kids and there are other kiddy rides that children can hop on to as well nearby.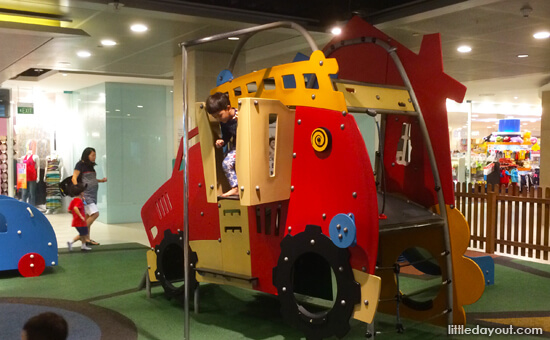 Indoor Playground, Suntec City Mall [Closed]
A little play corner has been setup at Suntec City Mall, just beside the Gong Cha outlet on the second floor, near Tower Five. The funny blue, red and green plastic shapes remind us of the terrazzo animals that used to be found in old playgrounds. This play corner is most likely temporary only.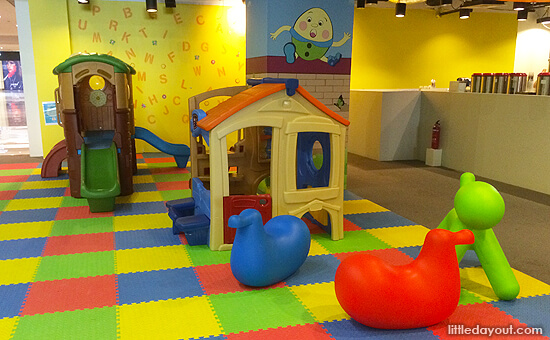 Outdoor Playground, Sky Garden, Suntec City Mall [Closed]
Head past the many restaurants on the third floor of Suntec Mall and a set of glass door leads out to the Sky Garden. Found here is an outdoor playground with a set of vending machines for parents to get a cold beverage while waiting for their charges to go round-and-round, up-and-down, the playground.