There's an undeniable charm about neighbourhood cafes located under HDB blocks. Sometimes instead of the glitz and glam of  an "instagramable café", we might be looking for a simple space around the neighbourhood to enjoy an honest scoop of ice cream. We went to three different ice cream places located under HDB blocks to find the space we liked the most.
Three Neighbourhood Ice Cream Cafes Under HDB Blocks
---
Wishes Cafe
Decorated with marble tables, unicorns and a pastel sign, this neighbourhood café located amongst the blocks in MacPherson was not overly flashy and very welcoming with a homely vibe.
After sampling a few flavours such as the lychee rose, taro, and cookies and cream, we decided the flavour we would want a whole scoop of was the Tiramisu. We were so excited that we almost forgot to take a picture before digging in!
Wishes Café's tiramisu ice cream has a hint of alcohol and was also really creamy. The bitter cocoa powder balanced out the sweet cream base very nicely.
Read our full review of Wishes Café here.
---
The Naughty Corner
Named after the method which some parents use to discipline their children, this Toa Payoh ice cream café is one which many kids would not mind being banished to.
Here, we sampled almost all the flavours available that day before settling on a scoop of the Berry Red Velvet Cake. As the name suggests, this features a berry ice cream base with bits of red velvet in it. It comes in either a cup or cone, but if you're looking to just satisfy the ice cream craving without having to commit to a full cone, you can consider getting one of their baby cones which go for only $2.
The shop also allows you to spin the wheel of prizes which allows you to get a variety of prizes from toppings to a whole scoop of ice cream! This café also has wifi which makes it a possible study or spot to work remotely from.
Read our full review of The Naughty Corner here.
---
The Milky Way Homemade Ice Cream and Coffee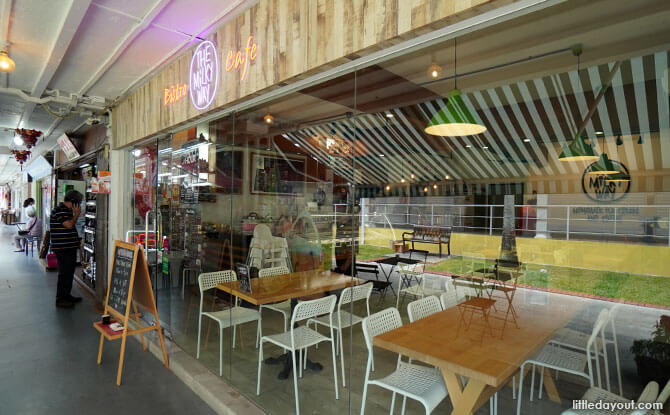 We were starstruck as we gazed upon the variety of ice cream flavours at The Milky Way café. With two fridges of housemade gelato tubs to choose from, we couldn't pick just one.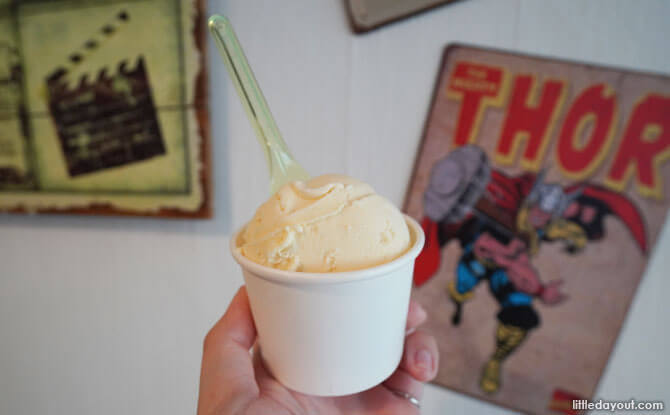 We were very impressed by the Rum and Raisin flavour but decided to go with the Salted Egg flavour as well as a scoop of Hazelnut instead. If you had one too many sweet things for the day, consider the salted egg flavour which reminded us of the inside of the salted egg yolk bun. Hazelnut was a "lighter" version of eating Nutella spread right out of the jar. Yummy!
On top of its many ice cream flavours, The Milky Way café was the only place out of the three that served full main courses like tom yam noodles, braised pork and curry chicken. Check out this place too if you're looking for all-day breakfast in the Commonwealth area.
Read our full review of The Milky Way here.
---
Our Choice
We were impressed by ice creams at all three neighbourhood cafes under HDB blocks that we visited. None of them were too icy nor melted too quickly. At the end of our ice cream expedition, the one that stuck out to us was Wishes Café.
Perhaps other than the convenient location and ambience, the price point was pretty reasonable as well. Although the number of flavours were not plentiful as The Milky Way, Wishes Café still had a good mix of ice creams – from classics to more interesting ones. It's worth the visit for sure.