The Vegan diet has been up and rising, be it for ethical, environmental or even health reasons. Vegan Ice Cream is a dessert that might help dairy lovers to overcome any mental barriers to making the switch.
We tried three vegan ice creams in Singapore which is a great dessert, not just for diners who might be lactose intolerant but also for anyone interested in incorporating more vegan alternatives into their diet.
Vegan Ice Creams in Singapore
---
Smoocht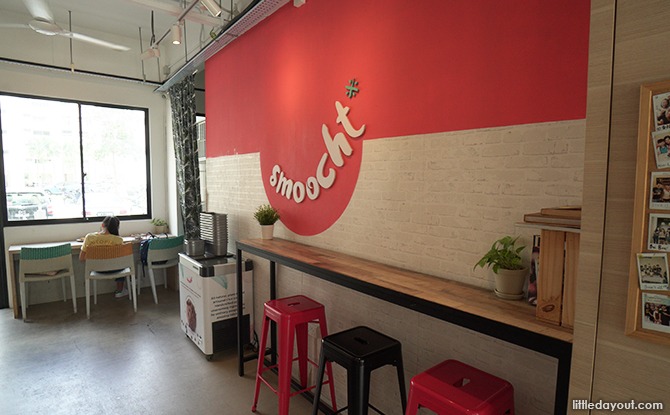 First known as Brownrice and now known as Smoocht, this vegan brand began as a way of bringing the goodness of plant-based foods to more people.
They specialise in gelato style R'ice cream which is made with a base consisting of organic brown rice milk and organic evaporated cane sugar. This means it is already significantly lighter not just on calories but also on the stomach as it is free of cholesterol, saturated fat and rich in antioxidants. The flavours are then made with real natural ingredients.
As usual, we asked for the most popular flavours and were told that they were Dark Chocolate, Hazelnut, Coconut Rose, and Strawberry fields. We got a whole scoop of the Strawberry Fields R'ice Cream which is made with real strawberries and a scoop of Pure Hazelnut made using roasted Italian hazelnut grounded into a paste.
The consistency of the Strawberry Fields R'ice Cream reminded us of the consistency of a smoothie bowl or a little like acai. However, the scoop of ice cream that pretty much blew our minds away was the Hazelnut.
It's no exaggeration when we say that it's extremely creamy, even more than many full cream gelatos that we had. It's nutty flavour reminded us of Ferrero Rocher ice cream ; we were very impressed. Before leaving we sampled the dark chocolate flavour which was not too bad, as well as the Coconut Rose, which was good, but foresaw it being too sweet if we were to eat the whole scoop.
Smoocht @ Jurong East
319 Jurong East Street 31 #01-58
Singapore 600319
Smoocht @ Sin Ming
8 Sin Ming Road #01-03
Singapore 575628
---
Kind Kones
This kid-friendly establishment started as a mum's wish to provide healthy desserts for their daughter.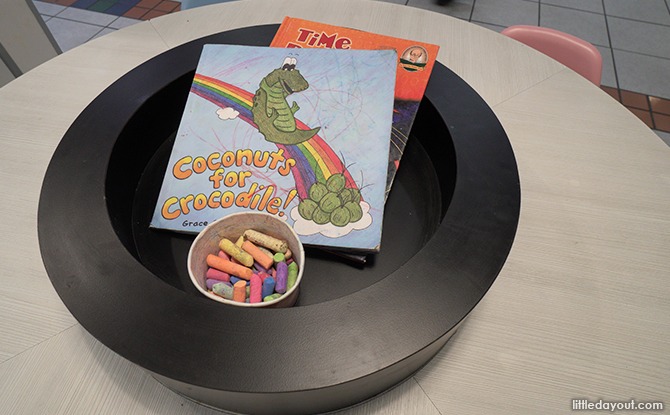 Other than the aesthetically pleasing interior, Kind Kones also has tables with colouring sheets and colour pencils for the little ones to keep themselves entertained, as well as books.
The first thing we noticed is that Kind Kones has a unique library of flavours such as Keto Chocolate Sorbet and Jalapeno Cheesecake. We appreciated that the ingredients in each ice cream were clearly listed out so that one can look out for any allergens or ingredients they would rather avoid. Do note that many of the ice creams have a distinct coconut taste due to the coconut base.
We were recommended the Almond Brittle Fudge which had a Coconut Milk and Cashew Milk along with Almonds, Cacao Nibs, Chia Seeds, Dairy-free Chocolate Chips. The texture was quite smooth but unfortunately, the coconut milk prevented us from tasting the almonds fully.
We ordered a whole scoop of the Black Forest which was the other bestseller. The base was made with coconut, cashew and almond milk and had brownie Coconut Brownie Chunks and Cherry Compote.
It wasn't as smooth as we expected it to be, but at least it wasn't gritty like previous experiences of vegan ice creams. We also liked that there were nice chunks of brownies which gave it a little more texture.
We also had to give the eye catching Blue Planet ice cream which is made with Butterfly Pea Flower and Matcha Cake (made with Almond Milk) a taste. This is probably a flavour better for the camera as it reminded us of vanilla coconut ice cream and we couldn't taste the matcha cake. Customers can opt to have their scoop of dairy-free ice cream in Waffle Kones either made with almond flour or wholemeal flour.
Lot B1-27/K1, Forum The Shopping Mall, 583 Orchard Road,
Singapore 238884
10 am to 10 pm
Website
---
Little Damage
A new addition along the winding alleys and beautiful wall graffiti of Haji Lane, Little Damage is not a vegan ice cream shop, but they promise to have at least one vegan flavour on their menu each time.
Little Damage is relatively new to the soft serve scene but has already established its strong branding with its Instagrammable black ice cream cones and adventurous flavours that are almost always changing. We had the Mango Sticky Rice, which is one of my favourite desserts other than ice cream. The vegan ice cream is made with Almond milk, Coconut milk and fresh mango.
Previous flavours that were available included Vegan Cookie Butter and Vegan Chocolate And Peanut Butter Banana. The price is a tad higher than the other vegan ice creams that we tried but the generous portion and toppings justified the price.
We also really appreciate that the soft serve is prepared in small batches from organic dairy farms. The texture was similar to that of a sorbet, with a distinct mango and coconut taste. It held to the mango sticky rice name, but as always, more textures from toppings such as mango chunks or even bits of glutinous rice would have elevated this unique flavour.
Hopefully, they will consider adding more than one vegan flavour during our next visit.
2 Haji Lane, Singapore 189195
Website
---
Vegan Ice Cream isn't just for Vegans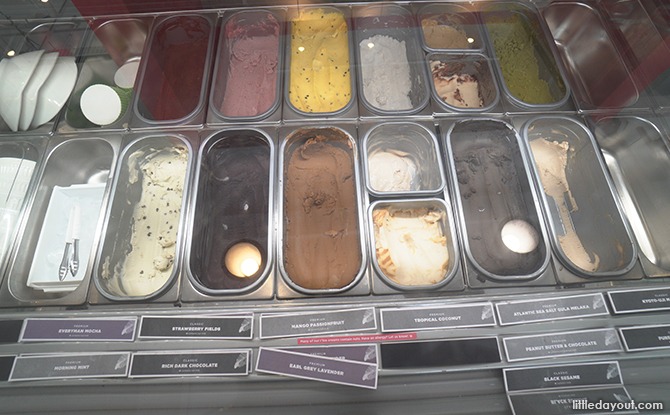 To be frank, I used to think that vegan substitutes are usually subpar. However, one bite of the creamy hazelnut ice cream from Smoocht has opened up my mind greatly to the alternatives in the vegan diet.
It's so cliché to say, but I really felt like I wasn't missing out on anything . I appreciated that the base was made with something more neutral like rice milk so that the individual flavours could show through. As much as I enjoy coconut, I'd imagine it might be a little tiresome to have the taste of coconut in every single dessert if I were a vegan looking for a sweet treat.
Smoocht is also a café that has a weekend and weekday menu that serves a variety of mains. More mains are available on the weekend. The items are vegan serving hot foods such as BBQ 'Chicken' Pizza made with soy chicken and nut cheese as the base. Who knows, perhaps on my next visit here, I might just find myself being one step closer to adding even more vegan alternatives into my diet.
Need more vegan ice cream options?
Sadly there are not as many vegan ice cream places as there are ice cream shops under HDB blocks, but we are hoping that there will be more good quality ones in the future. Until then, you can try other locations like Mr Bean and NomvNom.
Alternatively, you can also make as much as you want using this easy recipe here.