Located in Carlton Gardens, a visit to Melbourne Museum to view its exhibits is a fascinating look into natural and Australian history. With well-presented galleries and regularly changing exhibitions, there is always something new to see at the museum.
Housed inside the post-modernist building, Melbourne Museum welcomes the curious to explore and discover both natural and cultural history.
Dinosaur Walk & Wild
One of the most spectacular exhibit areas is Dinosaur Walk. This takes pride of place at the Melbourne Museum and features the skeleton of 17 prehistoric animals, expertly displayed in the gallery.
Unsurprisingly, visitors are attracted to the 10 dinosaur skeletons, which includes a gargantuan Mamenchisaurus.
---
-- Story continues below --
Next to Dinosaur Walk is the exhibit Wild. Over 600 species of bird, reptile and mammal specimens are displayed within the two-storey gallery.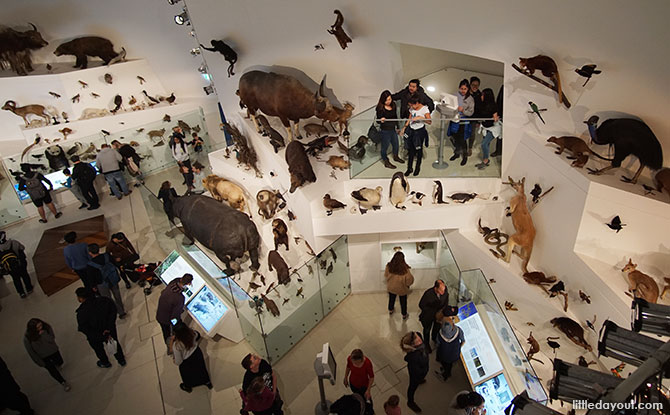 Wandering around the Wild, you get a sense of the diversity of life found on Planet Earth.
Discovering the Melbourne Story & More
Another interesting must-visit exhibition at the Melbourne Museum is The Melbourne Story. This traces the story and growth of the city featuring many interesting displays.
There is Luna Park interactive and an intriguing walk-through display of old Melbourne houses.
You will feel transported back in time and leave with a better sense of Melbourne's past.
Other exhibits at Melbourne Museum include the The Mind, an interesting examination of the human mind, and First Peoples, a celebration of Victoria's Aboriginal people.
Pauline Gandel Children's Gallery
Families with children between 0 to 5 years old will also want to pay a visit to the Pauline Gandel Children's Gallery. Designed to engage young children and invoke learning and exploration, the Melbourne Museum's Children's Gallery features hands-on activities and is great fun for children.
Step into a Forest
Before leaving the Melbourne Museum, don't forget to pay a visit to the Forest Gallery.
This area at the museum replicates the environment of a eucalyptus forest.
The lower level of the Melbourne Museum also has an IMAX theatre.
The Melbourne Museum is a fascinating place to visit. The exhibits are interesting and well presented. It makes for a wonderful half-day, or even longer, visit. Admission to the museum is tickets and tickets can be purchased by the main entrance.
Melbourne Museum
Address: 11 Nicholson St, Carlton VIC 3053, Australia
Website