Explore glowing walking trails and marvel at glowing geometric animal shapes at Twilight Encounters 2017 at Night Safari during the year-end period.
Glowing Trails and Animal Lights
Taking place from 17 November to 31 December 2017, Twilight Encounters invites visitors to venture along Night Safari's four walking trails – the Fishing Cat Trail, Leopard Trail, East Lodge Trail and Wallaby Trail – to have an encounter with the wildlife park's nocturnal animals.
Shimmering patterns and letters have been embedded into the trails and guests who can unravel the secret messages hidden therein will stand a chance to win an exclusive elephant encounter.
Dazzling geometric animal light sculptures will not only provide the opportunity for memorable snaps, but also allow visitors to pick up intriguing facts about the animals.
Visit on Fridays and Saturdays between 17 November to 31 December to be treated to performances and special animal enrichment sessions at the Night Safari.
These include:
Animal Appearances
Snap a photo with animal stars at Night Safari
Venue: Night Safari Entrance Courtyard
Time: 7 pm
---
Thumbuakar Neon Performance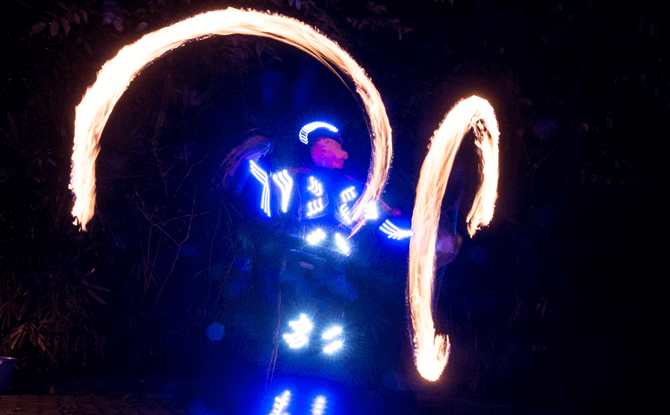 Be dazzled by an energetic light-and-fire show by the daring Thumbuakar performers.
Venue: Night Safari Entrance Courtyard
Timing: 8 pm, 9 pm and 10 pm
---
Glow Booth
Take a picture at special UV light photo booth.
Venue: Zebra Café
Timing: 7.15 pm to 12 am
---
Get Your Glow On
Put on glow-in-the-dark face paint and get luminescent at Night Safari's Twilight Encounters. Get painted in your glowing best before taking a picture at the Glow Booth.
Venue: Zebra Café
Timing: 8 pm to 10 pm
---
Animal Enrichments
Explore the trails and see the animals playing with special 'toys' designed to stimulate them. The park's volunteer rangers will be on hand to share facts about the nocturnal animals with guests along the trails.
Check onsite for details.
Twilight Encounters 2017
Dates: 17 Nov to 31 Dec 2017. Activities on Fridays and Saturdays only.
Venue: Night Safari
Usual admission fees apply