Have some fun as October comes to a close with a variety of activities and tours. Here are some of the fun things to do this weekend.
---
What to Do This Weekend: 30 & 31 October 2021
Visit the New Choa Chu Kang Public Library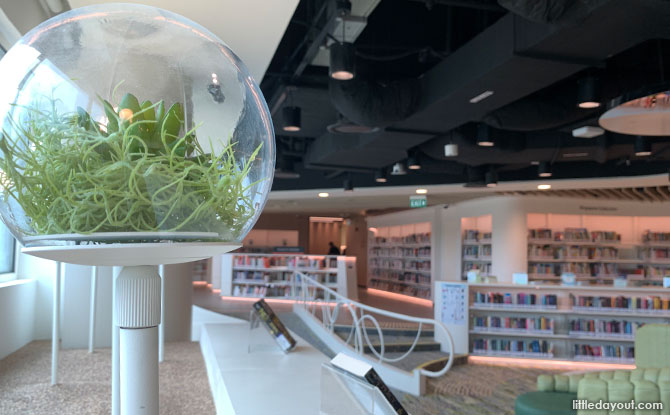 Visit the revamped Choa Chu Kang Public Library at Lot One Shoppers' Mall. The library has been themed to reflect the farming heritage of Choa Chu Kang and features sustainability-inspired spaces. Visitors can enjoy the Nature Walls that showcase natural history books, botanical prints and photos plantations once found in Choa Chu Kang in addition to its book collection. Read more about the Choa Chu Kang Public Library here.
---
Visit the New Butterfly Maze
The Butterfly Maze at Jurong Lake is a lush nature spot that provides kids a chance to have active fun while learning all about fluttering butterflies. It is located between the Forest Ramble play area and Garden House. There are various green passages that make up the maze that little ones can explore. Read more about it here.
---
Make a Pledge to Reduce Food Waste and Raise Funds for the Needy
An initiative by Food from the Heart, the Clean Plate Campaign aims to encourage members of the public to pledge to stop food waste. The target is raise 15,000 pledges by 31 October with every pledge taken raising $5. As of 28 October, around 8,800 pledges have been made. Find out how to make your pledge here.
---
Ride on the Night Luge and Spot the Pumpkins
The Halloween-themed Night Luge happens on 29 & 30 October 2021 from 7 pm to 9.30 pm. Guest are invited to come dressed in their paranormal best and go in the draw to stand a chance to win an Annual Play Pass. They can also keep their eyes peeled for the orange pumpkins along the tracks and submit the correct answer to win a New Zealand ice cream treat. Read more about it here.
---
Enjoy a Buddy Discount at Artistori
Artistori is is an art school that adopts an inquiry-based teaching method. They are currently providing a series of free trial classes for kids as young as 4 years old. There are various timeslots to choose from for each trial class. There is also a special Buddy Promo from now till 31st December 2021. Any child that signs up together with another friend can enjoy 30% off the price of a five-lessons package at Artistori. Read more at the link here.
---
Trashy Art Contest 2021
Take part in the 'Trashy Art 2021' organised by PAssion Wave and its conservation arm Project Blue Wave. This eco-art contest aims to raise awareness and spark conversation around marine and eco-conservations. Participants are required to create a personal art piece from the trash collected on the beach. Trips made to the beach have to be done while observing prevailing Covid-19 measures. Read more at the site here.
---
Visit the Singapore Writers Festival's Festival Bookstore
As part of this year's Singapore Writers Festival, participants can indulge in the Festival Bookstore, a one-stop-shop for featured presenters' books and exclusive Singapore Writer Fest merchandise. Their online store will open on 30 October and will remain open until 30 November. Visit the online store here and find out about their physical Magic Book Bus pop up here.
---
Go on a Plant Trail at Gardens by the Bay's Heritage Gardens
As part of the Deepavali Celebrations at Gardens by the Bay, go on a self-guided trail through the Heritage Gardens and participate in a quiz to discover the beauty and shared value of plants to the Hindu culture. Get more details here.
---
Take a tour around Haw Par Villa
In celebration of the official opening of Haw Par Villa, visitors can join a series of tours to better understand the park and kick start visitor's tour to the area. These include tours that are being offered at the promotional price of just $5 per person for both adults and children. Limited slots are available on a first-come-first-served basis. Book the tickets for the tour here. For the brave, the Hell's Museum (not recommended for those who are below 9 years old) has opened too!
---
Head down to Northshore Plaza
Set to open its doors on 29 October, residents in Punggol can now enjoy the new Northshore Plaza mall. Visitors to the mall will be able to enjoy a "waterfront shopping experience" and shop at stores such as Daiso, A&W and a large Decathlon outlet which is expected to be two stories.