Next to Bukit Gombak Park, the playground in front of Block 394 Bukit Batok Avenue 5 may look not look very different from other heartland playgrounds. However, look closer and you may notice something different about its setting.
The Block 394 Bukit Batok Avenue 5 playground is sited just next to a little stream. Ok, it may be a beautified longkang, but we are going to call it is a stream.
---
Block 394 Bukit Batok Avenue 5 Playground
---
-- Story continues below --
The red and blue playground itself features slides and a set of setting stones which lead up to a raised platform. There are also the typical climbing poles and apparatus as part of the play structure too.
Other playgrounds nearby include the nature-themed playground at Bukit Gombak Park …
… and another one at Block 388. The playground at Block 388 reminds us of the playground at Limbang Park. It features a central tower with two tube slides flowing out from the top with several curves thrown in for good measure.
---
"Stream" next to the Playground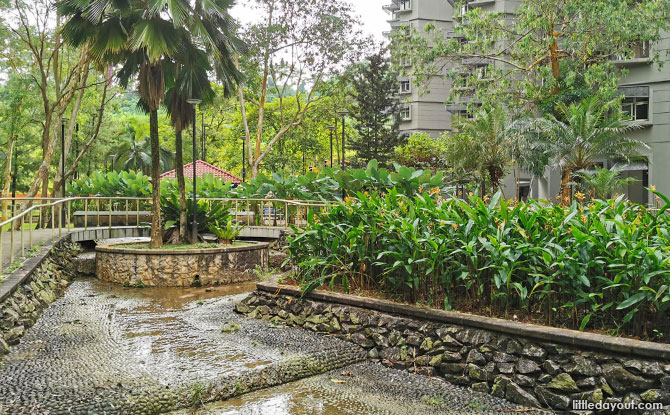 Back to the playground at Block 394, just beside it is a little "stream area". In fact, we hear that this little water play spot even attracts kids in the neighbourhood who head there to catch little fish. It is a throwback to the days when kids would pass the time going longkang fishing.
So, if you are paying a visit to Bukit Gombak Park with the kids, you can also pop by to this playground in the neighbourhood too.