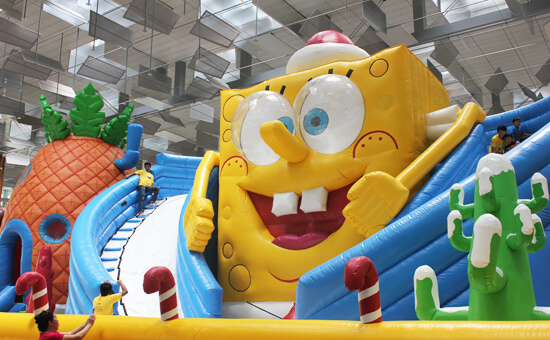 Imagine a cosy log cabin nestled deep in the snow. A warm fire is flickering; and all that you desire is a hot cup of tea and a large slice of yummy Christmas cake. And did I mention the tinkle of bells and the scampering of reindeer hooves? That's almost the feeling you'll get this year when you visit the Christmas Village at Singapore's Changi Airport.
This Christmas, the world's best airport is celebrating the festive season with a bang. Changi Airport is not only bringing a sense of the holiday season to the tropics, it's also teamed up with media giant Nickelodeon to bring in one of its favourite icons, Spongebob Squarepants, and his trademark Pineapple House.
When Little Day Out knocked on the doors of the famous building (which at 11 metres high is said to be the tallest Pineapple House in the world), we caught a glimpse into the life of the yellow creature – his bedroom and bathroom. We were also told that at specific times throughout the day, that visitors can enjoy a sensorial show complete with special effects of lights, sounds, scents and smoke bubbles.
This year's Christmas season at Changi Airport promises a good time for the adults as well as the kids. While the little ones can play a "Where's Wally" game to look for all the Spongebob characters around the three main airport terminals, their parents can feast their eyes on the lovely topiaries also scattered around the airport terminal and transit areas – based on famous landmarks such as Italy's Colosseum and Leaning Tower of Pisa, Russia's St Basil's Cathedral and Turkey's Trojan House.
---
-- Story continues below --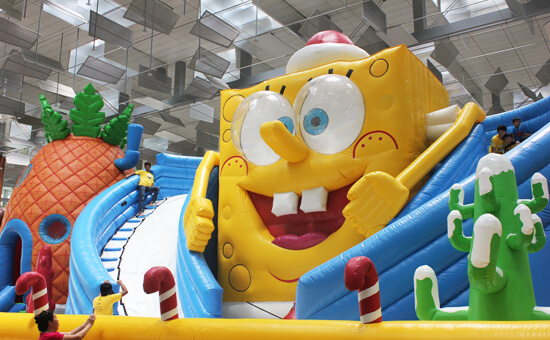 However, the highlight of the experience for the little ones has to be the gigantic bouncy playground that is designed to resemble Spongebob's underwater town, Bikini Bottom. The 9-metre high structure features a ball pit, maze and slide, and toddlers can also take a spin on the on-site merry-go-round. For Spongebob fans, this really is a Christmas Dream come true!
Tips for Your Little Day Out in Changi Airport
The Pineapple House/Christmas Village and bouncy "Bikini Bottom" playground are both housed at Terminal 3 Departure Hall. Daily show times are at 1.00 pm, 3.00 pm, and hourly from 5.00 pm to 9.00 pm. You can join in the show by paddling on Santa's sleigh to trigger the special effects.
Santa Claus will be in his log house from 21 November to 26 December, from 4.00 pm to 10.00 pm.
Access to the bouncy playground can be enjoyed with a minimum spending of $20 in a single-day receipt. Every $20 allows a single entry, capped at 5 entries per receipt.
Visitors can purchase 6 Spongebob Squarepants plush toys at $3 each, when they spend a minimum of $60 in airport public areas, $120 in supermarkets, or $150 in the transit areas.
Two charity booths at the T3 Departure Hall and Transit Lounge will each house a Christmas tree, and visitors can help to fulfill the wishes of 500 Northlight Secondary School students by donating $20 to help needy students buy books, shoes, groceries or other items.
For more information on Changi Airport's Christmas Carnival, check outhttp://www.changiairport.com/ChangiXmas2013.