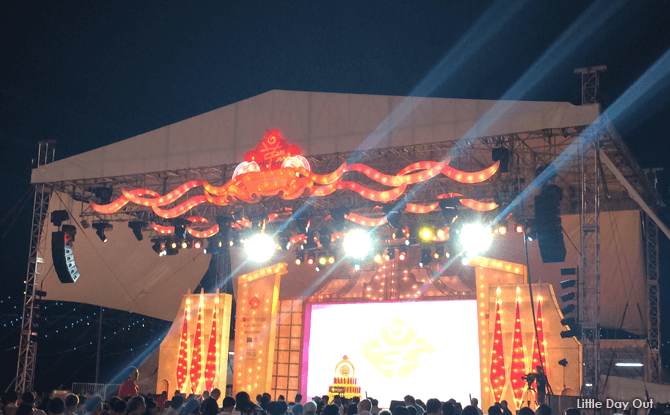 River Hongbao 2018 takes place from 14 to 24 February 2018. This Lunar New Year 2018 spectacular will transform The Float @ Marina Bay into a festive wonderland with colourful sights and festive activities for the entire family to enjoy and usher in the Year of the Dog.
Here is a look at some of the highlights of River Hongbao 2018.
---
Dog Lanterns and More Dog Lanterns
The main lantern display is a 50-metre long and 15-metre tall colourful lantern set entitled, Prosperous Nation Flourishing People. At the centre of this lantern set is a huge dog flanked by two smaller dogs. The lantern set's backdrop features a cityscape and it is decorated with icons of Singapore such as an MRT train and orchids. People depicted on the lantern set include a three-generational family and a set of graduating friends.
Other lanterns lighting up River Hongbao 2018 include an 18-metre tall God of Fortune lantern that will release gold confetti every night. This shower of blessing is scheduled to take place at 7 pm, 8 pm, 9.20 pm and 10 pm on 14 to 22 February and at 6 pm and 7 pm on 23 and 24 February. Times are subject to change.
---
-- Story continues below --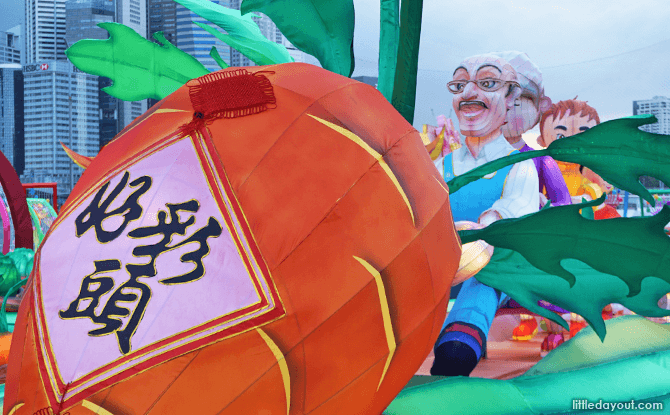 Another walk-through display to look out for is Hao Cai Tou or Good Omen.
Dogs will feature prominently at the various lantern displays around River Hongbao 2018 including the 15-metre high and 26-metre wide Main Arch entranceway.
Look out for the different dog breeds incorporated into the lantern sets. These include Dalmatians, Alaskan Malamutes, Golden Cocker Spaniels and many other breeds.
---
Nightly Fireworks
Celebrate Chinese New Year with a bang at River Hongbao 2018. Fireworks displays will be held at 9 pm nightly except on Chinese New Year's eve when it will be held at midnight and 23 and 24 February when it will be held at around 9.40 pm.
---
Cultural Performances
Enjoy cultural performances in the evening at The Float @ Marina Bay. These performances will feature international troupes such as Chuzhou Performing Art Group of Anhui Province and National Taiwan University of Sport Dance Troupe. Homegrown group MICapella will also be performing on the River Hongbao 2018 Opening Night on 14 February 2018.
Besides performances, visitors can also look forward to cultural activities and handicrafts around the River Hongbao 2018 grounds.
---
My Home, My New Year Exhibition
How have the Chinese New Year celebrations in Singapore changed over the decades? Find out at River Hongbao 2018's exhibition, My Home, My New Year. This exhibition provides a view of the festive celebrations from the 1960s to present-day through the eyes of a fictional character and ties in with the theme of River Hongbao 2018, An Endearing Home for One and All.
---
Food Street
Tuck into yummy street food at River Hongbao 2018's Food Street. Stalls will be serving up everything from Chinese delights such as dumplings, kong bak pau and dragon beard candy to churros and deep-fried spiral potatoes.
---
Amusement Rides and Games
Enjoy carnival rides operated by Uncle Ringo at River Hongbao 2018. Kids and families can look forward to more than 30 rides and games around the Grandstand area. Individual rides cost between $5 to $12.
---
River Hongbao 2018
Dates: 14 to 24 February 2018
Times: 2 pm to 11 pm daily. Extended hours till 1 am on Chinese New Year's Eve, 15 February 2018
Venue: The Float @ Marina Bay
Free Admission