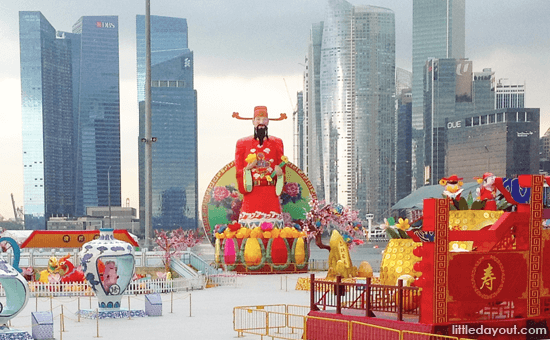 River Hongbao 2013 is being held at The Float @ Marina Bay this year from 8 to 16 February. This event, which is now into its 27th year, is open to the public with free admisson.
Lanterns by the Bay
The first thing you will notice as you pay a visit to the River Hongbao 2013 is the many lanterns all around. These are locally designed and handcrafted in China. The lantern displays are a highlight of River Hongbao 2013 and can be found all over The Float.
At the centre of The Float are 12 lanterns, each containing an animal from the Chinese Zodiac. Pride of place belongs to the Snake's lantern – the largest one of all. Nearby, supplementing the 12 Chinese Zodiac animals, are two panda lanterns as well.
---
-- Story continues below --
The other lantern which you cannot miss is the 18-metre tall God of Wealth. This is located in a corner at The Float and stands, rather appropriately, with the towering skyscrapers of the Central Business District as its backdrop.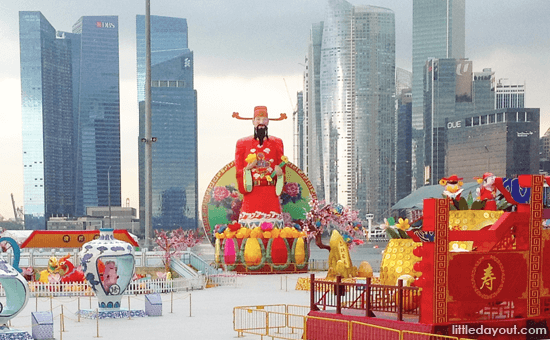 Two other lanterns that will be hard to miss are the Giant Screen Lanterns. There are two of them and each measures 30 metres long and 10 metres high.
Chinese New Year Entertainment
Every night, there will be stage performances. The stage will be shared by the Nanfang Song and Dance Company, the Shantou Acrobatic and Magic Troupe and other local performers. These include musical performances by the Yew Tee CC Chinese Orchestra, the Catholic High School Symphony Band and Diabolo performances by students from Woodlands Primary School.
On 16 February 2013, the last night of River Hongbao 2013, there will even be multi-cultural displays by Malay, Indian and Filipino performers.
Things for Kids to Do at the River Hongbao
It is not all lights and sound at the River Hongbao 2013. Children can also expect to find a variety of amusement rides to keep them entertained. Amusements include a whirly helicopter ride, a galloping carousel, bumper cards and a humongous inflatable and bouncy slide.
Food, Food, Food
Once you have finished worked up an appetite, head over to the River Hongbao's Food Street to grab something to recharge. This year, the Food Street stocks up on speciality snacks from Guangdong, as well as local pasar malam favourites. This being Singapore, we even spotted a Ramly burger store among the various other food stalls.
When: 8 – 16 February 2013, 12.00 nn – 11.30 pm daily (till 1 am on Chinese New Year's eve)
Where: The Float @ Marina Bay
How Much: Admission is free.